A couple of weeks ago the family attended our first Renaissance Festival.
Gregory has been interested in finding out more about the SCA ever since he decided he wanted to learn blacksmithing. The Renaissance Festival is one of the SCA's annual events.
I enjoyed browsing around looking at the vendors' booths. Gabrielle loves heirloom style clothing and I got some ideas for dresses for her. Gregory (and Kurt too I believe) loved the jousting.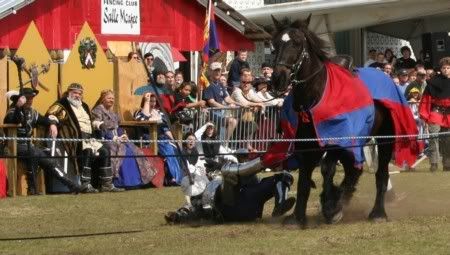 Gregory has often thought he'd like a mail shirt.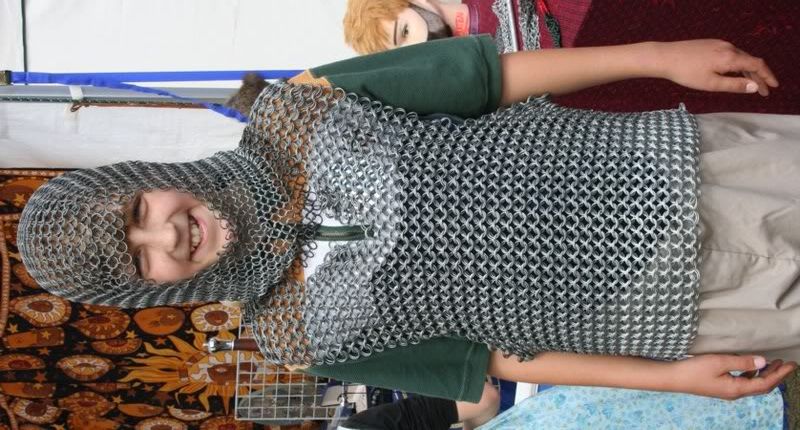 Gregory got to try on this outfit and he just loved it. At home he found some wire in the garbage pit and tried making his own mail. He did a really good job, but ran out of wire.
When Gregory found out swords were being sold, he tried to convince us to get him one.
In the end we agreed he should start saving his own money up if he felt the need to arm himself. After all, he first wanted to learn blacksmithing to forge his own sword (which got him interested in the SGA, which caused him to want to attend the festival, where he found swords for sale, and around and around).
Kurt tried to get Gabrielle and Michael interested in the goats and miniature horses.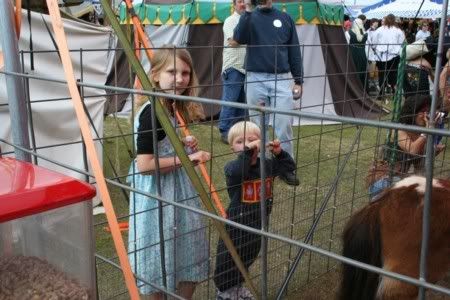 Of course our neighbor has sheep and miniature horses and they see them over our own fence regularly.
The family finally unpacked our new exercise equipment (which has been sitting in a box for about a year).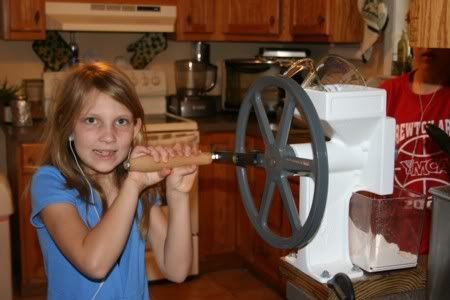 We grind our own flour for all of our baking and I had wanted a really good hand grinder for quite some time.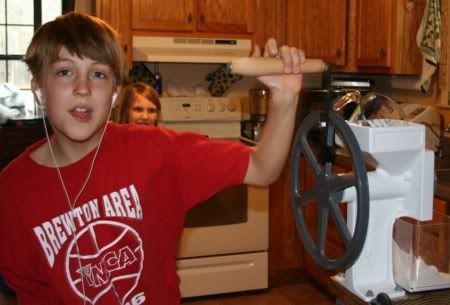 Hand grinding makes better flour and gives us all regular exercise.
Gregory and I compete against each other to see who can grind the most or the fastest or the longest. We are both getting stronger and it has been very good for us. (I keep repeating this over and over.)
In the meantime, I have not been doing a very good job keeping up with our project-along over at
Christian Artisans
.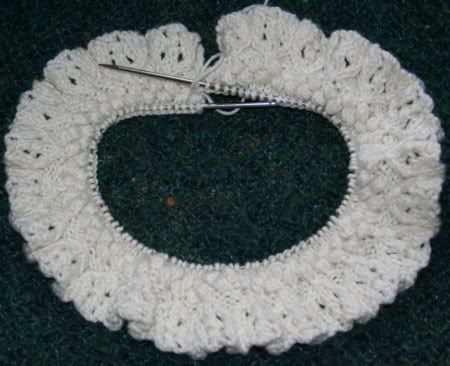 This is the beginning of the Minuette sweater from
Fiddlesticks
.
I'd been working on a sweater for my mother.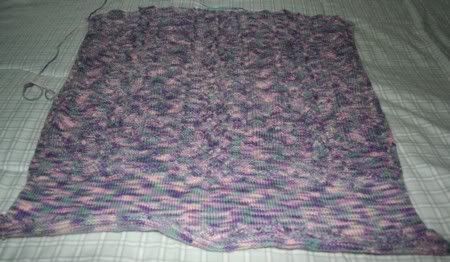 I don't like the way it is turning out however, and she has lost some weight. I just know this is going to be WAY too big.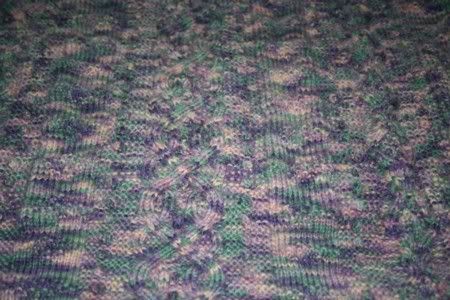 The cable work gets lost in the color, which I knew would probably happen. But I am most definitely thinking the sweater is just going to drown my petite mother. I've been stalled while I tried to decide what to do. I'm thinking I really need to find a different pattern for the yarn. I'm not sure what would best showcase the yarn colors and still be pretty/fancy to suit my mother's taste.