The hustle and bustle of Thanksgiving preparations have come to an end and for that I am quite thankful. I normally prepare most of our food from scratch and this year was no exception. Raising our own turkey did not add any real work to the holiday preparations, but I was probably lacking wisdom when on Wednesday I cut up a couple pumpkins to cook into puree for pumpkin pie. Needless to say most of the activity over the last couple of days involved cooking.
Yesterday I awoke with a pretty bad migraine. Unfortunately, this delayed our meal since I didn't get the turkey into the oven until almost 11:00. (One might question the wisdom of cooking the neck and gizzards into a broth and then starting on the stuffing to put into the turkey. But I figured I had a pressure cooker to speed things up.) Fortunately I had prepared homemade cinnamon rolls which after a final rise and baking, made a delicious and decadent breakfast.
Unfortunately, I hadn't made lunch plans for the day and so I left Kurt to entertain the kids until our Thanksgiving meal finished cooking. Kurt handled the hungry children problem like a man.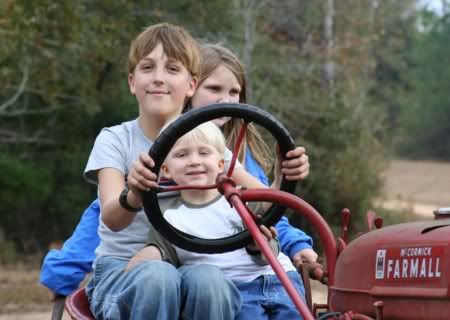 Kurt simply cranked up the tractor and let Gregory drive the kids around the front yard.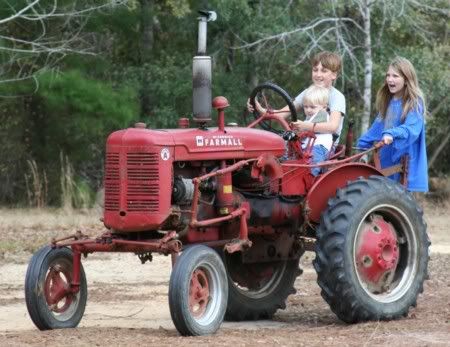 It started with Gregory and Michael in the seat, but Gabrielle didn't want to be left out of the fun.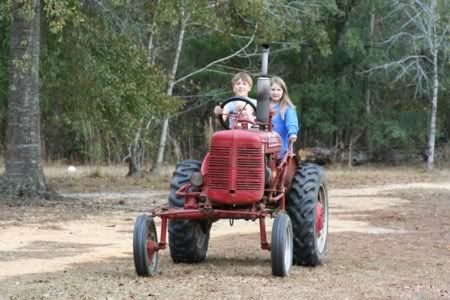 Being a very resourceful girl, Gabrielle simply jumped on the back of the tractor.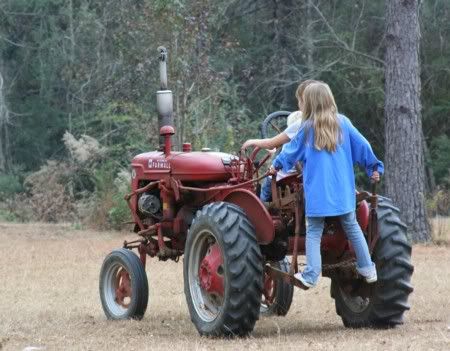 Of course I had asked Kurt to put the plow on the tractor for me. I'm still hoping.
In the end, the kids had a great time and hardly noticed they didn't get to eat until 4:00 p.m. Thanksgiving day.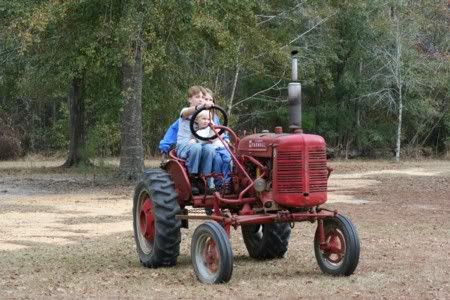 As we sat around the table sharing the things for which we were thankful with each other, it turned out we were all thankful for the simple country life and the new job for Kurt with which the Lord has blessed us.