A couple times a week, I make gluten free muffins for our daily breakfasts. Today was such a day. Since my sister Michelle must now eat a gluten free diet, I thought I'd share my muffin technique with her and anyone else who can benefit.
The first step is to grind flour. I love my
Country Mill
hand grinder, but after several months of grinding flour by hand, especially in the quantities we use since I make all of our baked goods from scratch, we went electric. (I still grind grains by hand from time to time. It is good exercise. And I don't need power for flour if it comes to that.)
Even though sprouting my wheat allows Gregory to eat it, he still prefers the rice flour baked goods on which he grew up. So today I did a batch of rice based gingerbread and a batch of sprouted wheat gingerbread. (Michael prefers sprouted wheat and he is my other gluten sensitive child.)
While the
Nutrimill
grinds the flour, I preheat my oven to 400º and butter my baking dishes.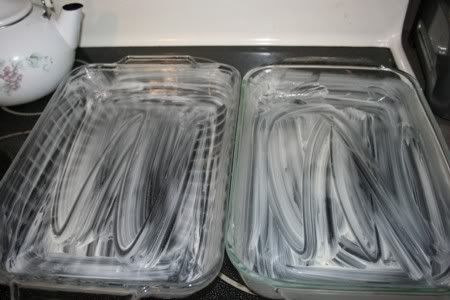 (Sometimes I will actually use muffin pans, but they are more work and harder to clean.) Most of the time I use a large glass baking dish and just cut the muffins into squares.
While I am waiting for my flour, I also make the almond milk for Gregory's rice flour gingerbread. Into my Vita Mix I place about a half cup of "raw" almonds. (Almonds are no longer "raw" in the pure sense because they are now required to be pasteurized, rendering them less nutritious, but that is a post for another day.) Add water to the 2 cup mark on the Vita Mix wet container. Process on high for a couple minutes.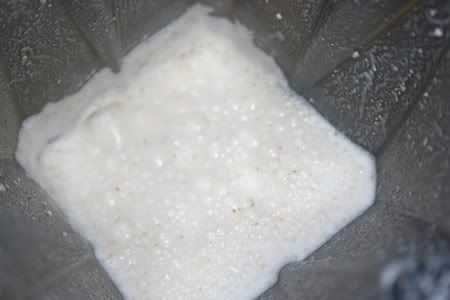 I set the almond milk aside until I need it.
This morning, I started mixing my dry ingredients together while continuing to wait for my flour to grind. Rice flour takes longer than sprouted wheat when grinding it fine.
Into a medium to large bowl, mix:
3 1/2 cups of either brown rice or dried sprouted wheat, ground into fine flour
3/4 cup brown sugar
4 teaspoons (or 1 heaping tablespoon) baking powder
1 teaspoon salt
2 to 3 Tablespoons ground ginger*
2 to 3 Tablespoons ground cinnamon*
1 to 2 teaspoons ground cloves*
(*I like my gingerbread spicy. You can use less, e.g. cut the largest measurement in half.)
I never get all of the brown sugar blended thoroughly into the mix and that is fine. It is okay if the batter ends up slightly lumpy.
Next, mix your wet ingredients. I start by melting 1/2 cup butter in the microwave.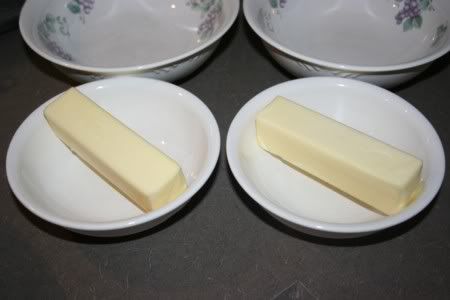 I understand microwaves are nasty, unhealthy things, but I'm still lazy and use it on occasion. I have cut back with my use of the microwave dramatically however.
Wet ingredients:
3 eggs, lightly beaten
1 1/2 cups milk for sprouted wheat batter or 2 cups almond milk for rice flour batter
1/2 cup melted butter
3/4 cup black strap molasses
I use 3 eggs from our own chickens (which are not typically of uniform size).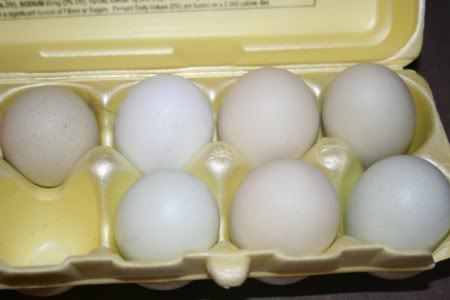 This morning they were also green. Since I never actually measure my ingredients for the most part, I sometimes will add additional moisture to get the proper consistency in the end. Smaller eggs might require more moisture to be added in the form of other ingredients. I normally use a little extra milk or even a bit of water if necessary.
When mixing the liquid ingredients together, add the butter last.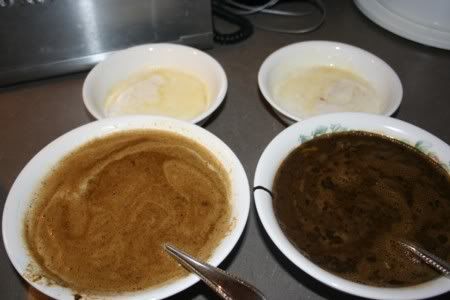 The butter will start to solidify again as the other liquid ingredients cool it down. After mixing the melted butter into my other liquid ingredients, I then immediately add the liquid ingredients to the dry ones.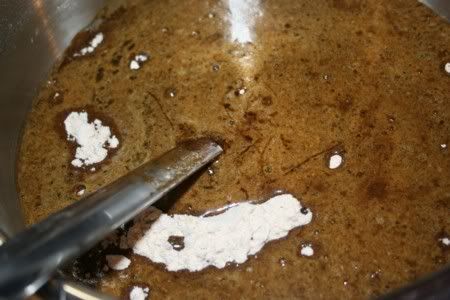 Stir the ingredients with a large spoon. You will note the rice flour and almond milk batter requires an extra half cup of liquid. This may be because I measure the grain rather than the flour. Or it could be that the almond milk is creamier than the regular milk. The resulting batter should resemble cake batter.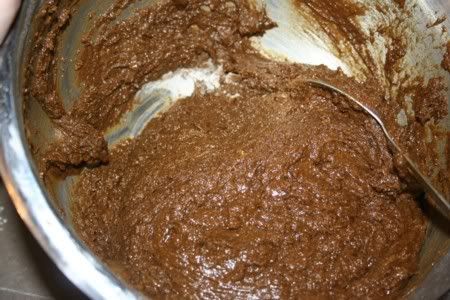 [Rice flour batter pictured above.]
Pour the batter into the prepared pans.
Bake in the 400º oven for 35 minutes or until done.
This gingerbread is quite good served with a couple spoonfuls of applesauce on top. For a desert type dish, you could top the applesauce with a dollop of fresh whipped cream.
Although today I made gingerbread, I use the basics of this recipe for many types of muffins. The molasses, cinnamon, ginger and cloves make this gingerbread. You could substitute any number of additional ingredient combinations to make any number of different kinds of muffins and I do. (E.g. blueberries and lemon peel or
raisins
, dates, cinnamon, cloves and nutmeg or bananas and pecans.)