I cannot believe it. I just cannot believe it. My family ate a snake.
Even my husband's friend Tim, who was over to help my husband start screening in the porch, had some.
I've always taught the kids not to kill anything they weren't going to eat. But I never intended that rule to apply to snakes. It is just unthinkable.
Yesterday, Gabrielle brought the skinned and trimmed snake to the house. When I told her to "get that thing out of here" she told me it was not a thing, it was meat. It ended up soaking in a bowl of ice water on the counter while I prepared dinner, all the while pretending it wasn't there.
Today, I was forced to help Gabrielle cut up the snake. (The bones hurt her fingers.) She breaded and fried some of it, some she coated with
vinaigrette
and some got spicy herbs and pineapple juice. All were cooked outside on a fire the kids built.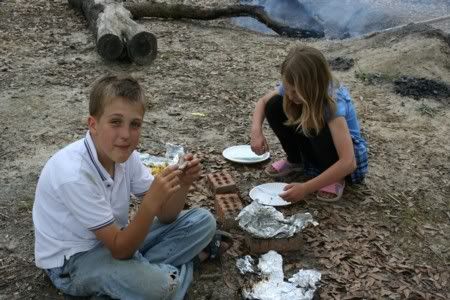 Throughout their snake feast, I hid in the house (except for taking the pictures for this post). I admit it. I am a
wimp
. I would not even try the snake. Not for anything.