All moving and remodeling things must pause for harvest and holidays and we've had both this last week. After unpacking as much of the kitchen as possible in the couple of days I had available, I took a break for Thanksgiving and for harvesting our sugar cane. We finally faced the challenge and cooked one of the giant turkeys we raised this year. It fit into the oven just fine.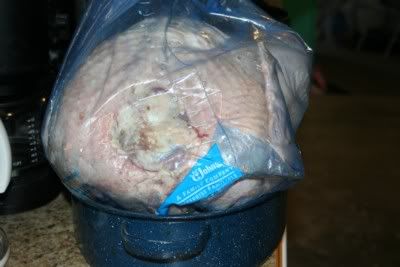 However, there was a bit of an issue getting it into a pan.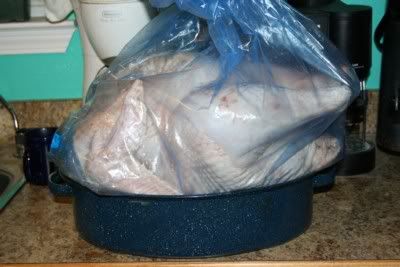 Even after thawing, the turkey sat on top of my roasting pan, obviously way too big for the largest pan in my house. So Kurt ran out Thanksgiving morning and brought home the largest disposable pan he could find.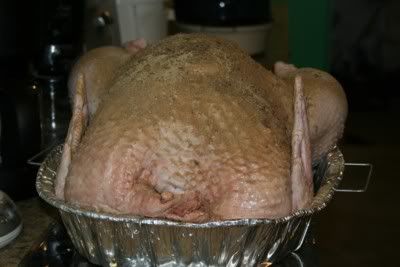 It just fit and we bent up the sides for extra holding ability. But the pan was shallow. Too shallow. I used a cookie sheet for support and to catch any drips AND I installed an oven liner.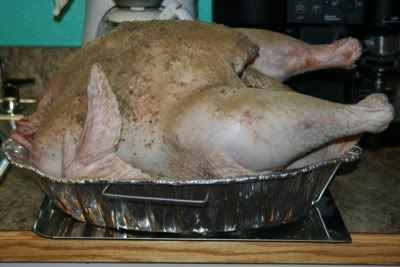 Praise God we were able to cook the thing. I wasn't sure we'd be able to do it there for awhile. And really, the fire that happened when the shallow disposable pan filled up with juices and overflowed caused very little damage to the inside of my new oven. And really, had I seen the instructions warning against putting the liner on the bottom of the oven, we may not have had any damage at all from the fire itself.
Several people suggested I cut up the turkey to cook it, but I wanted to stuff it and stuffing a turkey cut into pieces just didn't seem right.
Besides, I'd made my own bread crumbs for the stuffing already and really wanted to use them. The stuffing turned out really good and I am glad we roasted our turkey the old fashioned way, though I really am going to have to find a larger roasting pan for the future. We gave two of these giant turkeys to friends and both of them had extra large roasting pans from their mothers. I'm pretty sure my mom doesn't have one for me. I'll have to figure out something else before Christmas or cook a smaller turkey.
We were very blessed to be allowed to harvest the sugar cane from our old house in Brewton last week. We pulled a borrowed trailer to Brewton and cleared the field in about three hours with a single machete. We pulled the cane home and the day before Thanksgiving, while I baked pies, the kids stripped off leaves.
Stripping leaves is not an easy job because the leaves are sharp and will slice up your arms. Gregory has really made a huge effort to be a good and reliable worker lately (after a couple talks with Bob the Builder and his parents) and he did the bulk of the stripping work.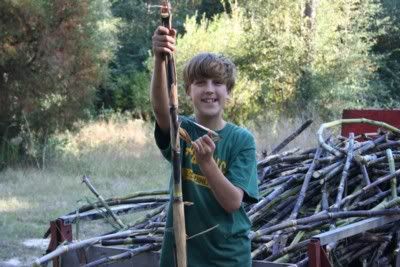 I am so proud of Gregory. Not only did he work hard and make sure all the leaves got stripped in a single day,
but he maintained a really good attitude throughout a very long work day.
I really appreciated his attitude since Gregory doesn't even like the cane syrup. He is the only one in the family who doesn't like it.
Gabrielle helped without complaining as well.
Michael sort of helped.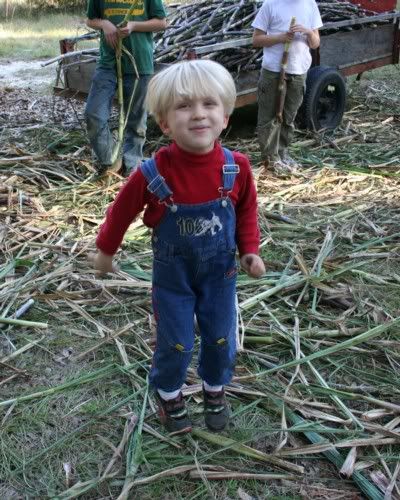 But mostly he just played.
The kids only had one day to strip leaves instead of the three they had last year if they didn't want to do it on Thanksgiving. On the Friday after Thanksgiving, we traveled back to Brewton to press the cane at the Wilsons' house.
I love the Wilson family. They are such great people. I really respect the lifestyle they lead. They raise lots of their own food and work together as a family. And they have THE BEST way to cook in winter.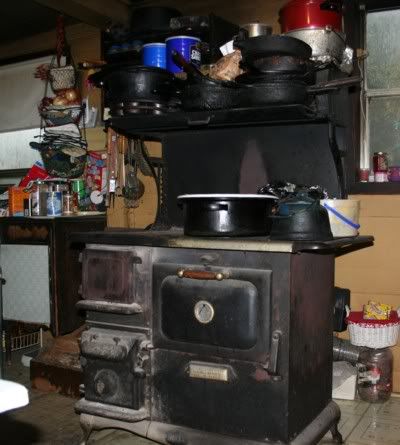 The have a fully functioning, intended for the job, wood-burning cook stove.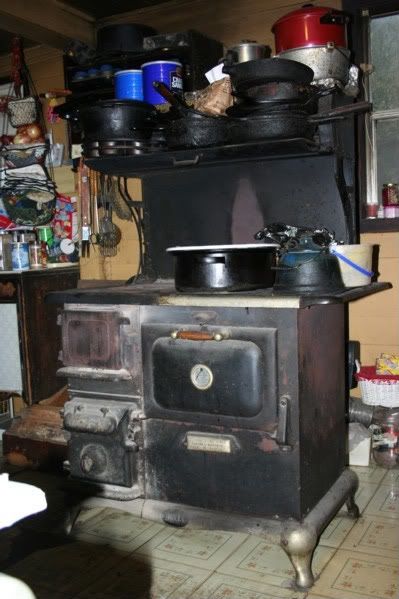 I LOVE this stove. It keeps their home so warm and cosy (though I think they have a wood burning stove in the living room for heat as well). And they cook on it too! How cool is that???
Pressing the cane this year was much like last year.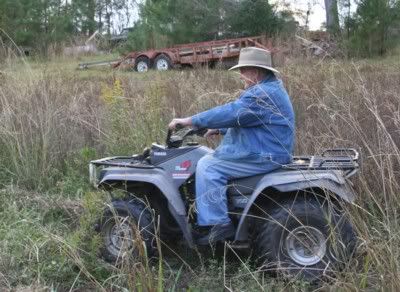 Mr. I.J. drove the 4-wheeler down to the pasture with the cane mill to watch.
Though this year he selected a few stalks of sugar cane to plant. He told me he wanted some cane for "chewin and a bit of juice".
While some of the men piled up the cane and then fed it into the mill. Mr. John David once again spent hours driving round and round keeping the mill cylinders in motion. While I wasn't at the house visiting with the Wilson sisters, I sat and visited with Mr. I.J. I enjoy the stories about his younger days in Brewton, especially the stories about raising and processing sugar cane. He told me they used to make Whiskey from the cane juice skimmings. He told me about pressing cane and boiling it down late into the night and about selling the syrup. He told me a little about the mule that once powered the mill. Some of the whiskey stories made me laugh. Part of me wanted to know how to turn skimmings into whiskey, not to drink it or anything, but just to know how to do it. And really, it is not like I would ever try making it. I just like knowing how to do things, things people don't do so much anymore. In the end, I never screwed up my courage far enough to ask how.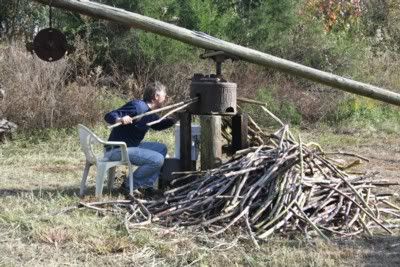 The men took shifts, straining to push the large canes in between the pressing cylinders.
Jason walked over to say "hello" and took a shift as well.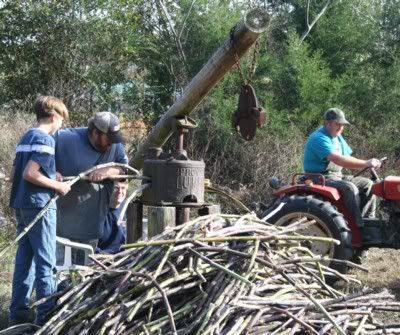 Gregory took frequent shifts throughout the day.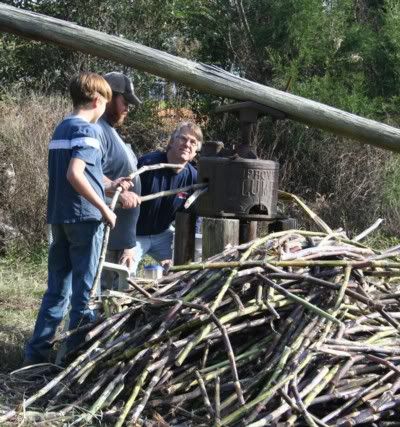 The men had to be ever mindful of the beam going around and around. It got me a couple of times before I remembered I did best visiting with people instead of trying to push sugar cane into the mill.
Gregory had an enjoyable chat with Mr. I.J. over one of the turkey sandwiches I'd made for lunch. Gregory also borrowed Mr. I.J.'s cup and drank a whole lot of the cane juice. He doesn't like the cane syrup, but Gregory drank more cane juice than anyone. We were warned the juice has a bit of a laxative effect, well quite a bit, but it didn't seem to phase Gregory.
He worked all afternoon with few breaks.
And I think he only got bonked once.
Unlike me. I should have sat in the chair like Kurt or stayed away all together. You don't really get hurt or anything since the pole proceeds at a slow, steady pace. You just get pushed and then embarrassed.
The entire time we spent with the mill, the Wilson sisters played with Michael.
They are such sweet ladies. At one point Miss Wanda pushed Michael on the swing.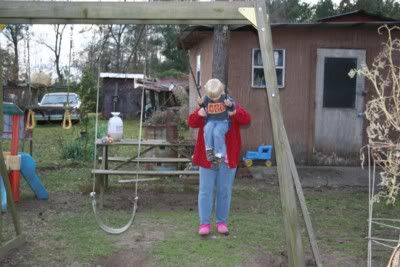 He told her "yes" when she asked if he wanted to go high.
I really don't think he knew what "going high" meant. Either that or he changed his mind quickly. But he never said a word and Miss Wanda didn't realize how terrified Michael was until I said something to her - after I took a blog picture.
Once we got home with our eight and a half, five-gallon buckets of sugarcane juice, I started the race to boil it into syrup. Sugar cane juice spoils rapidly so it needs to be condensed to syrup quickly. Cane syrup is shelf stable and lasts for quite awhile.
When we moved into our Foley house, we upgraded some of the appliances. I saved the old stove with the idea we could build an outdoor kitchen of sorts for cooking cane juice into syrup. We still need to build something to protect the syrup from falling leaves and bugs so this year we once again boiled the juice in the house. I talked Kurt into bringing the old stove back inside (since we have room where the refrigerator is supposed to go after the floor gets installed). Then I convinced him I should use both stoves to process the cane juice faster. Kurt simply had to convert the cord on the old stove to work with the dryer outlet, which he did. I love my clever husband.
Working with two stoves cut the process from four days to two, much to my relief. It also kept the juice sweeter which makes for better syrup in the long run. I told Kurt I like having two stoves and want to keep both of them inside for now. He doesn't like the idea but I figure as we get stuff put away and messes cleared up, there might be room for the extra stove in the laundry room.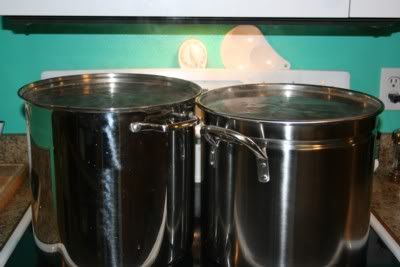 Each five-gallon bucket holds enough juice to fill up a large stock pot.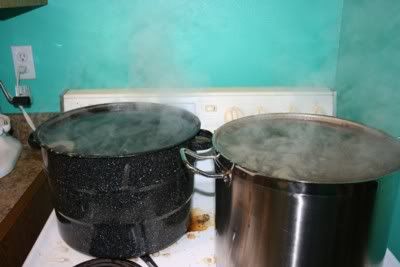 And with four stock pots going at the same time, condensation filled the house pretty quickly.
And naturally that meant "rain" once again dripping from fixtures, vents and even the ceiling. I thought a dehumidifier would help so Kurt dug ours out of the workshop. We've had it stored for at least four years and I was glad to have a reason to use it again.
I meticulously cleaned up the dehumidifier and plugged it into a kitchen wall outlet. The small explosion and burst of flame flipped a breaker and ended my hopes to remove moisture from the air. Kurt tried to fix it, but a mouse had long ago attempted to establish residency in the inner workings of the machine. Either the nest or the mouse snacking on the wires caused the dehumidifier to short out and the explosion made it permanent. Lousy rodents. I'm glad we have cats now and I hope this particular mouse became dinner for one of the cats at some point.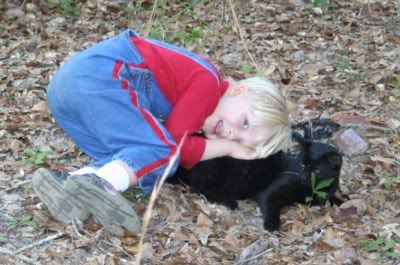 Kurt thinks our "barn cats" have been overly tamed by the kids, but we still see them with mice periodically. They are doing their job and I am glad they are around, no matter what they do to the screens.
After a good 12 to 13 hours, the sugar cane juice foams more orange and with smaller bubbles, signaling that it has become syrup.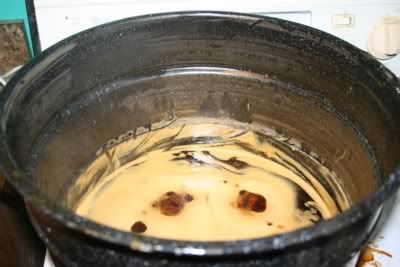 We got five and a half gallons of syrup this year. I'm so grateful to have it around again. We ran out a couple months ago and oatmeal is just not right without it.
I had to stay with the syrup all day, each day again this year, but didn't get much knitting done. While I did a little knitting on the second day of processing, on the first day I cracked and shelled the bag of pecans the Wilsons gave to us as we were leaving.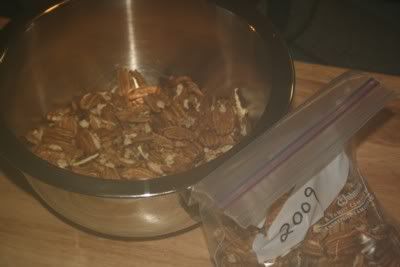 I'm so grateful for the people who share things like pecans with us. I wish we had a producing tree ourselves, but since we don't, I am grateful for friends who share.
On the pet front, Strider has become a much happier dog.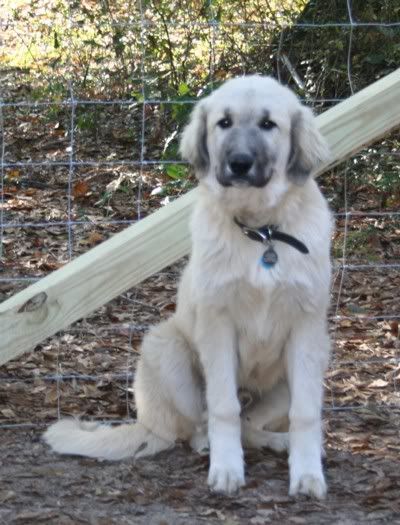 He likes to sit on the top of the hill left from our pool installation and sometimes chase chickens. We are trying to break him of the chicken thing. He is supposed to protect them. Silly dog. I'm really going to have to pray for the means to distract him with dairy goats as soon as possible.