Despite being more busy than normal launching our fabulous soap and craft business,
Finchwald

Homestead
, I managed to knit a couple of little baby hats for a shower I missed last week when I had the flu.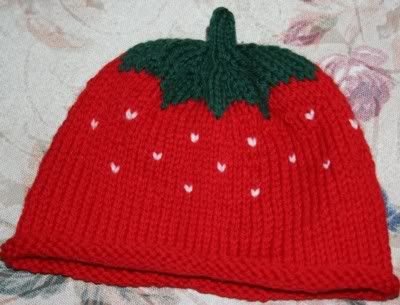 I love these little fruit hats.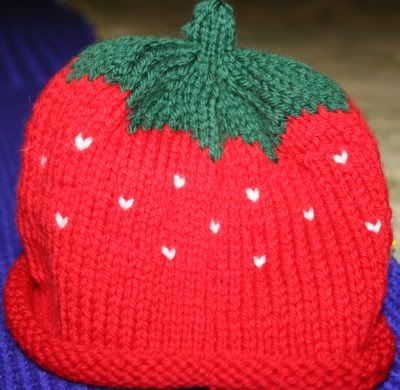 I modified the strawberry slightly so it would have white seeds rather than green. I think it looks better with the extra color. (Under the hats, you can see some knitting I am blocking for a friend who commissioned me to make a hat and scarf for her daughter. I will blog about it later on the
Finchwald

Homestead blog
.)
And because these little hats are such a quick knit, I thought I'd go ahead and knit a second one, a dewberry. Dewberries grow wild here in southern Alabama and the purple yarn I used from my stash was perfect. The above picture shows good detail, but the color is too light. The actual hat looks more like this:
I added a band of ribbing to the bottom edge of the hat for a slightly different look.
I sure hope the new mom-to-be thinks babies with fruit heads are as cute as I think they are. I suppose it is possible some people wouldn't appreciate a fruit headed baby, though I can hardly imagine.
Meanwhile, my Fall garden has given me plenty of purple peppers and some tomatoes. The bugs always seem to get the tomatoes when they are ripe, so today I fooled them and picked the tomatoes green. I added them to the batch of salsa I mixed up today. I sure hope green tomatoes taste okay in salsa.
I also added some purple peppers (and their more dangerous red incarnation) to the salsa to make it deathly spicy. I love spicy food. After 6 weeks fermenting in my
Harsch

Crock
, I should have some super tasty, healthy and not-for-the-faint-of-heart salsa.