I've been shamefully absent from my blogs for some time now. It seems the Spring gardening takes more and more of my time the older I get. I have little energy for anything else this time of year.
We've been harvesting our winter vegetables for some time now. Today I picked the bulk of our remaining cabbage.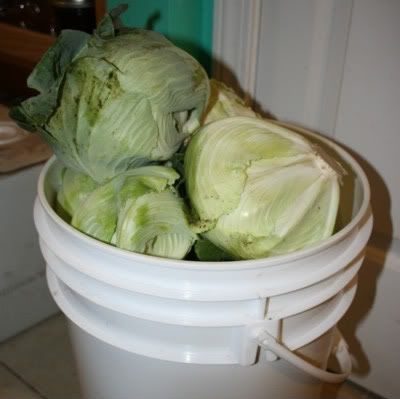 I took a 6 gallon bucket with me thinking I'd pick some early beets, turnips and other veggies at the same time. Even without the outer leaves, the cabbage filled my bucket to overflowing. (The chickens got treated to the outer leaves this morning.)
I did manage to pick a couple beets and turnips. I thinned my carrots and clipped a few little shoots of broccoli from plants that bolted long ago. I also picked a few snow peas and some mustard greens.
I thought I'd make another batch of sauerkraut today. I plan to throw the colander full of veggies in with the cabbage to make a different kind of sauerkraut. I already have a 10 liter
crock
of ordinary sauerkraut fermenting on my counter. I think this batch will require my 15 liter crock, the one I got for making pickles. It takes 6 weeks to ferment a batch of kraut; I sure hope I won't need my crock before then for pickles. We might have to eat a lot of cukes before 6 weeks are done.
We are planting a fairly large garden again this year. I would love to grow enough vegetables for our family's use during the year. If we could get extra, it would be great to start selling at the farmer's market. Especially if I could get the
Brix
values of my vegetables high enough to have something really spectacular. I'd love to show my neighbors down here in the south just how good organic living can be!