Yesterday we traveled back to our once home town of Gulf Breeze to attend
Calvary Chapel's
annual harvest festival. The kids had a blast!
Gabrielle spent a great deal of time tackling the blow up obstacle course and other blow up adventures.
Gregory meanwhile participated in his first boxing match.
And jousting.
Gregory exulted in the victory of knocking his foe off the unstable center table.
With trepidation, the kids approached the climbing wall.
Looking a bit like Spiderman, Gregory tried to climb to the top several times.
He finally made it about half way up. He vows to conquer the climbing wall, "next time."
Gabrielle made a last minute climb up the wall herself. In the end however, she gave into the drama of fearing the height of the wall. Never mind that her swingset platform is much higher than she climbed.
Michael had his first experience with American culture.
He got his first Happy Meal from McDonalds.
On the home front, Gregory is finishing his last month of karate. We're going to have to pull him out for now while we wait for the sale of our property in Gulf Breeze. We agreed to allow him to stay in long enough to test for his yellow belt first. He has worked hard to prepare.
Gregory did great. He is attempting to advance 2 levels, which is allowed at this point only. He dreams of one day becoming a black belt. I just wish the whole thing was more affordable because karate has been so good for him.
Here Gregory prepares to do a double board break as part of his testing.
Our winter garden is starting to give us snap beans.
I steamed these and served them with sliced almonds and butter. They were absolutely delicious!
Today, we "processed" our first 6 chickens. Last night we separated the first chickens from the rest of the flock.
Kurt found a couple of old broken cribs he was able to cobble together well enough to hold 6 roosters. We gave them water and a branch on which to perch.
We finally found a use for the old A frame swing left on our property.
Kurt attached the "killing cone" to the frame. These cones are very calming for the chickens allowing you to achieve a calm kill, which is important for the best meat. As we told our children, every time we eat chicken we cause a chicken to be killed. However, when we raise our own chickens we can give them the best life possible and the calmest, quickest death possible.
Before plucking the feathers off a chicken, they need to be scalded for the feathers to release. Kurt found a great deal on a turkey fryer for the job.
Since this was our first time "processing" chickens, a man with far greater experience (27 "processed" chickens and 3 months) came over at day break to get us started. He taught us technique with the first two chickens. We are very grateful! We were able to get all 6 chickens into the refridgerator for aging by mid-morning. On Kurt's next day home he hopes we can do 10 chickens. That will leave about 10 more for his following day off. Afterwards I will be freezing and canning chicken meat and making and canning chicken soup for us for the winter. In the Spring we hope to get more meat chickens.
We are starting to have gloriously cool Fall weather. To stay warm, the kids have been absconding with my wool shawls.
In fact, the teal shawl I wove most recently is a bit smaller than my others and Gabrielle seems to think it fits her just right.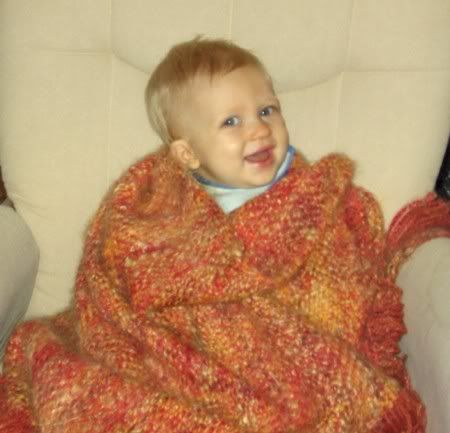 Michael likes wool so much that it calms him down whenever we wrap him in something wool. In fact, some of the members of the
Spindlers
group made him a superwash baby blanket when he was first born. He cannot sleep without this blanket and will caress it for comfort as he goes to sleep. What can I say, the kid has good taste!