Spring returned with many new adventures for our family. We now have a second, larger chicken coop thanks to the help of our great friends, the Martin family.
Kurt and Tim Martin worked long and hard to get the new coop up before our meat chickens arrived.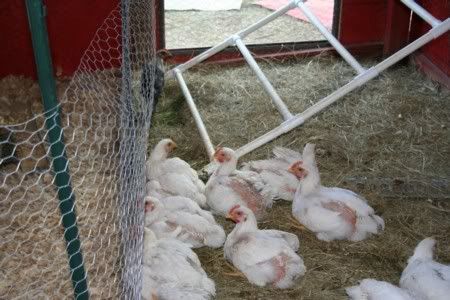 All these chickens do is lounge and consume vast quantities of food and water.
The chickens are about five and a half weeks old. This particular breed can be butchered starting around 6 weeks. While I would like to wait until the chickens are fully feathered (making plucking easier) and a bit bigger (so one chicken is an ample dinner for the whole family), our feed store is out of feed for 3 weeks. Thus, we will start filling our freezer soon if I cannot secure another source for chemical free, medication free and animal by-product free feed. You wouldn't think it would be difficult to find such feed, but it is. Apparently most people in this area at least believe in "better living through chemistry."
We ordered our meat birds from
McMurray

Hatchery
again and received a new rare breed chicken.
We think this chicken is a
Golden

Campine
. Nothing else we could find looks even close to it.
Spring also brought out mothering instincts in one of our barred rocks.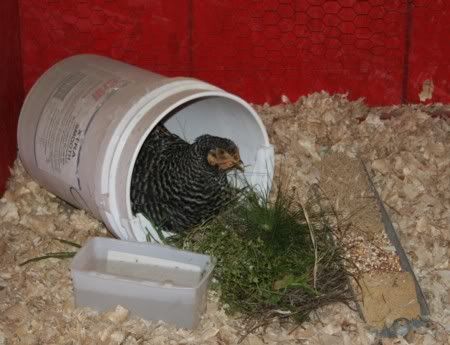 She is attempting to hatch two eggs and a golf ball. I've forgotten how long she has been setting, but I think her time is short. She almost starved herself at first. We constructed private quarters for her in the meat bird coop so she might be more comfortable venturing out for food and water. A couple of times she abandoned her nest completely. I'd find her scratching around in the chicken yard. However, once I put her back into the area with her nest, she would resume setting. I don't know what is going to happen, but it will be interesting to see.
For the last 6 months or so, we've been attending the most wonderful church. The people are amazing. They are what you would expect Christians to be. And best of all, the preaching is
biblically
sound. It isn't a
Calvary Chapel
, but it is pretty close. We are attending Calvary Mennonite Church. From the beginning we've found a true church family.
A couple from the church blessed us with an antique tractor.
It is a 1957 McCormick
Farmall
Super A. We just LOVE it! They had it rebuilt and everything works great. I thought I'd be the one using it since Kurt has not been overly involved with the garden this year, but Kurt quickly laid claim to the tractor.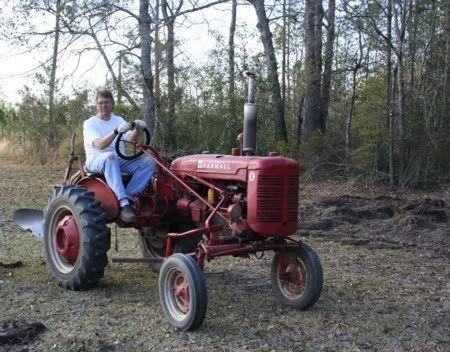 Kurt has been attempting to convince me the tractor is challenging to handle. Of course this is as he is trying to find things to plow. We've both decided the back yard is unnecessary at this point in time. Kurt even cleared some area on the edge of the woods and plowed a garden area for the kids to grow popcorn, ground cherries and carrots.
The kids are excited about their garden, Kurt is excited about the tractor and I am looking forward to lots of fresh food this year.
Once Kurt finished plowing, the chickens moved in to debug the area for us.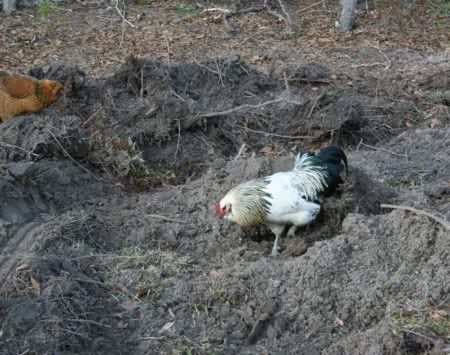 This is our
Americauna
rooster. He was supposed to be a hen.
Of course Kurt is far too playful to just put the tractor to work. He has allowed Gregory to drive it all over the property. One day I found Kurt racing up and down the dirt road. (He explained he had to charge the battery.) And he allowed Gabrielle to ride the plow.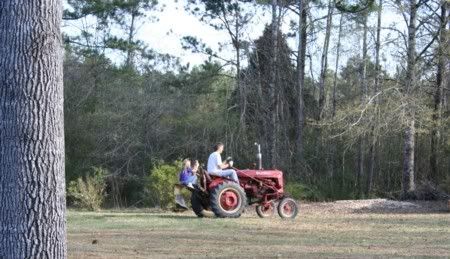 The whole family loves this plow. We are very grateful.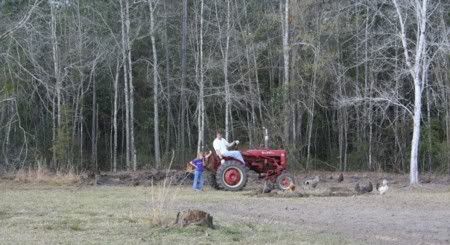 We still have our riding lawn mower and Kurt still uses it.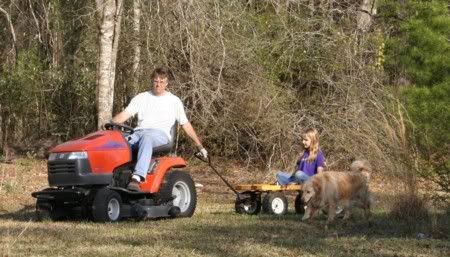 Well, Kurt sort of uses it. The chickens free range all over the property and keep the grass mowed pretty well.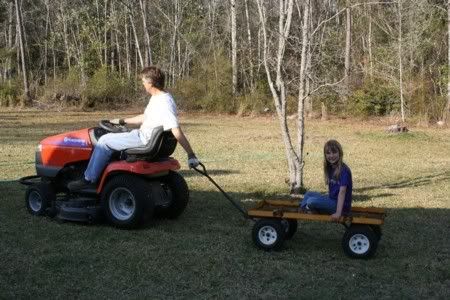 I think Kurt used the lawn mower to get the wagon back to the garage. But first he allowed Gabrielle to drive it to the where the kids left the wagon.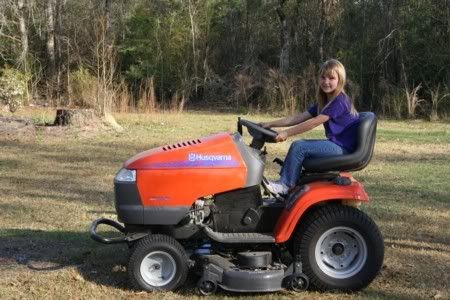 Earlier in the year, I planted garlic. The plants seem to be doing well, especially now that Kurt finished the fence and the chickens can no longer get to it.
I love garlic.
Last Fall, Gregory and I found an old bridge over the creek. The path to it had been covered by fallen trees and the bridge was falling apart. I always meant to get pictures of it before Kurt dismantled it. I forgot.
Kurt thought the bridge was so cool, he decided to rebuild it.
He was able to use some of the fallen trees for support beams. Eventually he hopes to build the top portion of the bridge so it can be safely crossed. We cannot imagine the purpose an approximately six foot wide bridge could have served. We love to contemplate the reasons it was built and make up stories about it when we are having family story telling evenings.
Our neighbor is having a baby. I wanted to make a little gift for the baby. A friend from
Christian Artisans
, Sharon, sent Michael the cutest pumpkin hat for my online baby shower. I hunted down the pattern and made a tomato hat for my neighbor's baby.
These are the cutest little hats and a quick knit. I found the pattern at
Paradise Fibers
and used
superwash
wool from
Knit Picks
.
I've got a gazillion knitting projects going presently. I'm knitting prayer shawls for our church's prayer shawl ministry.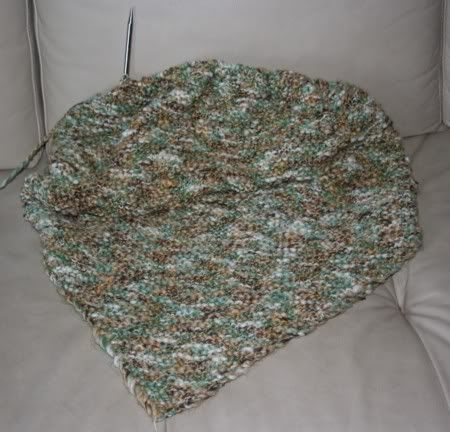 I've been working on this one over the last couple of weeks. While we knit we pray for our as yet unknown recipients. When they are finished, we gift them to women going through difficult times. I'm thinking the next one I make will go to my sister Brenda who is in the hospital with pneumonia and
pleurisy
.
I've also been working on a lace scarf I'm making as a gift.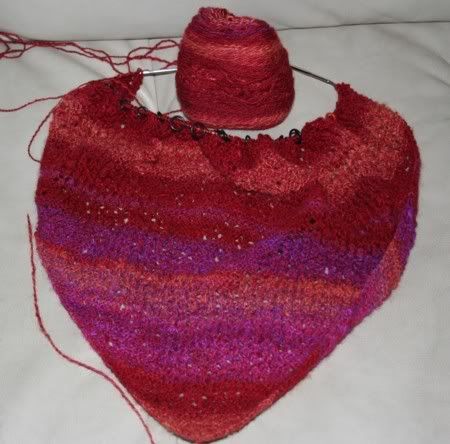 This is the Daisy Scarf pattern from
Fiddlesticks Knitting
. The yarn is homespun from fiber I specifically chose at the
Destin
Spin In for the project.
I'm also working on a sweater for my mother. I'll have to post pictures of that soon. I also have a couple semi-abandoned projects in my knitting bag including a shawl and a pair of socks.
Finally, when I can squeeze in the time, I am attempting to make Michael some summer clothes.
He only has winter clothes right now and the temperatures are quickly increasing. I like to sew, but it requires a lot of stuff to be out where Michael can get into it so I don't do it very often.
Spring has become a very busy time around here. Soon we will be planting. We also have the end of the school year push. This year we also have many more social activities since we have finally been meeting people and getting more involved in the community. We sure have come a long way as a family from our early days in
Las
Vegas.