Alright, I'm behind. But I hate to lose the pictures on my computer since I never print them or anything, which is what would occur if I simply jumped to the present. So here is our Christmas, 2006.
After examining our budget, we realized we were going to have to simplify. As a result, we focused on using our God given talents to make a good portion of our Christmas presents this year. We had a very special holiday as a result.
When my in laws told us they would be able to visit this Christmas, we included them in our plans. I spun some wool from my stash, some of which included fleece from
Serenity Farms
.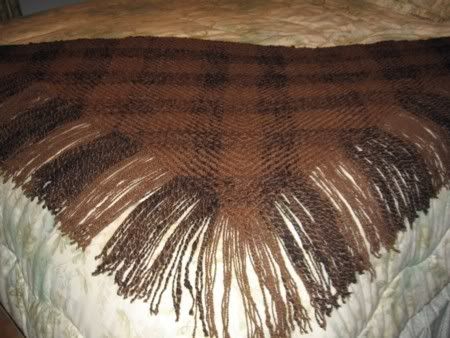 After weaving my Mother in Law's shawl, I immediately went to work spinning roving from
Running Moon Farm
and another fleece from
Serenity Farms
. I then wove a shawl for Gabrielle on my tri-loom too.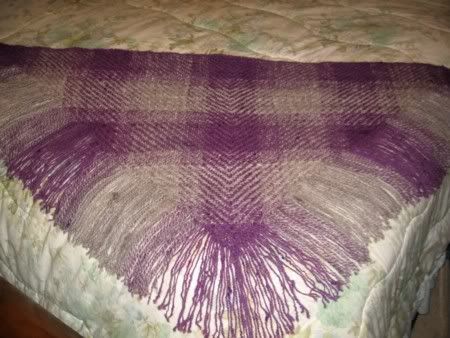 Since I couldn't hide my weaving from my daughter, I told her the shawl was a Christmas present for someone special. She wanted it so much, but thought it was for someone else. She was very surprised and very happy on Christmas morning.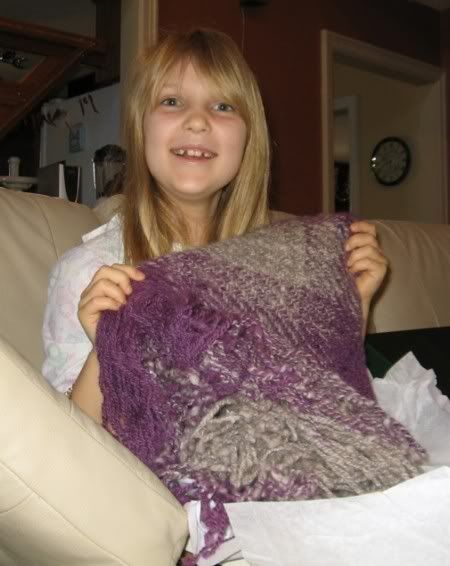 To this day, she wears her shawl all the time.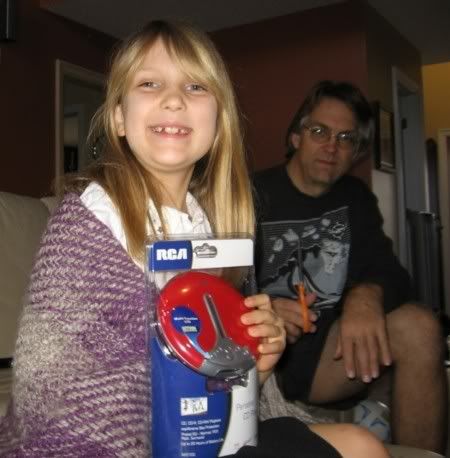 I knitted a pair of wool socks for Kurt's father for Christmas. I thought I took a picture of them, but couldn't find it. I used Kurt's foot for sizing. Through out the project Kurt hinted outrageously about wanting some socks too. I told him I wouldn't make him socks and he believed me.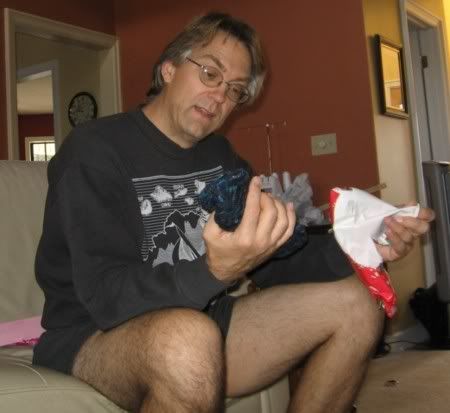 On Christmas morning, Kurt too had a pair of hand knit socks. Hey, a woman has got to do what a woman has got to do.
I also managed to knit Gregory a pair of fingerless gloves. Again, I thought I had a picture, but can't find it anywhere. Oh well.
Gabrielle made Gregory some homemade gluten free, casein free cookies.
My mother sent noisy gifts for the children.
This train is particularly loud. I will confess however, it is awfully cute.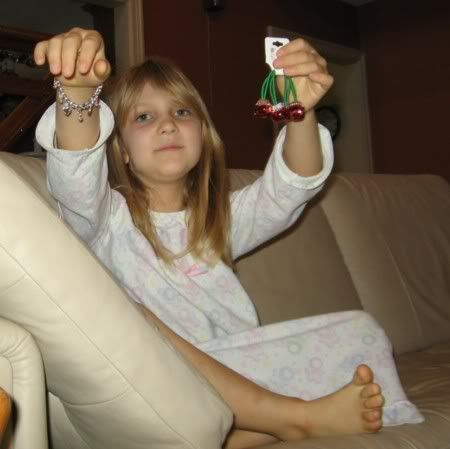 Gabrielle received bells for her hair and a clanky bracelet (both of which she loved). And Gregory got a wheel shooter toy.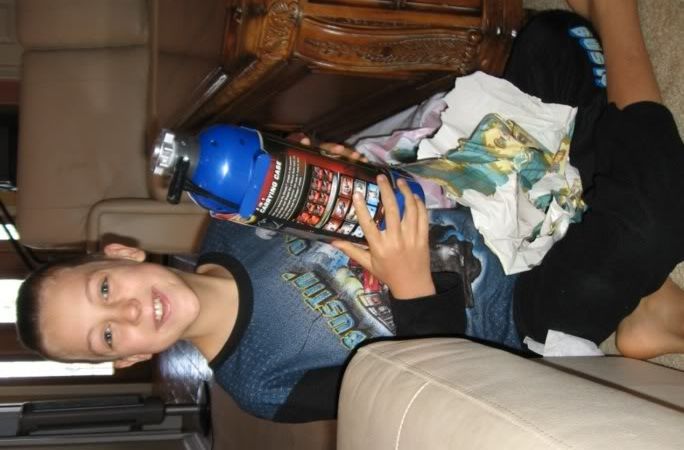 I'm not sure how loud this one is yet because we haven't found the wheels for it so far.
Michael loves presents.
He got his own flashlight, though his was different from the ones received by the other kids.
Michael's big present this year was a new rocking chair.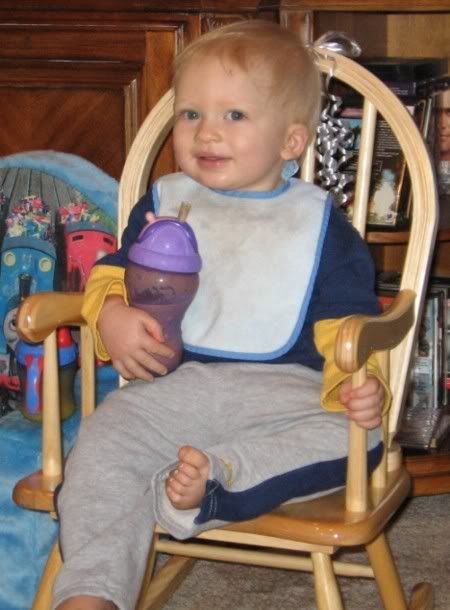 He learned to climb into it almost immediately.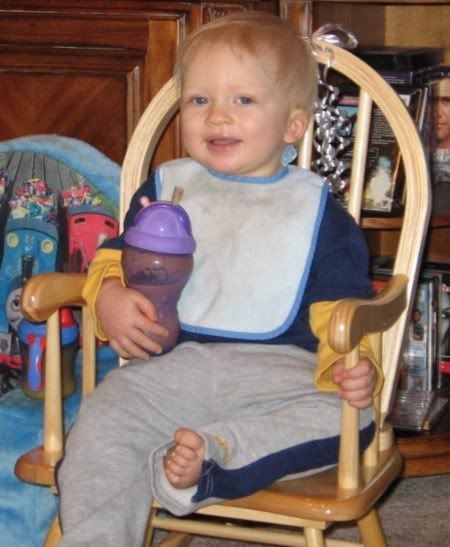 Even Kurt found a couple of surprises under the tree.
For Christmas dinner, I was able to pull some vegetables out of the garden.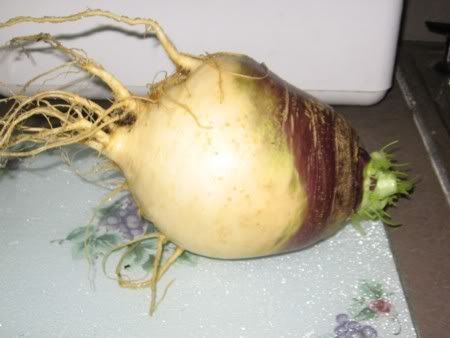 Rutabagas are one of my absolute favorite vegetables. I just wish my family liked them. Of course they wish I didn't.
Naturally, with all of the presents Michael received, he enjoyed playing with the dog bowls.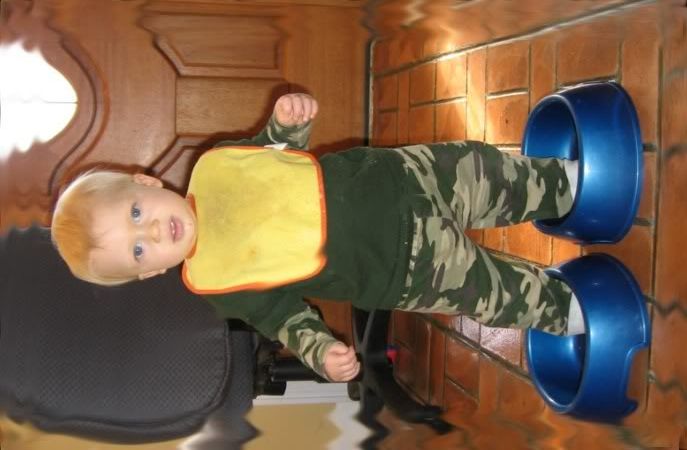 He likes clanking around the house in them.
All in all, we had a very memorable Christmas. Unfortunately, the kids took turns getting sick which kept us from some of the Christmas activities we'd planned. However, once we stopped eating the sweets again, everyone returned to good health.