The sewing bug hit me again a few weeks ago. I made Gabrielle a couple of new skirts for church.
This is one of them. I keep forgetting to take pictures of the other one.
Some of the girls and fathers from church also attended the father-daughter Valentine's Day Dance at
Calvary Chapel Gulf Breeze
.
I made Gabrielle a new dress for the occasion.
My friend Irene made her daughter a new dress as well. Gabrielle's friend had a pretty dress to wear, but Irene and I thought it would be nice if she had a new handmade one so I made the maroon colored dress for her.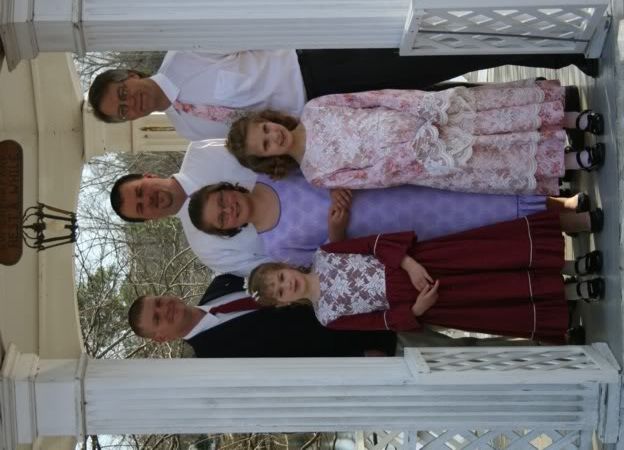 Irene had the brilliant idea of making the fathers ties to match their daughter's dresses.
The coordinating clothes were a big hit all the way around.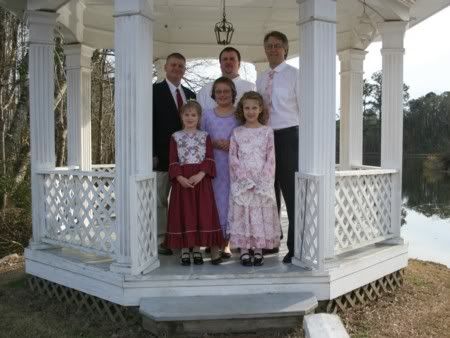 Everyone met at the house of Irene's mother in law so we could take pictures by the lake. (Their house is my dream house presently. It is the coolest underground house and overlooks this gazebo and lake.) I really need to work on lighting when it comes to taking pictures.
Michael watched me sew for several days and thought he would join in the fun. I got up at one point so Michael jumped into my seat at the table and pretended to finish pinning the ruffle to the dress.
Michael is a character! In the picture he is wearing the latest jumpsuit I sewed for him. I still have one more cut out. If I am going to sew it, I should hurry up. Winter doesn't last too long around here!
Michael's favorite movie currently is Cars. He got it for Christmas. One day I found him acting out the opening race scene to the movie.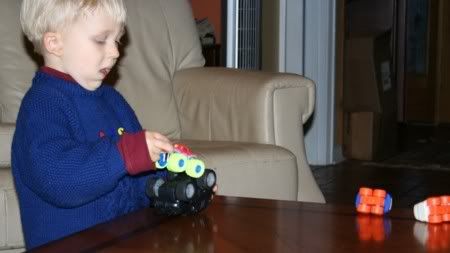 He started by setting up an accident strewn path. He sets one car upside down. As his car, the Lightening McQueen car, races through the accident strewn track, he jumps on the wheels of the upside down car and over the wrecked vehicles on the track all the while hanging his tongue out of his mouth.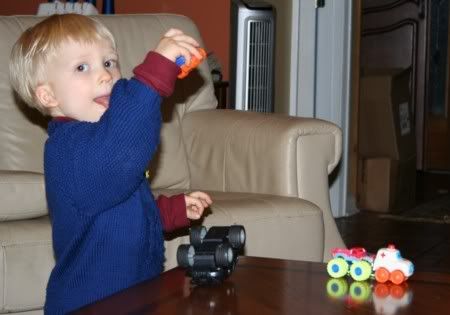 Too funny! Television definitely has an impact on kids' behavior.
Of course I've done some knitting lately. I knit a pair of socks for a man at church that broke his ankle. Naturally, I forgot to take a picture. I also started knitting another pair of socks, but frogged them last night. No picture. Then there is my Mom's sweater. One of these days I need to get a picture of that too.