I've been thinking it would be nice to get away, but vacations are just not in the budget presently. Fortunately, God can provide beyond anything we can imagine. And He did.
A couple of weeks ago Kurt heard his annual conference would be held at Pensacola Beach. Since we don't technically live close any longer, Kurt's employer reserved a hotel room for Kurt. And invited our family. Yes!
We prepared meals for 3 days so we could easily cook in the hotel room and not have any extra food expenses. We also decided that the kids, who've been sick in succession since before Christmas, could as easily be sick at the beach as at home. So on Sunday afternoon, we headed to Florida.
When God provides, He really provides! Not only did we have a relatively large hotel room at the Pensacola Beach Hilton, but we had a view of the Gulf!
We spent a great deal of time on the balcony watching the sea. What a blessing with the kids being sick to be able to enjoy the sea without leaving the hotel!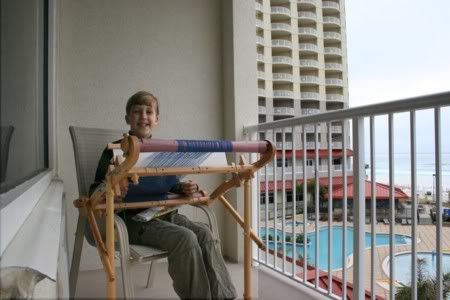 Gregory brought his weaving and worked on a scarf for his Dad's birthday (which was Tuesday the 22nd).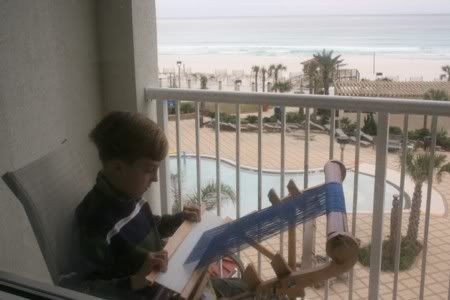 This is the way to weave!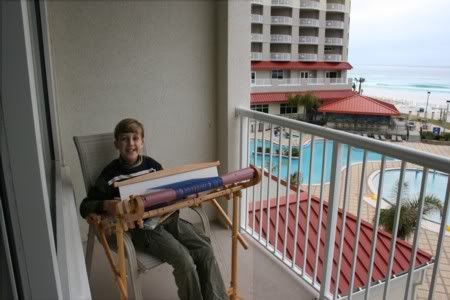 We had a nice view of the hotel swimming pools too with all of their fountains.
Both kids enjoyed their quiet time on the balcony. Gabrielle has her bible with the bible cover she got for Christmas on her lap. With it being so cold and Gabrielle being pretty sick, she couldn't spend too much time outside.
Gabrielle spent a great deal of time reading in the big chair next to the window. I spent a great deal of time in this same chair knitting on a pair of fingerless gloves I gave to Kurt (along with a matching hat) for his birthday.
At first the balcony made Michael nervous.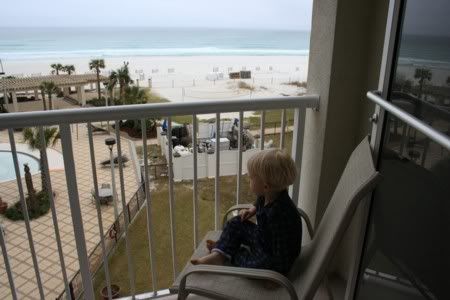 Soon however, he was on the balcony as much as anyone.
In fact, we could hardly keep him off of it.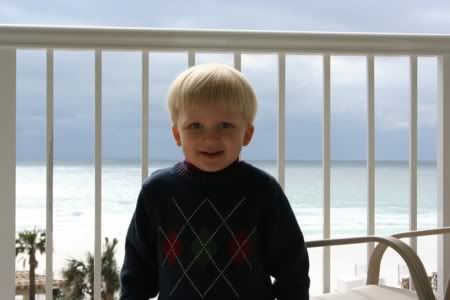 Michael really grew to love the sea.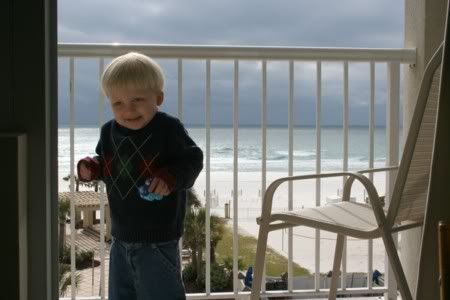 He started bringing his toys out on the balcony and I prayed he wouldn't throw anything off. Praise God he didn't.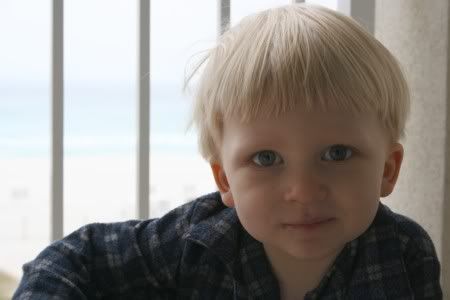 We all had such a good time. There is nothing like the sea to bring to mind the glory of God. When I think of the beauty of the sea and the beach and remember we live in a wrecked world, I cannot help but wonder what the original creation looked like before the flood.
The kids did a great deal of reading at the beach.
And Gregory, the only one sufficiently recovered, did a great deal of swimming in the indoor pool at the hotel. In fact, some friends of ours came out from Alabama and spent a few hours with us at the indoor pool. The kids loved getting a chance to see their friends while we vacationed. We really enjoyed our time away.