It has been an interesting summer. We did a great deal of harvesting in June.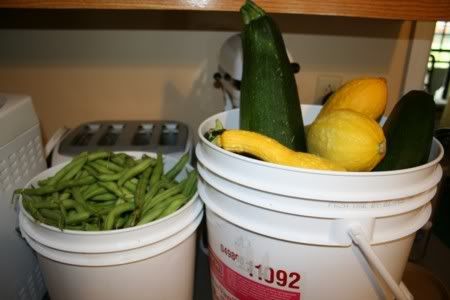 We froze a couple gallon bags of snap beans, dried a quart jar of black beans, froze some chopped up summer squash and discovered zucchini bread.

I've picked tons of cucumbers. We've distributed them to lots of friends and I have learned several ways to make delicious cucumber salads. I particularly like them with a ginger dressing and I have invented 2 different dressings this summer. I just need to write them down so I can remember them. I've also made several gallons of fermented pickles.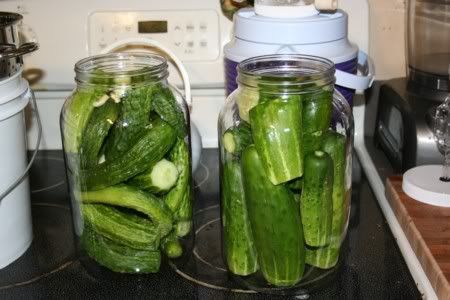 The lactic acid fermented pickles are very healthy, but must be
refrigerated
. I've got about 5 gallons in the fridge now and that is all the room I have - especially since I also have a couple of gallons of fermented salsa too.
We picked tons of dew berries this year.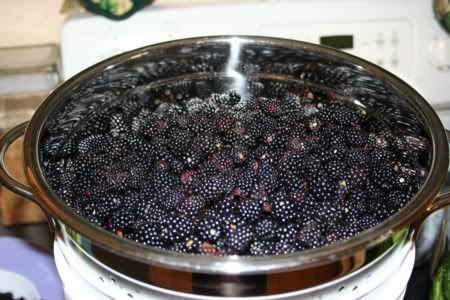 We made more than a dozen pints of jam with them, in addition to many pints of wild black cherry jelly (we discovered we have a wild black cherry tree in our front yard) and our annual blue berry jam. We even had enough dewberries left over to experiment with a dewberry souffle cake for Gabrielle's birthday.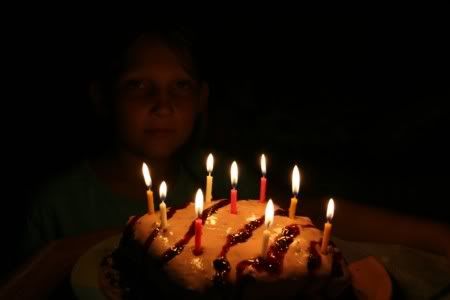 Gabrielle had a pretty nice birthday this year. Both of her grandparents sent her some fun presents.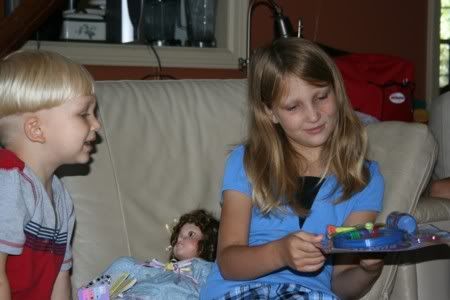 And even some for the pool.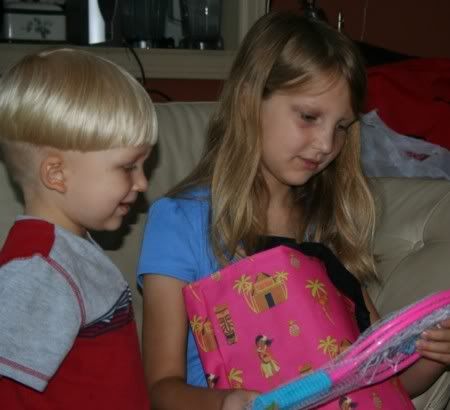 But it was a difficult day for Gabrielle. About a week earlier, we decided to move. Gas prices are sky-rocketing and Kurt commutes way too far for our budget. So we put
our house
on the market. We are all sad about leaving our friends and all we have invested into our home, but believe the Lord would have us make this change. We are trusting Him for a buyer and for the right house to be on the market once we sell ours. And we are hoping for a couple acres for chickens and gardening and hopefully goats one day.
It has been a bit stressful as we turned our focus to another round of spring cleaning, moving furniture, fixing little things and finishing the screened in porch. To keep sane, I have been doing some spinning.
I spun my first skein of camel (with silk). It is so soft and pretty. Of course I don't have any idea what to do with 336 yards of lace weight camel and silk. So naturally, I started spinning something else.
This is some
Silk Worker
silk I had in my stash. I love spinning silk on my
Journey Wheel
. I suppose it is pretty obvious that teal and purple are favorite colors. Especially teal.
Speaking of wheels, a part on my Wyatt Pegasus needed to be fixed and Mr. Wyatt generously offered to fix it if I sent it to him. I sent it, he fixed it and then Federal Express lost the part. The part may not be able to be replaced unless Mr. Wyatt has the wheel since each wheel is custom made. Shipping the wheel back to Mr. Wyatt would be difficult. I'm praying the part will miraculously be found and delivered. Mr. Wyatt is not so
optimistic
(and he is the one who has been dealing with Fed. Ex.). I am sad about the wheel being out of commission, but it has been a good reminder to pray for Mr. Wyatt who is having health problems. I do believe the Lord is in control, even in this.
Right before we put the house on the market, I had a delightful visit from one of my
Christian Artisan
sisters.
Kate
has 4 boys and our kids had a blast together. The weather was perfect for swimming. The
big
kids spent lots of time in the big pool and we set up a small pool for the little ones.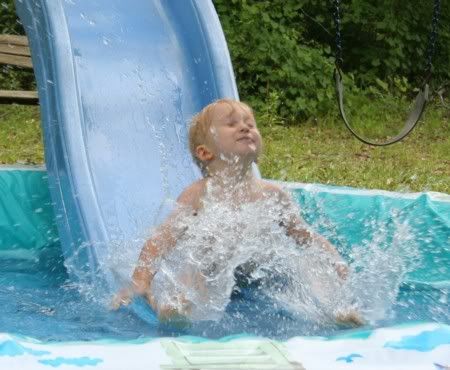 Michael loves his pool and learned to slide into it with a splash right away. Kate's boys discovered the joy of the water slide as well.
Geoffrey cracked me up. He would slide down the slide, make a splash and then tell us "this was SO much fun."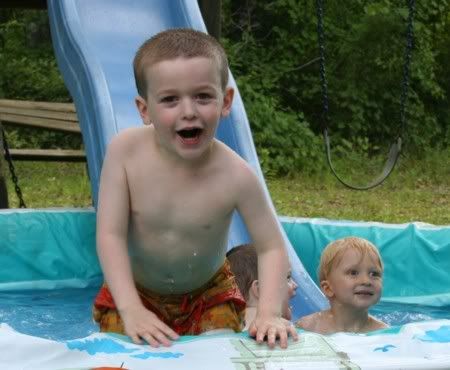 In the mean time, Kate and I brought our knitting and a couple of chairs outside under one of the oak trees and supervised "the
littles
" as she called them.
Cooking for such a large group was not without its challenges and we put the boys to work, literally earning their bread.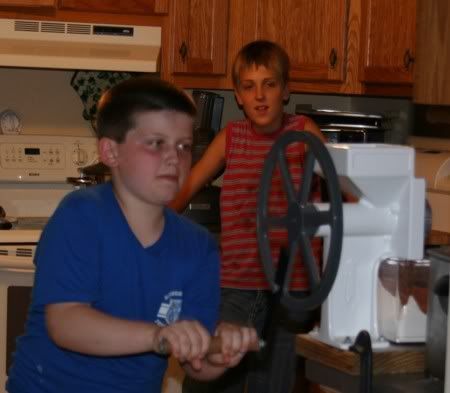 All of the boys ground flour that day, though Kate's eldest did the bulk of the work. I took his picture, but it looked pretty lame so I'm not going to post it.
Kate
is a delightful person and has a wonderful family. I felt so blessed by her visit. I really hope we see them again this side of Heaven.