Spinning gives peace and relaxation. Everyone says so. So while I am waiting for our house to sell, I figure spinning will help.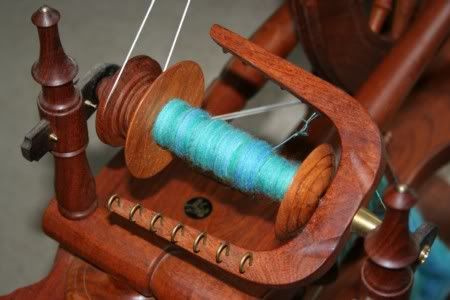 I resumed spinning some fiber I received in a
Christian Artisans
exchange long ago. I spun one bobbin of "frog hair" and never spun the second. It has been a couple of years so the time has come. This seems like a nice, long term project and I don't know how long this waiting for the house to sell phase of my life might last.
And when I say waiting for the house to sell, I mean waiting for the telephone to ring with news that someone wants to LOOK at my house. The housing market is slow right now. Really slow. We're going to need a miracle.
Speaking of miracles, I got my Wyatt Pegasus miracle. Apparently, Federal Express destroyed the mailing tube containing the parts to my spinning wheel. They eventually found the contents of the box and taped them into the remaining part of the mailing tube and forwarded it to me. The box was a wreck, but Mr. Wyatt knows how to pack and the parts survived. My Pegasus is up and spinning once again.
And since no one has bothered to look at our house so far, I went ahead and moved my Pegasus right into the middle of my living room where I can spin on it daily. When a buyer comes around, I might move it back to its place in the dining room. It depends on how long it takes for a buyer to come around. The way things appear, I might be too old to move it then. But then, the Lord is in control and Jesus has impeccable timing. That has been a
recurrent
theme in my bible study lately. It must be a lesson I need to learn. Waiting is not one of my strong qualities, unless we are talking about the kind of waiting one does in front of a microwave. And even that can be too slow for me most of the time. . .
I finished the silk I was spinning on my
Journey Wheel
.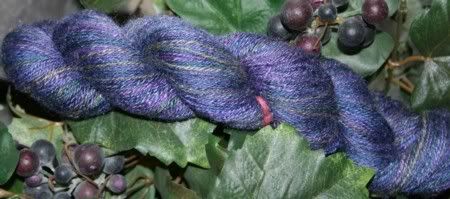 I love
Silk Worker
silk. I got the urge to try some Navajo plying again. It started badly, but ended up better than normal in the long run. I usually over ply using this method. This time the skein looks good. Well, after I got rid of the first couple yards it does.
I have actually been knitting. On the same pair of socks I started back in December or there-about.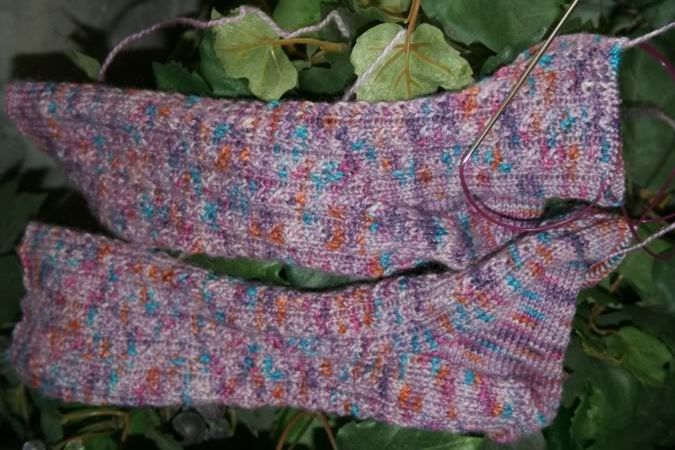 I don't know why some projects languish. These are a gift so enough said. I'm hoping to get them finished soon. At least before 2008 ends.
Lately I have been an equal opportunity procrastinator. I started an Easter dress for Gabrielle a couple weeks before Easter. It is still not finished.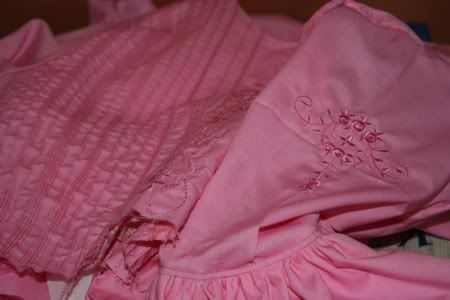 I actually worked on it yesterday though. I got the sleeves done. All I have left is the skirt and the zipper. (I like zippers, even on heirloom dresses. They are so much easier to use.) Gabrielle probably won't like this style of dress too much longer so I need to get it done before she outgrows the idea. I'm just not sure what I want to do with the skirt. Gabrielle said to make it plain and be done already, but I'm thinking of scalloped puffing and a ruffle. And some
embroidery
. What to do, what to do. . .
After letting the garden go to weeds while I did the
pre
-market house cleaning, I finally got back into the garden to deal with weeds. I also picked some pink eye purple hull peas.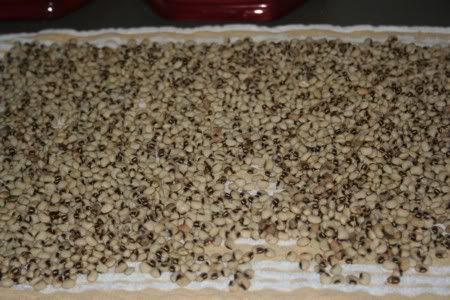 I love these things. I'm experimenting with drying the peas this year so I can store them in my pantry rather than my freezer. I need to store what I can in the pantry so I have room for the turkeys rapidly growing in our second coop.
Since things are going a bit slow on the house sale end of things, I got some chipped and shredded brush from the power company and am going to till that into my garden soil to improve it. And I am thinking about planting a Fall garden if I am still here. I just love fresh produce too much to wait until after we move, especially if this is going to take awhile.