We had a really lovely Christmas this year. I expected the opposite. We've been moving and remodeling and unpacking and remodeling some more. We've been building for chickens and the dog. We broke ground for part of the garden and planted. Normally I knit for the kids for Christmas. We don't have much of a budget for Christmas and they enjoy getting things made especially for them. But with so many house things going on all Fall, I did almost no knitting, aside from a special project for someone outside the family. And since Gregory got an expensive present for his birthday, he had no money left in the budget for Christmas. However this year we decided as a family to really focus more on giving to others. It is the day we celebrate Jesus's birthday and we know He loves people. We've been so inspired by our friend Bob the Builder, who has given so much to us over the last couple of months. So the kids decided to buy presents for each other from the little bit of money they each had and we spent a good chunk of time baking presents and visiting neighbors.
Their generosity with each other filled the space under the tree with presents.
The kids excitedly gathered in front of the Christmas tree on Christmas morning this year, eager to give their gifts to each other.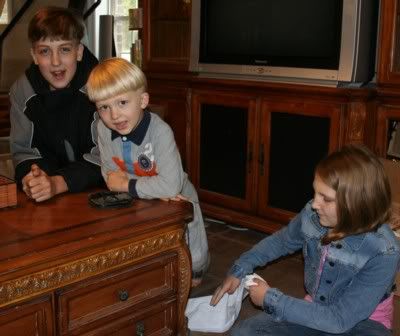 Each gift, while not expensive, resulted from a great deal of thought and planning.
Gregory couldn't wait to give Michael a dart gun of his very own. Michael constantly played with Gregory's old gun and the single dart remaining from the original collection. In fact, Gregory spent a good portion of the money he had been saving for a special computer game to give Michael a deluxe dart gun with plenty of darts. Gregory's thoughtfulness really touched me because my kids don't get much money to spend on themselves. They really have to save for a long time for the things they especially want.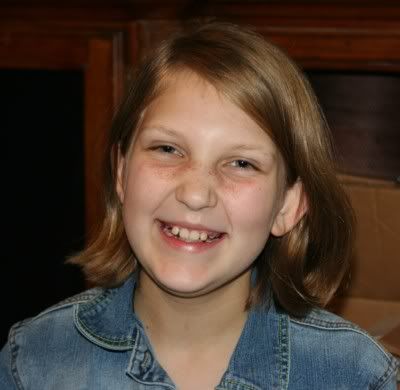 My lovely daughter enjoys giving to others more than anything. She started the Christmas present shopping and infected Michael. Gregory quickly caught the giving bug later.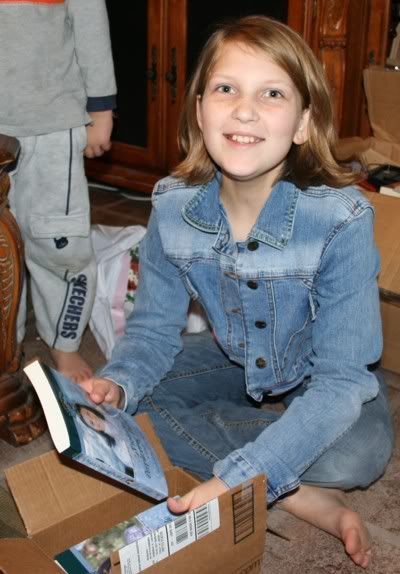 I asked Gabrielle what she wanted for Christmas. For a long time she wanted the last 4 books in a set she'd started reading a couple years ago. By the time she asked, the publishing company had gone out of business and the books were out of print. Fortunately, a few months ago I purchased the last few books knowing they would soon no longer be available. Gabrielle couldn't believe she finally had the chance to discover how the story ended.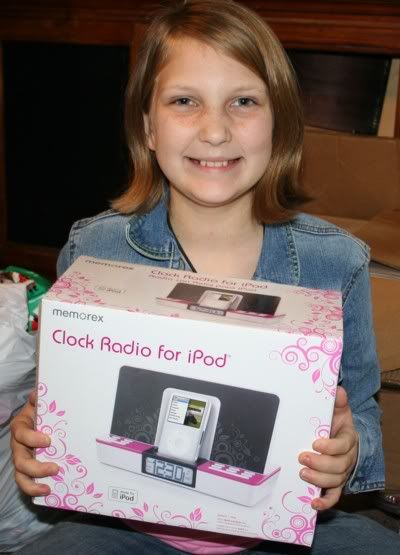 We also got Gabrielle a charging station for her iPod. I'm hoping this will keep her from losing it. Now she has a place to keep it.
I stumbled upon a sale at Toys R Us the week before Christmas and found a Transformer toy for Michael. When Michael opened it he told us he always wanted one. How convenient.
Since Gregory didn't get a Christmas present from us, we let him open all of the general gifts.
One of our neighbors sent over a gift and I had picked up a couple movies for the family as well.
Grandma sent gifts to everyone including a nifty multi-tool for Kurt.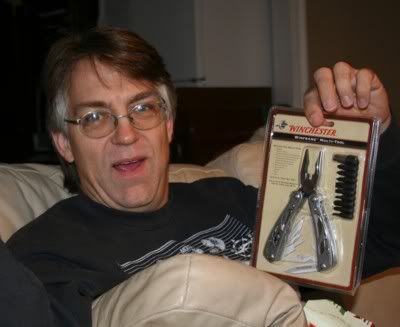 Kurt had a tool themed Christmas. I purchased a set of tools when we moved which Kurt has been using during our home remodel. These were an early Christmas present.
Kurt found a lovely vintage cedar chest at his store which he thought to give me for Christmas. However, Kurt couldn't finally decide to get the chest because he wasn't quite positive I would like everything about it. Then one day I visited his store while he was out. As I waited for him to return, I looked around and found the chest, which I bought on the spot. I'd been wanting one for a long time. In the end we decided it would be my Christmas present anyway. It needs to be refinished and I am hoping Kurt will put it in the queue of ongoing projects and get to it soon.
Our home remains my favorite Christmas present by far. Bob the Builder recently brought over another surprise.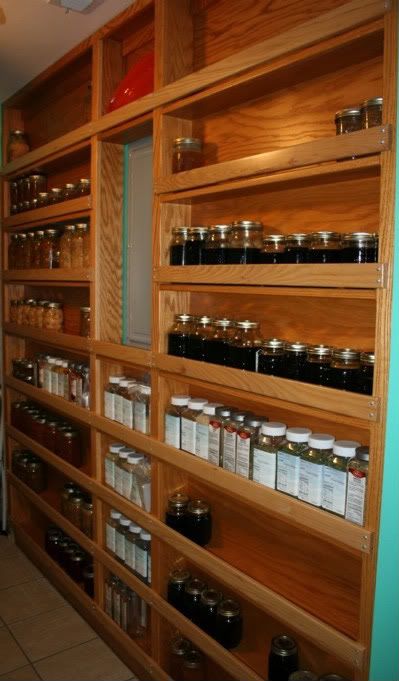 I had mentioned I wanted to put up some 2 x 4s along the wall in the kitchen where no cabinets would fit. I told Bob I could use the small shelves for canning jars. Apparently when I turned around he rolled his eyes and started measuring. He told Kurt not to tell me, but he would take care of my canning shelves.
Bob the Builder amazed us once again. These shelves completely outdo anything I could conceive. They are beautiful and the gleaming rows of jars look fantastic in my kitchen. I love being able to see what I have canned too. It helps me plan.
The sun room is very close to being finished.
We still need doors to close the hole between it and our bedroom and we need a new ceiling fan. My warping board still sits under the coffee table stowed until I paint the wall upon which it is to be mounted. Even still, I LOVE my sun room. It reminds me of the lanai in our old Gulf Breeze house. And Michael got me a little table top fountain for the sun room for Christmas, like the one we had in Gulf Breeze. Yes, we had a very good Christmas indeed.