Unusually cold weather forced its way down from the North a couple of weeks ago and took up residence here in the South that is south of the Deep South. We have seen crazy cold temperatures, lows in the low 20's and highs in the 30's kind of crazy. The weather forecast people say it might even snow tonight.
I awoke this morning to the sound of my neighbor using a chainsaw. Then I remembered they don't have heat at their place though I suspect they installed their wood burning stove. We have heat, praise God, but only because we replaced the unit when we moved into this house. I just wish we had functional insulation. I don't know how the people up North manage every winter, though I suspect they are much more prepared for it.
When we first brought Strider home, we found an old, barely adequate dog house in some junk left behind by the former owners of our house. We put it out for Strider, but he would never use it. Kurt and I always felt bad about Strider not having adequate shelter so when the weather forecasts started mentioning hard freezes and snow, I knew something needed to be done. I couldn't wait for Kurt to have time off so Gregory and I decided we would build a dog house for Strider last Monday. We only had a couple warm hours to do it and had to use supplies scavenged from the various piles of junk strewn about our property. I've never built anything in my life.
In three and a half hours, Gregory and I built a very Red Neck doghouse for Strider.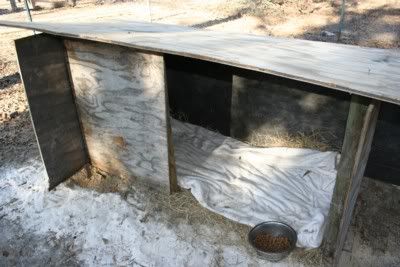 Granted, most of the wood we used was in poor shape, but I thought we did an amazing job, all things considered. I don't know how to cut stuff to build something, but I've used a chainsaw before. So I cut things after they were in place. We sunk 5 posts and then I used the chainsaw to cut them down to size. Then we attached pieces of scavenged plywood and cut off some of the excess when we had to. The rest got left for wind breaks. I did use Kurt's circular saw for some of it. Gregory fretted the whole time because my methods were quite unconventional, but in the end, he agreed that we did a pretty good job. We installed a brick foundation of sorts and Strider even got a window.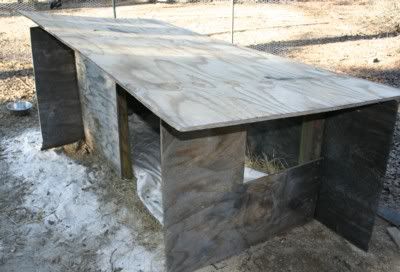 The window came about due to the shape of the piece of plywood we found for the southern wall.
We finished the doghouse off with a floor of hay and our old, King size electric blanket. The house is warm and cozy and Strider refuses to go into it, even though it is plenty large enough for him. He likes to sit on the hill and stand guard over our property and I don't think he is comfortable being where he cannot see everything. At least he now has an option if it does snow tonight.
The hay we used for Strider's dog house and for the chicken coop came from our neighbor across the creek. We brought some goodies to them at Christmas and as we were talking, Gabrielle told her I knit Michael's sweater. That conversation moved to how much she, Miss Kitty, wanted a black beret. She offered to pay me to knit one, but I needed hay. They grow hay so we agreed to a barter. They delivered a roll of hay and I started knitting the beret.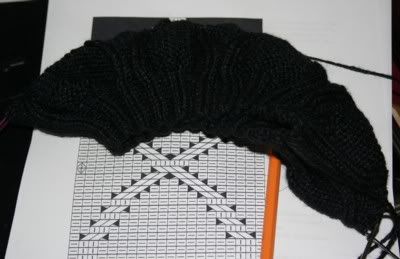 Miss Kitty said we could have all the hay we wanted. I just need to hurry and finish her beret.
I also have another knitting project with a looming deadline. Longer ago than I like to remember, I started knitting my Mom a sweater. I don't have much left, but she plans to visit this Spring and I need to get done.
I've already finished the front and the back and am working on the sleeves. I pick this project up from time to time, but it requires thought and I just haven't had much time to concentrate lately, with all the moving work going on. I really do need to focus however. I need to finish this sweater before my Mom's visit.
I tend to keep a pair of socks on the needles no matter what else I am doing because socks are such easy to transport projects. I started a pair of socks before we moved and am still working on them.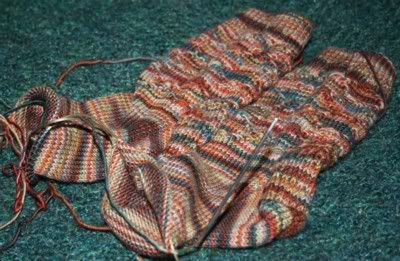 I don't really care for the pattern and have modified it extensively. I love the colors in the yarn though.
Back in November I started a special sweater. I thought I could finish it pretty quickly since it is all knit and in the round. Within a relatively short period I knit it up to the underarms.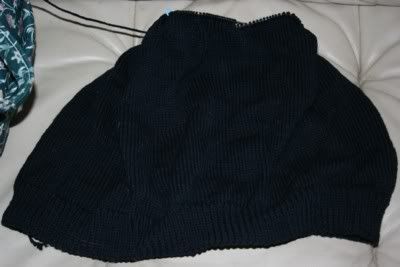 At that point I decided I needed more yarn. So I placed an order in mid November. The yarn FINALLY came a couple of days ago! Unfortunately the sweater has been on hold long enough that I need to figure out once again, what I am doing.
In the meantime, our
Christian Artisans
group decided last month we would do a Stash Sock Club this year. We've talked about it for a couple of years and decided we would finally go for it. To that end, we are making kits by matching stashed yarn and patterns that we will randomly select throughout the year to knit. It will be a great way to use resources we already have. I made up my kits last week.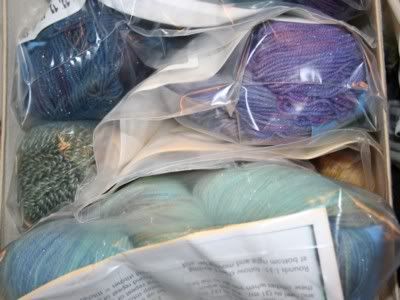 I used some of my favorite yarn for my kits and can't wait to get started.
In addition to the Stash Sock Club, we've been talking about the
Queen Susan Shawl
. Several of us want to knit it so we thought it was something we could do together.
Caroline
suggested we spin for the
Queen Susan Shawl
. Talk about a challenge! But I decided if Caroline wanted to spin for the shawl, I would too. She said she would send me a sample of the fiber she intended to use.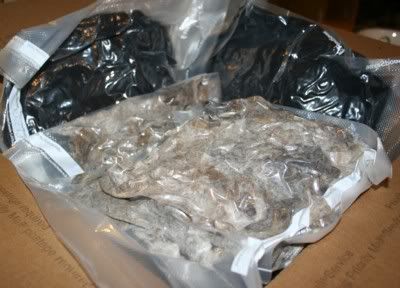 She ended up probably sending enough to do two shawls, depending on how the CVM wool combs out. I loved opening the box and seeing all the flattened fiber. It sprang to life almost instantly.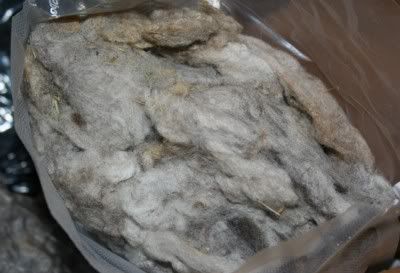 I couldn't believe the difference a couple of seconds of air made.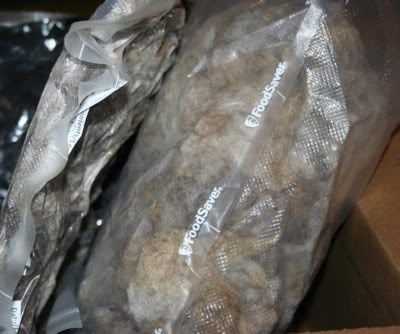 Caroline
sent black alpaca fiber from her favorite alpaca, Got Milk. She also sent some CVM from her stash. I've never spun CVM before and am looking forward to the opportunity.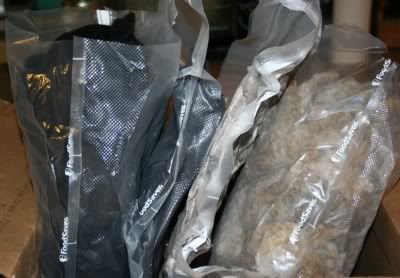 I think there is about a pound of each type of fiber. I'm not sure how much I will need to do 7,000 yards of 60 to 70 wpi double ply yarn. I'm also wondering how long it will take.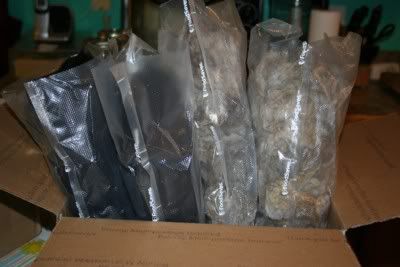 The fiber continually beckons. I wish I was done with all house stuff. Last weekend, Kurt took Gregory hunting. With fewer family members to feed, I decided to move the stove and grout the kitchen floor. I also grouted the master bathroom floor. Once Kurt reinstalls the trim, I will finish painting in those rooms. In the meantime, I got the paint for the dining room, living room and hallway. Cathy will be helping me get started with that painting on Saturday. I can't wait until everything is done and we are simply living in the house. In those days, I will be able to spin and knit more regularly.