I finished knitting my two Mystery Stoles this past weekend.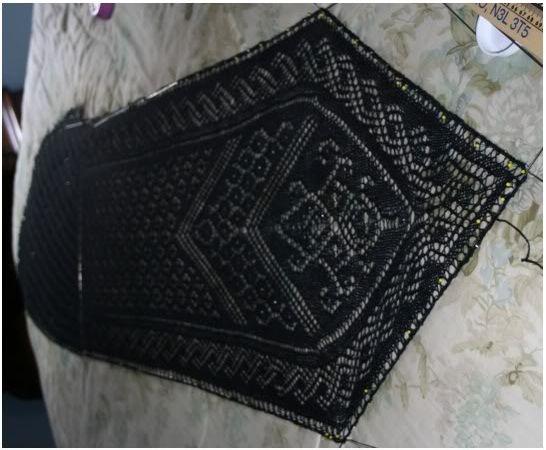 I plan to keep the black one for myself.
I followed the pattern, including the wing, and blocked it yesterday.
I started getting anxious waiting for the weekly clues, so I decided to make a second Mystery Stole from Zephyr yarn in my stash to fill in the time gaps.
This one will be a birthday present for a non knitting friend.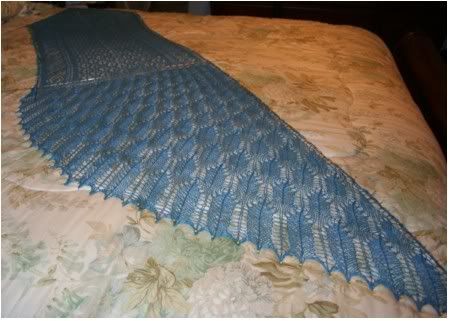 It too has the controversial wing. I am blocking it today.
When I first heard we would be knitting a wing, I had doubts. But I continued to knit along with the other 6,000+ knitters doing the Mystery Stole KAL and just followed the pattern. I had completed my first stole before anyone posted pictures. When I finally saw the wing, I didn't like it at all. I thought I would never wear it. My knitting on my second stole slowed down and I didn't finish it until yesterday.
My friend Irene came over yesterday evening. She belongs to the MS3 KAL too and is working on clue 2 (having just returned from a trip to Hawaii). She had seen wing pictures and didn't like the idea either. But my black stole had been blocked and we decided to play with it a bit.
Once we figured out how to drape the stole on a human body, we both realized it was actually quite lovely. She volunteered to model it for me to post here since the wearing of it makes all the difference. Irene decided to finish her stole with the wing and I decided I might just wear mine after all. What a difference to see the stole on a human body! We liked creating a cowl neckline and placing the wingtip on the shoulder best.
In addition to lace knitting, I also managed to finally finish the pair of jumpers I started sewing for Michael just before summer started.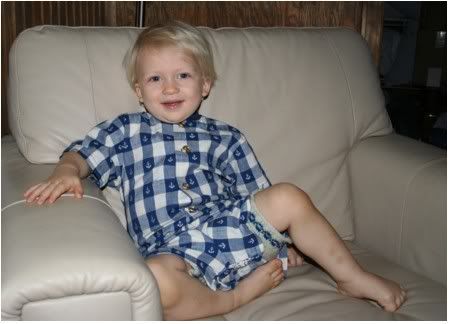 Michael isn't the best model but he sure loves new clothes.
In fact, I tried this little anchor outfit on him when I first finished it to make sure it would still fit since he has grown so much this year. Michael paraded around in his new outfit making sure everyone saw it. Then when I tried to remove it, he screamed and hid. Kurt finally had to get it off of Michael so we could wash it.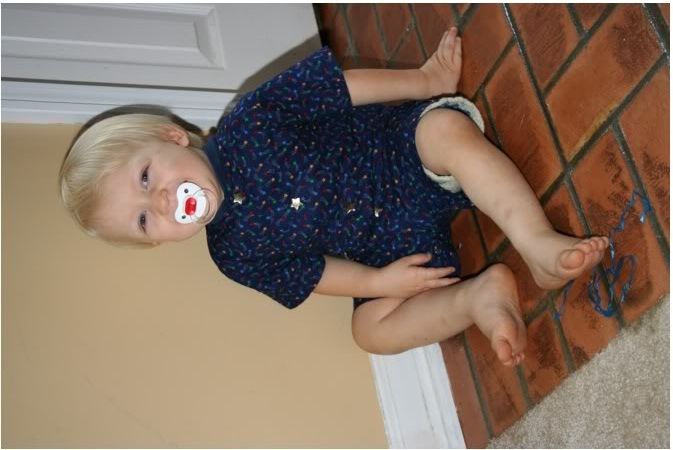 I also made Michael a star speckled jumper which he liked as well.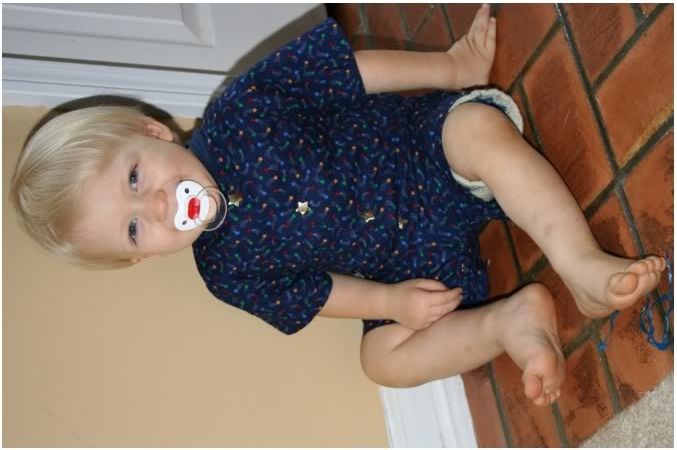 Despite that these size 3T jumpers were started when Michael wore a 2T, he now wears 4T mainly and these jumpers barely fit.
The weaving bug hit hard here. Gregory has already completed multiple projects and learned to wind his own warps.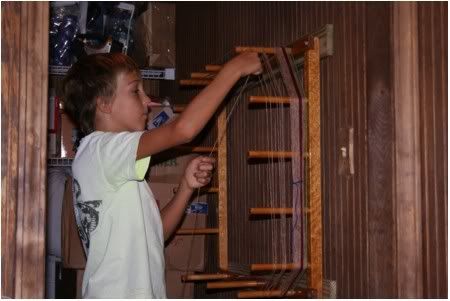 The only place with room for my warping board is my bedroom closet.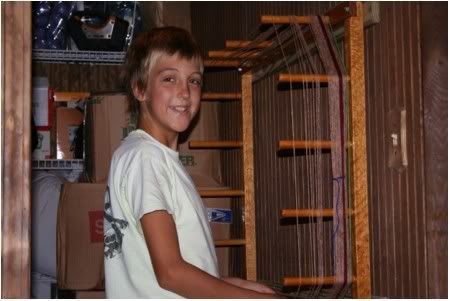 Looking at these pictures of Gregory winding his warp, I thought it funny that I could only see the warping board, a couple of yarn packs and boxes and pillow cases of fleece in my closet and no shoes or clothes. I figure I have my priorities straight anyway.
Thanks to a wonderful weaver on
Christian Artisans
, Gregory was able to help purchase a larger rigid heddle loom that will also be his birthday present this year. He immediately started weaving a runner for his dresser to match the ones on the headboards of the two beds in his room.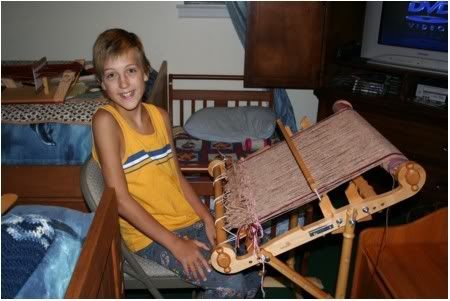 I thought I had escaped future warping of the Easy Weaver loom with it's Velcro tie on system, but Gregory has a generous heart and wanted his sister to be able to weave too.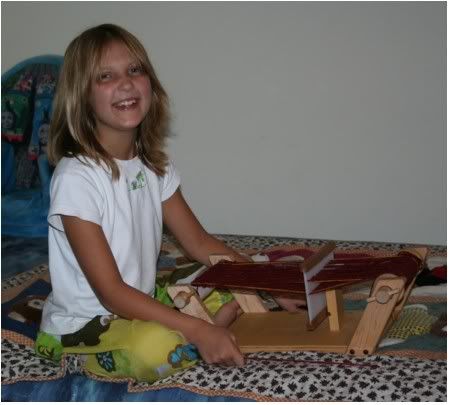 So now Gabrielle weaves with the Easy Weaver.
I have not done any weaving of my own yet, but I have warped looms for the kids several times. At least warping no longer intimidates me very much. I have warped my own rigid heddle loom and will post pictures of it another time. I already have too many pictures here for my slow dial-up Internet to handle gracefully.