Hurricane Ivan abruptly ended my weaving aspirations in 2004.
Immediately before the hurricane, I found a small floor loom at an estate sale. With
Caroline's
help, I'd started my first weaving project. A rank beginner, I knew I enjoyed weaving enough to bring home the 36 inch wide Leclerc loom I found shortly after starting to weave. I even ordered a few cones of cotton for a future weaving project. However, the hurricane destroyed my estate sale loom and severely damaged the Leclerc. The box of weaving cotton had to find me at a temporary residence for it arrived when I no longer had a home.
After the hurricane, we salvaged as many pieces of the Leclerc as we could find and I stored the 8/2 cotton in a cabinet. Every mother's day since, Kurt would spend the day refinishing, rebuilding and constructing parts lists for the Leclerc. Finally, this Mother's Day, Kurt finished my loom and only handed me a short list of parts still needed. The last handful of parts arrived this summer.
With Kurt looking at me with expectation, I knew I remembered nothing from my weaving lessons years ago. But I have some books and a couple of videos. I started watching videos and asking questions on
Christian Artisans
. My son Gregory, watched videos with me. He started watching the videos without me. He dug out his Easy Weaver. I pondered weaving and he started weaving.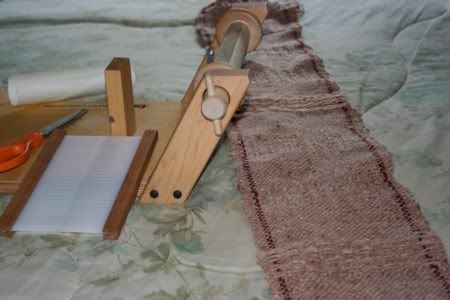 This morning he woke me up to ask me for help taking his second project off his loom. Not only is he weaving, but he has already mastered a couple of patterns using a pick up stick - and he doesn't have a pick up stick! He is using one of my stick shuttles. The project pictured above is to be a runner for his shelf headboard, though it still needs to be blocked. He wants to make a matching one for his little brother and has planned a purse for his sister. He already wants a bigger loom. In fact he is dreaming about the
24" Kromski Harp
.
In the meantime I am using some of the weaving planning materials available free at
Heritage Yarns
and waiting on a beginner's weaving kit from them.
I've done quite a bit of knitting this summer. I am still working on the weekly clues for the Mystery Stole 3. I gave the Lead or Follow stole (also available at Heritage Yarns) to its recipient.
She genuinely appreciated the gift. The scarf turned out quite lovely.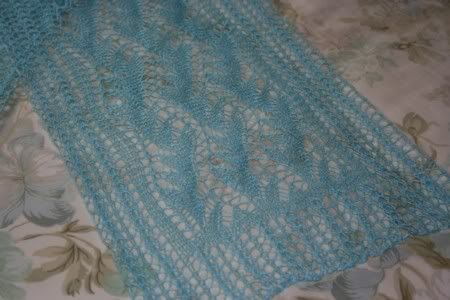 This is the scarf that was on my blocking frame in my last post.
I've also filled my freezer from my garden. We grew GIANT zucchini and summer squash this year!
The basket holding the zucchini is from my chest freezer and is longer than 18". These zucchini are well over a foot long. They were amazing! We ended up giving quite a few of them away and the chickens have feasted on them too. The tomatoes and hot peppers didn't do very well this year, but we sure did get some cucumbers. I even made my first pickles.
Our pastor's oldest son decided on an impromptu wedding and reception this summer. As a result, church members scrambled to provide everything. Since I have a pretty nice digital camera (but NO talent), I took pictures. This last weekend, a couple celebrating their 50th anniversary asked if I would bring my camera to their party. I think I've become the unofficial church photographer. (Did I mention I have NO talent for taking pictures?) Me taking pictures reminds me of the bible verse where God uses the foolish things of this world to confound the wise. My strategy has been to take as many pictures as possible and hope by random chance, some of them will turn out. I snapped a couple of shots of my kids at the anniversary party which I will post for the sake of my family on the west coast.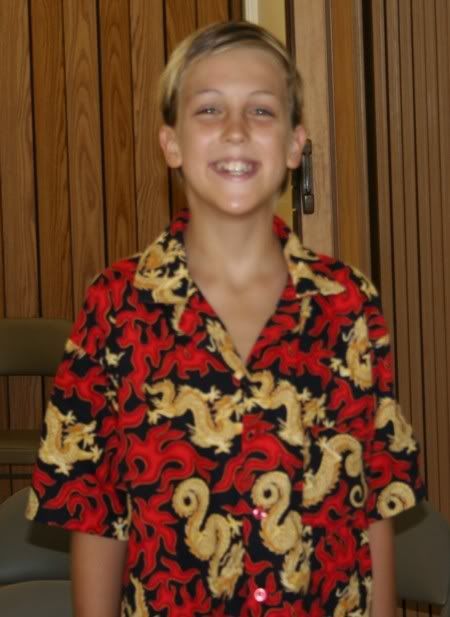 Gregory thought his smile goofy, but I wouldn't heed his request to take a gazillion pictures of him until we got it right.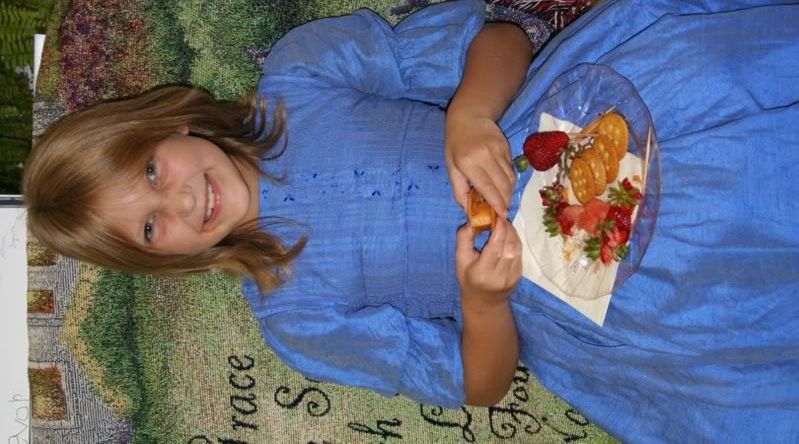 My kids are not allowed to eat junk food at parties. So Gabrielle decided to make sandwiches from the fruit and crackers she found.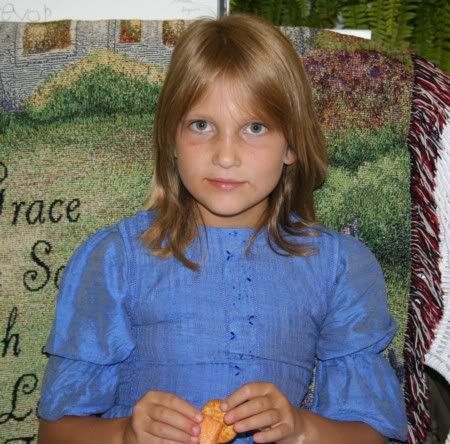 She is eating with her side teeth because her front teeth are too sensitive. Too bad, because she has fruit juice all over her face. Otherwise, these pictures of her would have been pretty nice.
Michael is so funny. He doesn't like the flash of the camera. When he sees the camera, he closes his eyes in anticipation.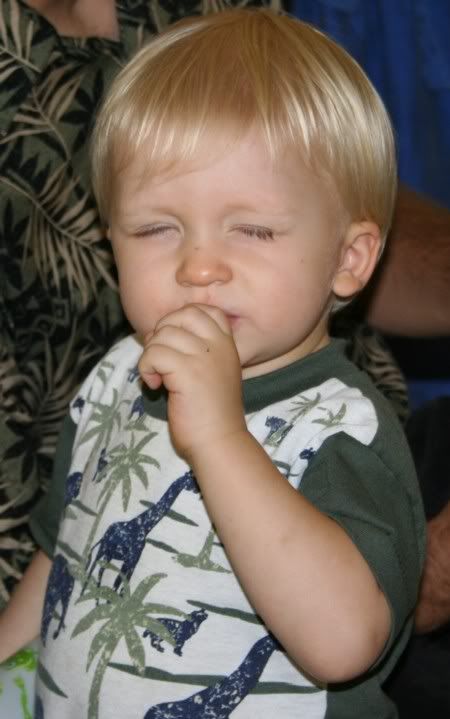 I had to surprise him to get a picture with his eyes open.
Even Michael ate healthy. Here he is gnawing on a carrot.
I really need to get a flash for my camera if I am going to continue to take pictures at church. They are so expensive though. For now however, I can blame my complete lack of talent as a photographer on the lack of a flash and turn my lack of proper equipment into a benefit.