Inadequacy sucks. Can I say that as a Christian? I suppose I probably shouldn't. But I certainly don't like feeling inadequate.
I finally started weaving. I warped the beautiful hand painted warp from
Heritage Yarns
on my rigid
heddle
loom. I spun up some beautiful
hand painted
silk from
the Silk Worker
and started.
Great start. Somewhere along the line however, my warp got out of tension. I suppose it could have been from beating the weft half to death. But the term for placing weft into place is officially "beating" and so I could not help but believe at least some force was necessary.
The more likely problem I suspect, is the bent dowel rod holding the warp in front. I have no idea how that rod bent and I don't
think
I ever tightened the warp tension more than necessary.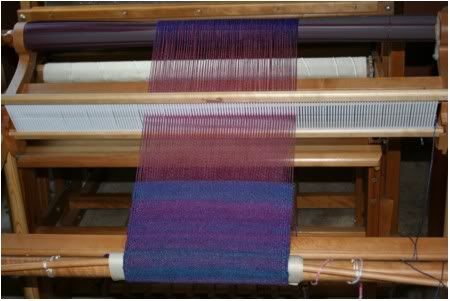 At least the fabric looks pretty. Before starting, I had carefully calculated and determined I had sufficient homespun yarn from my one of a kind
hand painted
fiber to finish my scarf. At least with a balanced weave I did. But somehow with all of the beating I did, my balance skewed. Well, it downright crashed. Now, of course, I am running out of weft yarn after probably 18 inches of weaving. Not much of a scarf.
The fact that my woven fabric resembles a board in its stiffness provides further reason to rethink my weaving project. So, I think I will have to turn my scarf into a silk tote bag or some such thing. I'm trying not to think about the waste such a short project makes of a
hand painted
warp since my project will probably only involve 2 of the warp colors before it is done. What a mess.
If I didn't feel inadequate enough already, yesterday Gregory removed yet another weaving project from his loom. It is really good. My 10 year old is a better weaver than me. Sorry, but "sucks" is the only word I can find for this fact. I'm far too competitive I suppose. Now he is giving me advice on
my
weaving, sigh.
Today, knitting is my happy thought. I'm almost done with my first pair of socks knit at the same time on two circular needles.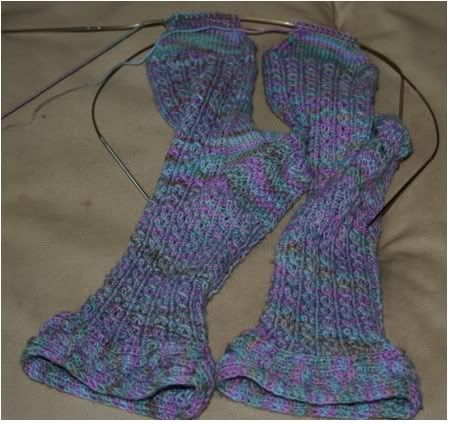 I have just a couple more rows and then grafting. I started these while waiting for clues during the MS3. I haven't made a pair of socks for me in a long time. The picture fails to properly depict the colors, which are among my favorites: Teal, pink, violet, purple and blue. The colorway is "Buck's Bar" from Lorna's Laces. I got the pattern at
Blackberry Ridge
some time ago. It is one of the Elite Feet 2 patterns.