Christmas is coming and we plan to make presents for each other again this year. This works with our budget and allows me to multi-task my dollars since I get recreation value in addition to present value for each one. Before burying myself in Christmas knitting however, there were a few other projects I just
had
to do.
This is the Bee Fields Shawl. Since we started bee keeping this year, the
Bee Fields Shawl
was not optional. It simply had to be done. And after completing a couple charts, I started thinking about how pretty some beads would be.
I started adding a liberal amount to the end border of the shawl. I love beads.
I finished up my
Step Dance Socks
.
I knit both of these at the same time on two circular needles and I don't think I'll ever look back. Despite sometimes tangled yarn and mental confusion, I love, love, love finishing both socks at once!
I didn't get a book or anything to learn the technique. You simply use 2 balls of yarn and cast on for 2 socks. When you work socks on 2 circular needles, you have half the loops on each needle. I like to work the back half on one and the front half on the other one, at least after completing the heel. With two socks you would knit the front half of the stitches for sock A, drop the yarn for that one and pick up the yarn for sock B. Knit that set of loops. Drop the needles and pick up the needles holding the loops for the back of the sock. Knit the back loops for sock B. Drop the yarn for sock B and pick up the yarn for sock A. Knit the loops for the back of sock A. This is one round. Start again with the front loops for sock A (which means switching needles again). Keep going around and around in this fashion working up or down the pattern! With any practice doing a single sock on 2 circular needles, adding the second one is quite simple.
For the heel flap, I just worked back and forth and though the gusset got a bit tricky, it was not a problem so long as I remembered to keep ALL the back loops on the back loop needle and all the front loops on the front loop needle. This did temporarily add a lot of loops to my back needle, but it works.
One of the sweetest ladies at church had a birthday this month so when I found out, I quickly knit up one of the
Whisper Scarves
from Fiddlesticks Knitting.
Fortunately I had the pattern and yarn in my stash. Though it is hard to see, the yarn is a dark royal blue mohair yarn.

I knit it, blocked it and gave it all in a couple of weeks. Not too bad.
Speaking of Fiddlesticks Knitting, does the
Minuette

Sweater
inspire anyone else? I think it is so pretty. I don't have the pattern yet, but I think about it. A lot.
After lamenting the slowness of dial-up
Internet
for months and months, I finally discovered I could knit dish cloths while waiting for pages to load. I started with the couple I promised my friend Judi.
I finished these up so quickly that I kept going. Now I don't feel quite as bad about so much time being wasted with the computer. I feel I have redeemed the time and dish clothes make good Christmas presents, perhaps paired with a homemade bar of soap?
Not wanting to completely leave all Christmas knitting for the last minute, I did start on a poncho I'm making for Gabrielle for Christmas.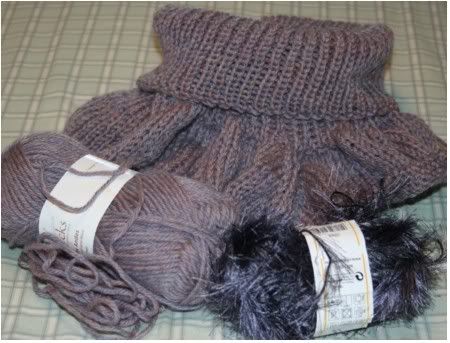 I'm making up the pattern as I go. It will be a simple
stockinette
stitch with a turtle neck and a novelty yarn edge. I thought I might use some of the novelty yarn to embroider some simple daisies down the front. I'll have to see when I get there. I'm using Wool of the Andes from
Knit Picks
.
I have not forgotten my weaving. I am still slowly working on it.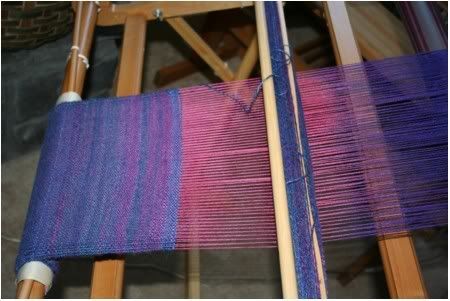 I wish I was more inspired by the project. Though I love the yarn, I do not like working on a project that has no real good use. I know I plan to make
something
from the fabric when I am finished, but with it turning out so different than planned, the whole thing just bums me out. But, I am on the last shuttle of weft, so I will finish it soon I think.
My next weaving project will be on my floor loom. My husband is in the process of building me a
raddle
so I can warp my loom as pictured at
Heritage Yarns
. He has been working on it for over a week and it still looks
board-ish
to me. Hopefully there will be nails sticking out of the board soon.