As summer weather slowly scurries south and away, I try to wind up my summer activities. During the subtropical heat of our southern summers I cannot contemplate knitting much more than light airy lace. So as summer wanes, I am quickly trying to finish the summer's lace projects so I can turn my attention to Christmas knitting.
In today's early morning hours or late last night depending upon perspective, I finished my first Bee Fields Shawl.
I use my bed for blocking and I am hoping it will be finished before we need the bed for sleeping this evening. My husband is quite understanding and supportive of my knitting, but I am not sure he'd be willing to forgo sleep for my shawl. I hate blocking on rainy days, but I just couldn't wait to see this project done. It is really pretty. I beaded the edging and really like the way it turned out.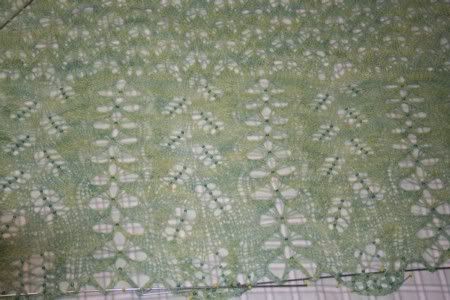 I used blue seed beads so they could be seen, but would still blend with the yarn. I am quite proud of the way it turned out.
In addition to knitting, I've been weaving. Well, sort of.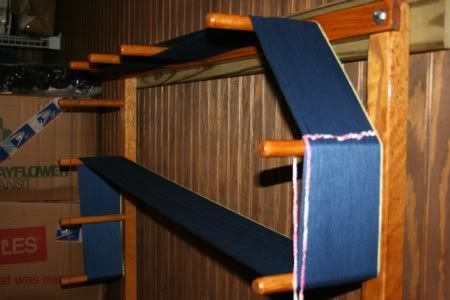 I managed to wind all 625 ends of the warp in a single day.
Then my mentor
Margaret
said I needed to use a raddle. So my brilliant husband Kurt made one for me (though it is not quite finished yet).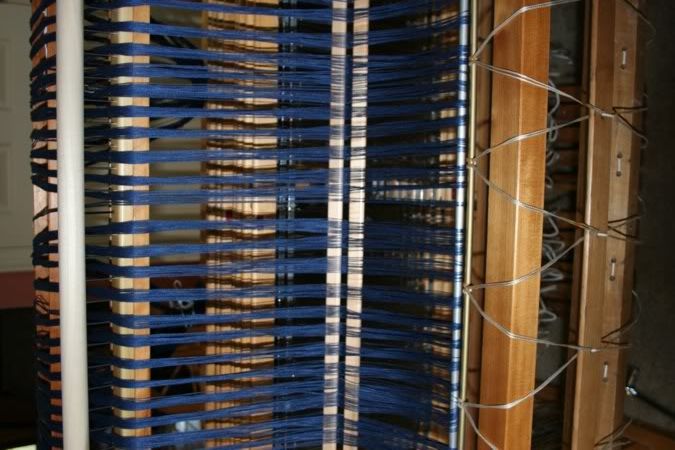 The raddle is certainly usable and you can see it on top of the picture. Kurt used a large dowel as a cover for the nails and he still wants to varnish the dowel.
After placing my warp in the raddle, I disassembled some old mini-blinds and beamed my warp.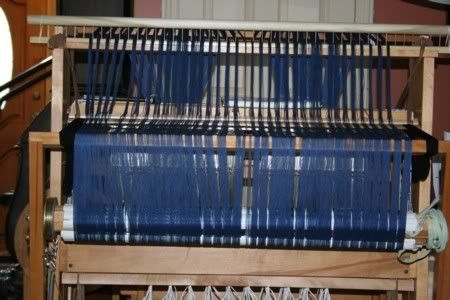 All went well until I started threading the heddles. It turns out I am not so good at either reading instructions or remembering them. I can't decide which. But I have pulled the warp threads out of their heddles a couple of times now. I've also pulled muscles I didn't know (or remember) I had. So, I'm going slow. I'm just under half done with the heddles right now. I figure a couple repeats every day or two will get the job done eventually. My hope is to make a blankie for Michael for Christmas. He constantly grabs my yarn and knitting projects to rub all over his face while sighing with contentment. He appreciates handmade gifts more than anyone I know, which is quite amazing for a 2 year old. In fact, he dug out the sweater I made for him last year and rolled all over my bed with it in glee and then tried his best to put it on. He didn't even care when I tried to explain 90 degree temperatures were too hot for wool sweaters. And he positively threw himself down in despair when I took the sweater away from him. Perhaps I'd been find a quick sweater pattern for Michael for Christmas this year.
I'm already planning my next weaving project (which is funny since I really haven't started my first one). I want to make a throw for my living room in
Margaret's
newest colorway, Gulf Breeze Sunrise.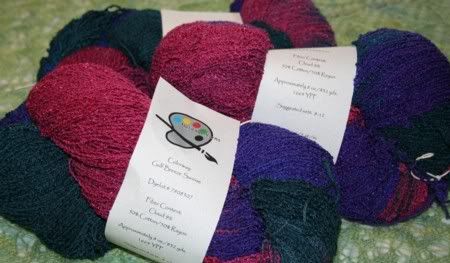 I just love teal, purple and pink (rose). And jewel colors are beautiful. I can't wait to see how this whole weaving thing works out.
We just celebrated Michael's second birthday at the end of last month.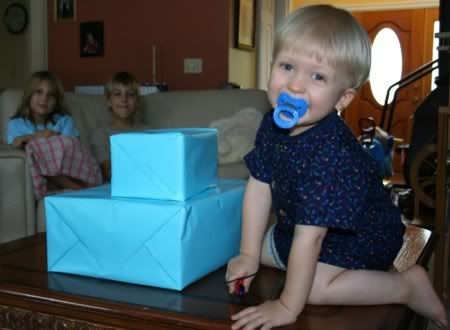 I can't believe how big he is getting. After watching Michael attempt to ride Gregory's radio controlled cars and anything else with wheels, we surprised Michael with a tricycle for his birthday.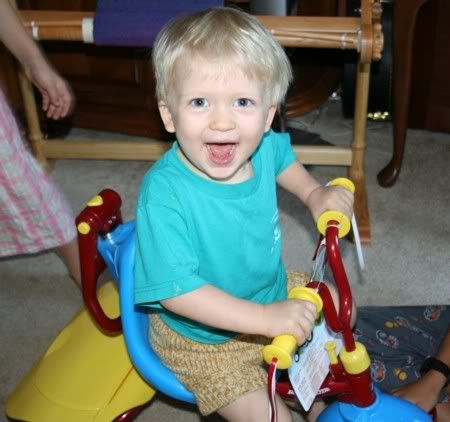 He just loved it. We could barely get him off of it.
Naturally he had to have his wool blankie with him on his new bike. That kid just LOVES wool. He has good taste.
We finally distracted him with presents.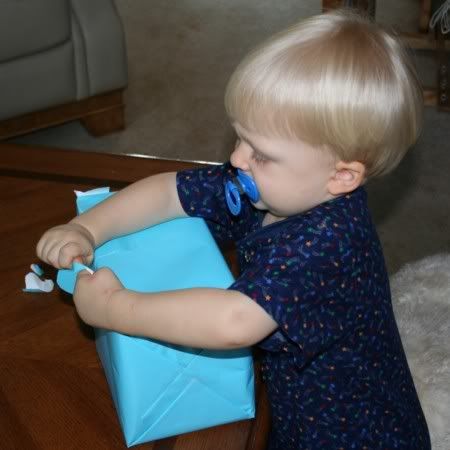 It only took a fraction of a second for Michael to figure out how to get the paper off the boxes.
<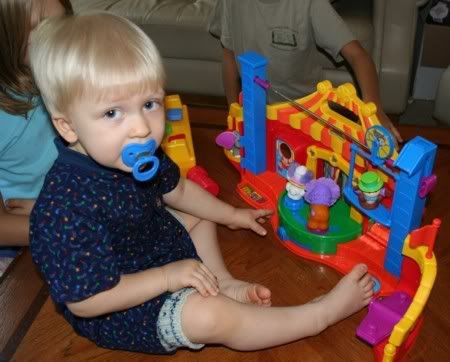 Michael had a great time with his new toys. They sure do make some great ones now days. We sure didn't have toys like this when I was a kid.
Or if we did, my mom wasn't talking about it.
With Michael being all grown up, Kurt thought he'd better get him out on the tractor.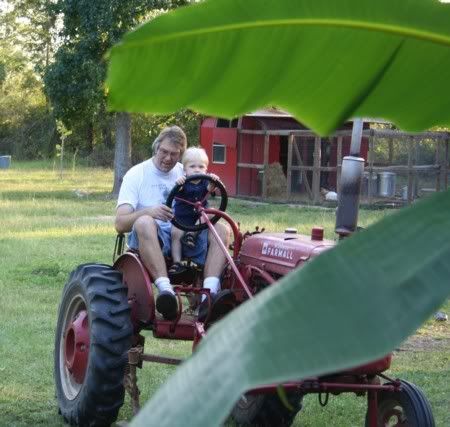 You can see how Kurt tried to teach Michael to drive the tractor.
I personally think Micheal had a tough enough time dealing with the chimney thingy that belches smoke every now and then.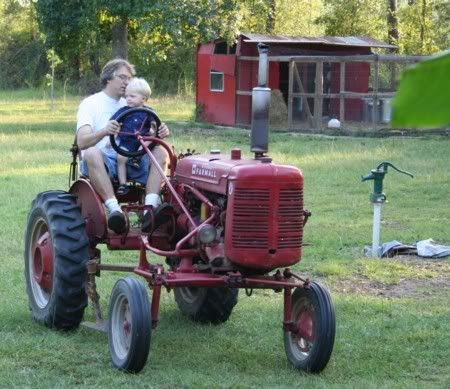 Kurt disagrees.
All in all, it is fun to wrap up the summer and get ready for the relief cooler weather will soon bring. And of course that will mean knitting sweaters. There are only a couple of months here when I can stand to have so much wool on my lap and I promised my mom a sweater last year. Soon mom, I promise!