Both of my Bee Field shawls are blocked and finished!
This one is mine and I am just waiting for an opportunity to wear it. It is so pretty. I also made a second one as a gift.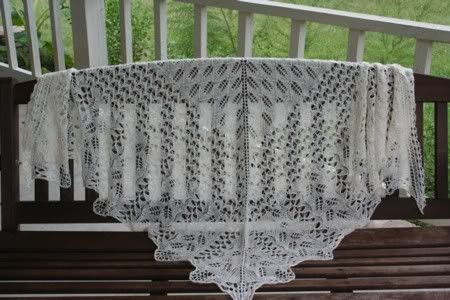 The picture hardly does it justice. I had a hard time parting with this second shawl. I made it from
Lisa

Souza's
fingering weight yarn in the mother of pearl colorway. Pink, blue, purple and peach dance across the creamy yarn. I beaded the second two charts with clear rainbow beads.
It reminds me of antique or vintage lace. I think it is probably the prettiest thing I have ever made. Now I am holding my breath waiting to hear the recipient received it.