This last weekend, our family visited the Munson Heritage Festival. On Saturday, we arrived late and parked in a distant parking lot. The kids loved it because the festival offered hay rides between the parking lot and the festivities.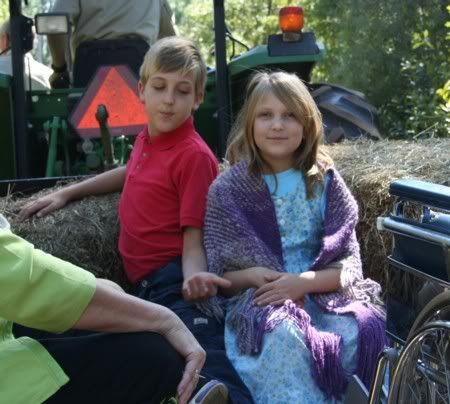 We saw so many cool things at the festival. Gregory and Gabrielle liked the sugar cane and stripping feed corn from the cob best on Saturday.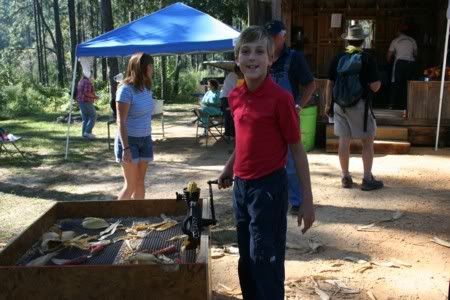 The had a hand cranked corn machine and also machine powered.
So many children were absolutely fascinated with the processes for stripping corn from the cob.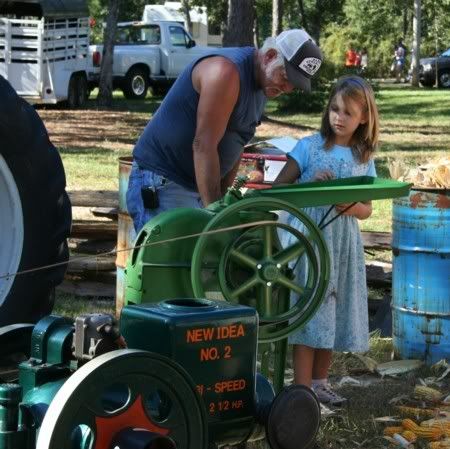 I thought it a very clever way to gain access to a free work force.
The kids grabbed corn by handfuls.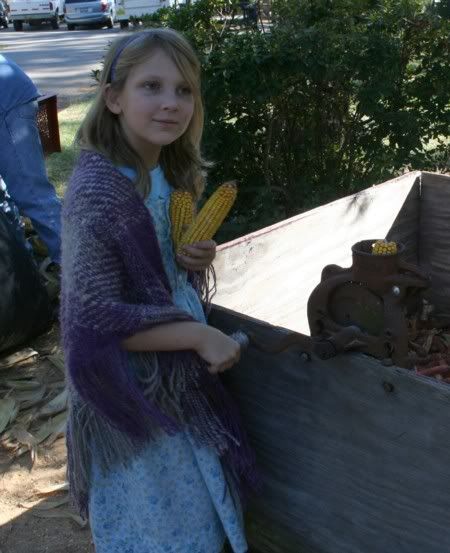 I had to drag them away to see the rest of the festival.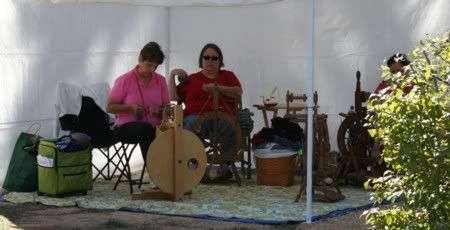 Of course I was looking for the spinners and knitters. I could have happily joined this merry group. Perhaps when the children are a bit older I will!
The children wore themselves out pretty early with all of the walking we did on Saturday.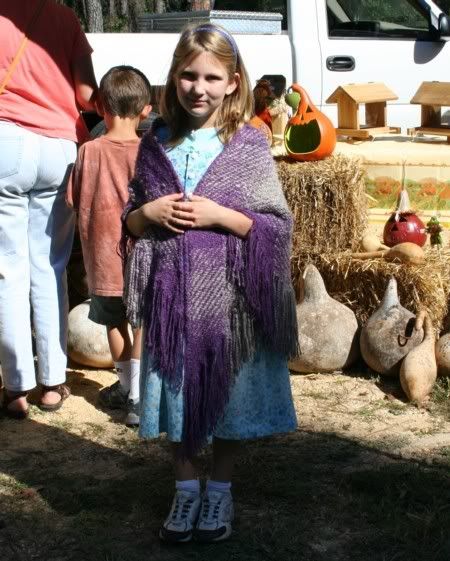 They need more exercise I suppose. But the idea of checking out the old mill intrigued Gabrielle enough to keep going.
I think she liked the idea of the mysterious path in the woods more than anything.
Gregory enjoyed watching the basket weaver strip a white oak tree for material for his weaving.
The idea of drawing a blade towards his chest terrified his vivid imagination.
Gregory discovered a new love however.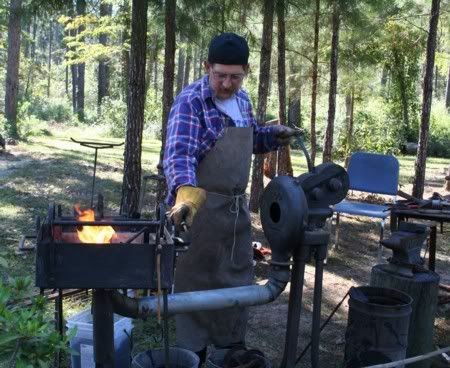 Gregory just LOVED the blacksmith. He very much wants to learn blacksmithing. In fact, he spent the 3 days following the heritage festival cleaning out the junky workshop so he would have space to work. Now he wants a book about learning blacksmithing and he wants to start looking for a forge. We really liked watching the smith take an old spring and turn it into a barbecue fork.
Kurt worked on Saturday so I had the kids by myself.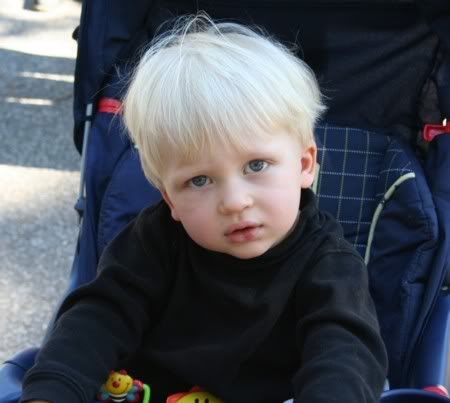 Thus, I kept Michael safely secured in the stroller. He got a little nutty being cooped up the whole time.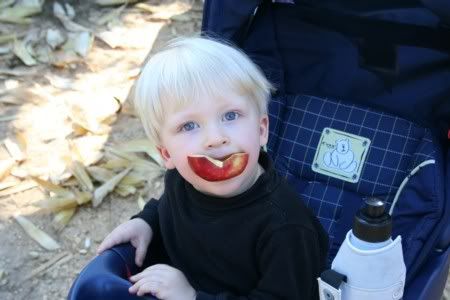 However on Sunday afternoon, we returned with Kurt. Since there were two of us, I allowed Michael to explore a bit too.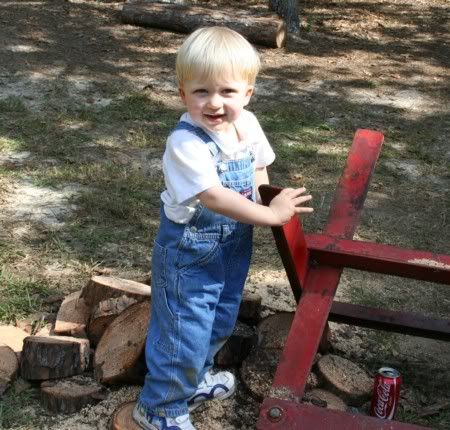 Sunday we arrived a bit earlier and saw some demonstrations we missed on Saturday.
We were fascinated with the process for making roof shingles. Using a funny looking blade, the kids clubbed shingles of wood from a large section of tree.
The kids loved the hands on aspect of it. After removing the shingles, someone else shaved them.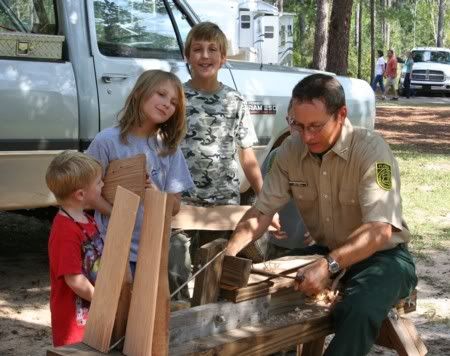 After shingle making, the children got to try lumber jacking.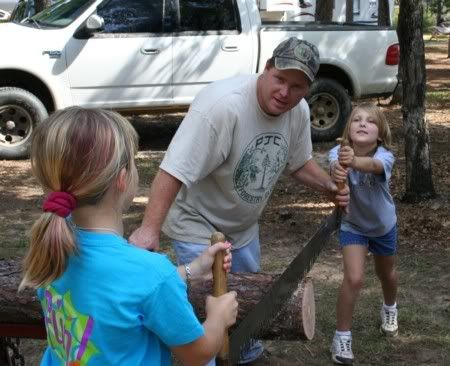 Gabrielle and her partner eventually needed help.
However, Gregory and his partner managed to saw their wood without assistance.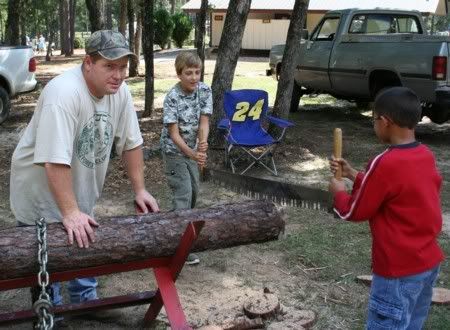 The kids also got to bring home their circles and shingles. Oh joy.
Right before leaving on Sunday, Kurt and Gregory discovered the art of cracking a whip. Kurt thought it looked fun.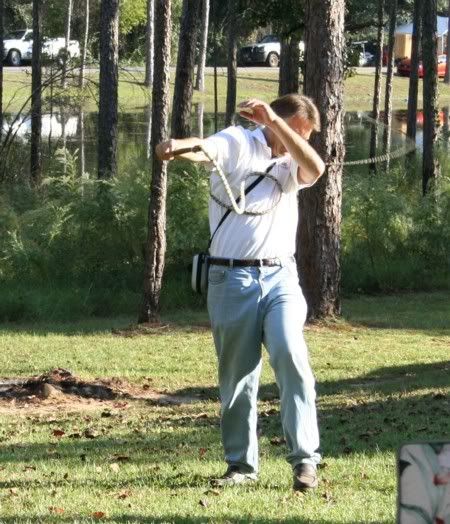 He found it was harder than it looked.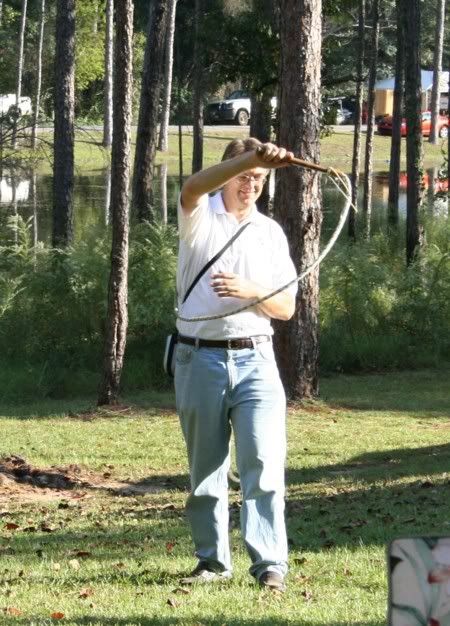 He snapped himself instead of the whip several times and found himself a tangled mess.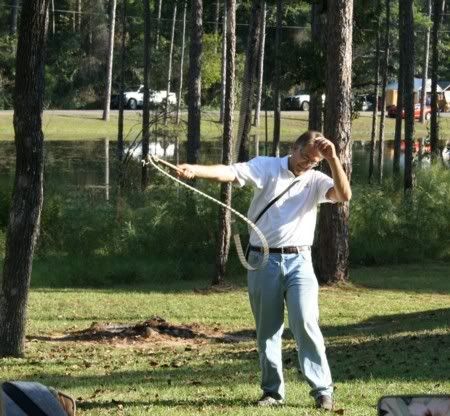 But Kurt can be persistent.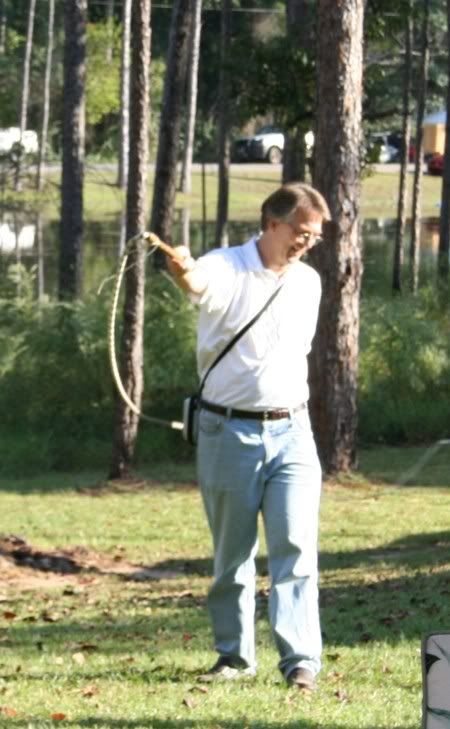 It was pretty funny to watch, but Kurt did manage a couple of respectable snaps before walking off the field. Naturally Gregory had to try too.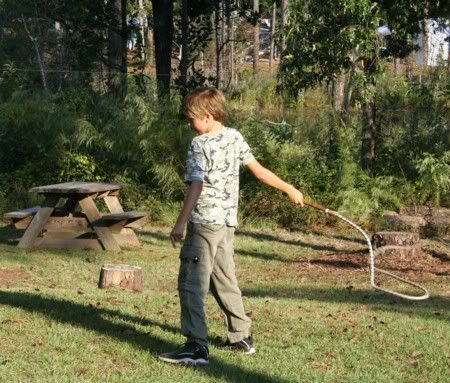 Gregory picked up the technique pretty quickly.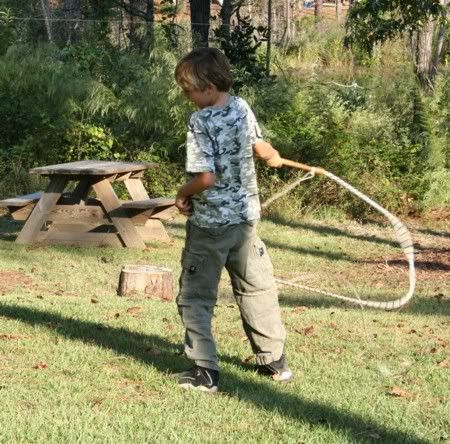 It only took a couple of tries and he was able to crack the whip pretty consistently. Of course it wasn't as loud as the whip maker, but he did quite well.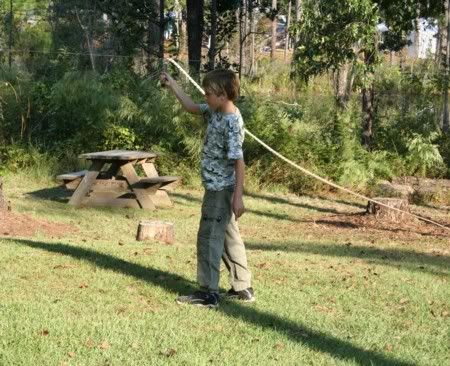 Kurt, who had been ready to leave moments before, decided he would not be outdone by his son.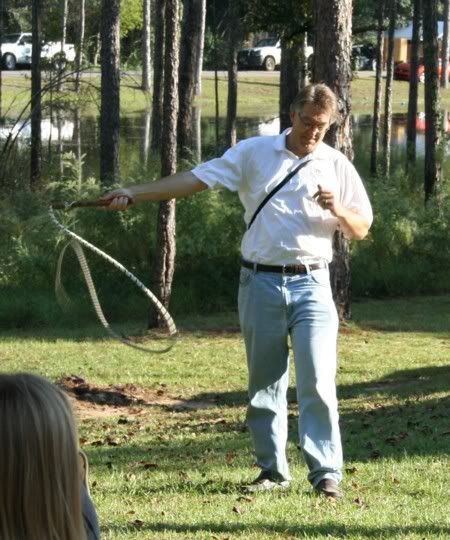 You gotta love testosterone.
But he really did improve after he watched Gregory. It is amazing what a little competition will do.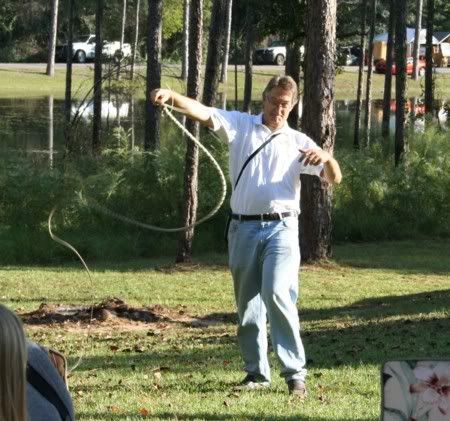 He looked quite a bit more confident in the end. I think he may have stood a bit taller as he walked away too.