We started homeschooling again. Between that and waiting for a buyer to sweep us back to the more southern reaches of our area with a fabulous offer for
our present house
, I think I may go insane. But I am fighting it with all the fiber/yarn I have.
I actually got back to my long standing weaving project. I finished warping my loom and started weaving.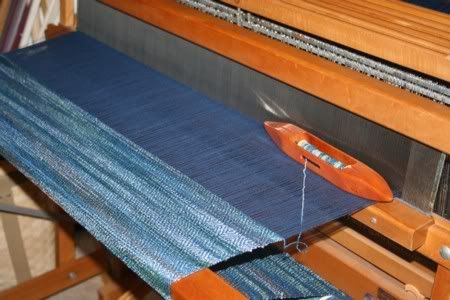 I'm having great fun with this project now that I'm actually weaving and I am not discovering any more missing loom pieces to remind me of Hurricane Ivan. The yarn is a gorgeous and soft cotton from
Heritage Yarns
. I love the
oceany
sort of stormy sea colors. It is actually more blue than depicted by the pictures.
In addition to the pretty colors playing across Michael's future "bay" (as he calls it), there is a great pattern Margaret picked out for me to weave.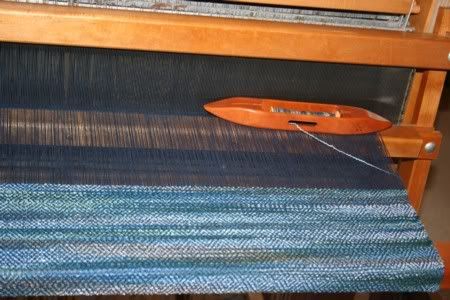 You can see the diamonds and
Xs
best in the second picture.
I'm still spinning and it still relieves stress.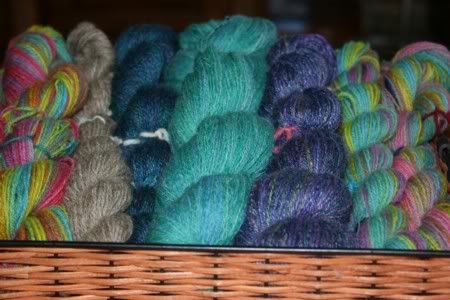 I have quite a bit of homespun yarn as a result. Now I have to figure out what to do with it. My skeins seldom amount to enough yarn for the larger knitting projects I enjoy. But the yarn looks pretty sitting in the basket on our coffee table. Much better than the remote controls beneath the yarn I think.
I'm doing more knitting than I have done in the rest of 2008, though my hands hurt more than usual lately. I finished the socks I started for my sister early in the year and they are the only knitted project I have completed this year so far.

I immediately started another pair of socks for me.
I have quite a bit of this kind of yarn in my stash and unfortunately, it is not my favorite. But right now budget says, "stash" and though I don't care for the stripe effect, I remind myself how much I like greens and blues.
At the same time I started my new socks, I got back to some socks I started last year. I immediately
frogged
all I had done and started over aiming for a firmer fabric. I prefer this year's efforts quite a bit.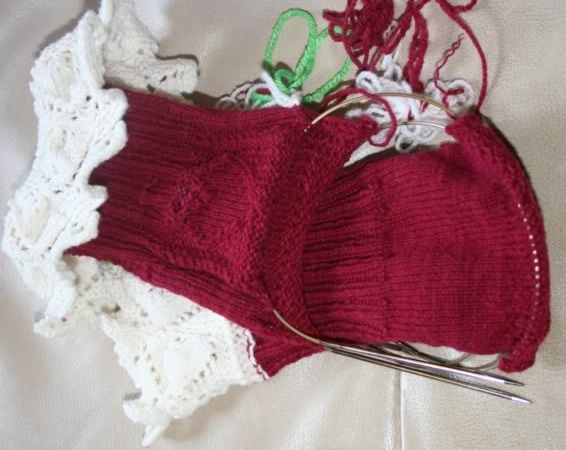 I like these socks, but fear I will never get to wear them. The white yarn is fine, but the red acts like moths have eaten at it. It breaks every couple of yards and is driving me nuts. This is the second skein of yarn from the same place with this problem. Though it has been in my stash for a couple years, I don't have any other yarn with this issue so I don't think it is me. But, I continue because again, it is stash yarn and that is a good thing and because I like the pattern and have nothing else suitable for it. I'll try to lightly felt the socks or something when they are done. Or they will just burst into holes during the first wearing and I will cry.
Gregory and I brought in what will probably be the end of the harvest this year.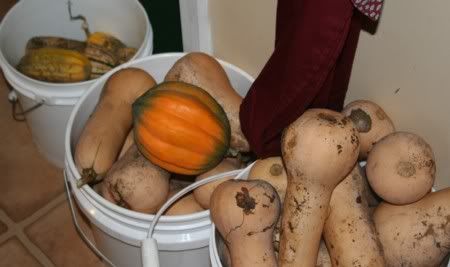 We got lots of yummy butternut squash though we did not do as well with our other winter squash. I want to can up the squash and then use it like pumpkin since my pumpkins didn't produce any fruit this year. I do have a couple pumpkins from friends at church though and I want to can that up as well. I just need to find time.
Today I made 10 liters of salsa from Farmer's Market vegetables. Yummy. I like to ferment my salsa since lactic acid fermentation is so healthy. I've made gallons of it this summer. Because I never know how hot the peppers will be and because I like peppers, I tend to make the salsa too "hot" for my family. But I am sure doing a good job of eating it all by myself.
I've run out of soap so have been making soap again. I've had a couple of fragrance requests from friends that use my soap and figured it would be a good time to do requests.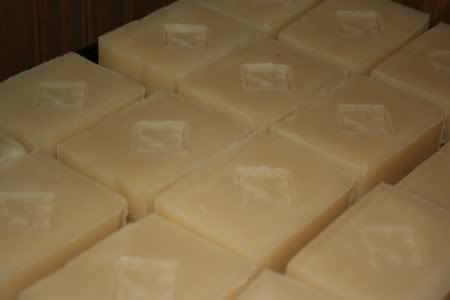 We generally try to do things as healthy as possible here so I don't use any colorings, use high quality vegetable oil and mainly pure essential oils. Soap curing on the shelves makes the whole house smell good!