Pretend for a minute you are knitting a pair of socks. You knit for a few inches and realize the socks are going to be way too big. (And yes, you hit gauge dead on.) Not liking baggy socks, you unravel everything telling yourself it is better to have socks you love, than socks you finished quickly. So you start over with the smaller size in your pattern. At the point you get to the heel flap, you can no longer deny the fact the socks are way too small and cannot comfortably fit over your heel without risking damage to the cuffs. But you knit an extra repeat making the cuffs longer so you have a lot of knitting time and effort invested. And the pattern called for beads and they are rubbing the yarn each time you move them up or down. What would you do?
When facing this exact scenario recently, a brilliant idea popped into my head as I fell asleep late one night, tossing and turning over the fate of my beautiful socks.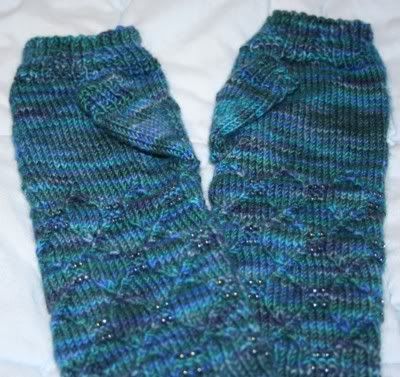 I could add thumbs!
I now have a really pretty pair of beaded fingerless mitts or gauntlets, just in time for the weather to warm up.
It is funny, I've been thinking about making myself a pair of fingerless mitts ever since the weather turned unusually cold this year and I discovered I couldn't knit very well with super cold fingers. I couldn't decide upon a pattern though. And now I don't have to decide because I finished the job without nary a thought about it.
I do really love the sock pattern and the yarn though and I plan to try knitting the socks again. I think I will go back to the size medium in my pattern and try them with a smaller needle since gauge isn't getting me anywhere with this one.
After my brilliant success (I am quite proud of myself), I started looking at other abandoned projects with a creative eye. A couple years ago I started working on a pair of socks and discovered they were too small after I turned the heel.
I pulled this long abandoned sock out of the bottom of my knitting bag for a look. I could add a thumb and have another pair of fingerless mitts, but I don't like the yarn enough for that and I am so past knitting only one sock at a time. I like doing 2 socks (or gloves, etc.) at a time so I don't have to think about making them match. They match because I do them together, row for row. If I go too far, they both go too far and I can ignore the deviation if I want. And I don't have to count rows, which is good. I never got a proper grasp on row counting. So, I'm still not sure what will become of this sock. It may work its way back to the bottom of the knitting bag.
While rooting around at the bottom of my bag, I found this:
I started this a couple years ago from a pattern in the book, "Victorian Lace Today" and got distracted by another project. Well, I have a confession. The pattern got really boring. I seem to go absolutely insane when I try to knit projects based upon the feathers and fan pattern. Normally I can do mindless knitting for awhile, but feathers and fans make me nuts. It is too bad really since I intended to knit with homespun yarn and I don't do that as often as I should.
While visiting the ghosts of knitting dreams past, I pulled out the
Minuette
sweater I started for myself last winter.
I had thought I'd try the pattern out because I have been looking for a pattern to use to knit my mother a sweater. She picked out some pretty and colorful yarn awhile ago for me to use and I've struggled to find the right pattern for it and for her. But the gardening got in the way of my knitting last year and the project languished as projects for me often do. But since I can't keep waffling about the sweater for my mother since I promised her one an embarrassingly long time ago, I plunged into the pattern with her yarn yesterday anyway.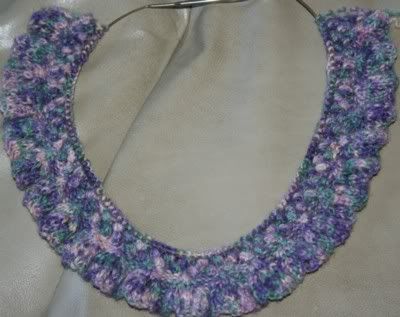 I'm a bit nervous because I already knit the complete back and part of the front to a complicated, over-sized aran sweater before acknowledging it looked awful with the multi-colored yarn. I'm hoping the yarn will look good with this more simple pattern. Otherwise, I will be stumped.
Back in the kitchen, I received my new dehydrator and have already pressed it into service.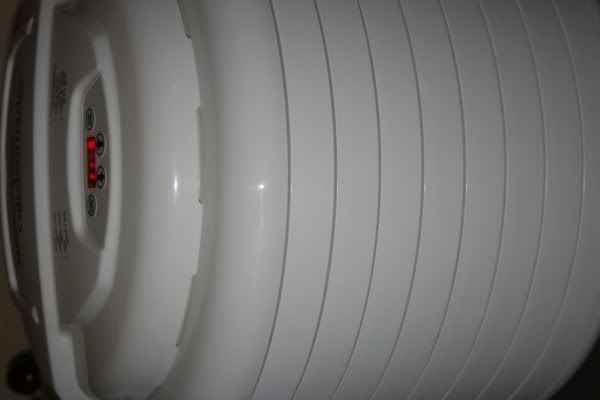 I selected the updated version of my older one and am pleased all of my old trays fit on it as well. Now I have 12 trays I can use.