Spring is a busy time of year, even if it still looks like winter. Which it does. We actually drove through snow (in the air) to get to church on Sunday. The temperatures dropped into the mid 20's last night and the Weather Channel says we will see below-freezing temperatures again tonight. All of this weird weather confuses me.
Normally by this time of year we would be finishing with the planting of our cooler weather garden plants. But I just can't bring myself to put seed in the ground when I wake up to frost in the mornings. I have started forming my beds and rows and have amended my soil with good things for my plants for the year. I suppose I can keep working on my beds until the weather decides to behave. Soon it will be simply too late for cool season planting though. What to do, what to do. I have garlic and onions planted in the beds in the upper right part of the picture, under the hay, but nothing else so far.
In the meantime I have been squeezing in as much knitting and sewing as possible because soon, the garden will need all of my "extra" time.
I finished a new dress for Gabrielle.

I made it from some red velvet in my fabric stash and made it big enough to last a couple of years I hope. We've been listening to "The Little House on the Prairie" books on cd (we don't have many audio books and listen to the same ones frequently) and Gabrielle says her new dress is her new "winter's best." This dress taught me my automatic button hole maker doesn't work very well on velvet (no matter how I might layer my stabilizer). In fact, it got so bad in the end that I made most of the button holes with the "manual" feature and at least part of one button hole on Gabrielle's dress completely by hand. I suspect I too have been influenced by "The Little House on the Prairie" audiobooks.
I've spent some time working on my Mom's sweater. I posted a picture of my progress in my last entry. That picture depicts my first attempt with this sweater. I had knitted up to the arms or thereabout, when I finally had to admit the sweater was going to be too small. So, I ripped out all of my work and started again with a bigger size. I am using a lighter weight yarn than the pattern recommends so I needed a bit of time to figure it all out. I don't purl much and this sweater is based on the purl stitch so my gauge evolved as I fell into a knitting rhythm.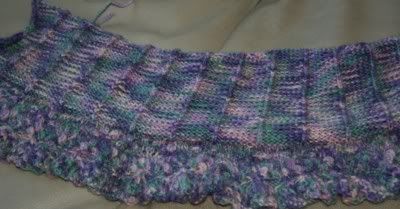 It doesn't look like I have done too much, but this is only my progress on the front. After ripping out my prior work, I managed to complete the back a couple of weeks ago.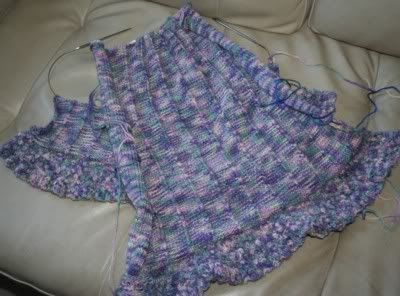 I think I've finally found a pattern that works with the yarn we have. It is not easy to find the right pattern to showcase variegated yarn in a sweater and match my mother's taste for feminine looking clothing. I think the
Minuette
works perfectly. I still have to rip out the back and part of the front from the complicated Aran sweater I started with this yarn previously. That is going to hurt. But Aran doesn't work with variegated yarn. It looks pretty for a little while. Then it gets crazy. I won't make that mistake again.
Not to be bested by a pattern, I started another "Queen of Beads" pair of socks. (My last too small pair ended up as fingerless mitts, which I love.) Last night I finished my socks and they fit perfectly.
I like them so much that I decided to make another pair.
If I don't wear myself out in the garden (freezing to death) today, I hope to cast on this evening. These will be a gift I think.