The rhythm of life moves slow and steady as winter slowly releases its hold on the South. One at a time I empty boxes and move the empty ones to the front porch until they can once again be moved into the burn pit. Meals are cooked, kefir and kombucha cultures bubble on the counters and the kids have settled into their new school semester. I painted the living room, hallway and dining room, mostly. Many rooms still need paint. I've managed to squeeze a bit more knitting into my routine. Cold weather demands knitting from me as much as it demands hot chocolate or coffee or tea from others. And it has been very cold here lately. In fact, the pool froze over a number of times during the last couple of weeks.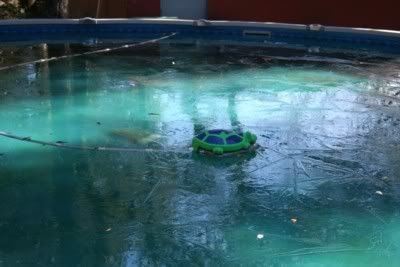 The growing cover of ice continually amazed our southern family. We rarely see ice forming on large bodies of water where we live and our pool is rather large. One day, the pool remained icy all day.
At sunset we found a good cover of ice on the pool. Unbelievable. We never did get snow, but we sure got cold.
Oh, Strider started using his doghouse. It only took one cold day with rain for him to change his view of dog houses. He has used it regularly since.
I finished the beret I agreed to knit in exchange for hay.
It turned out nice though I found out later Ms. Kitty wanted one she could pull down over her ears. This one may not be quite that large.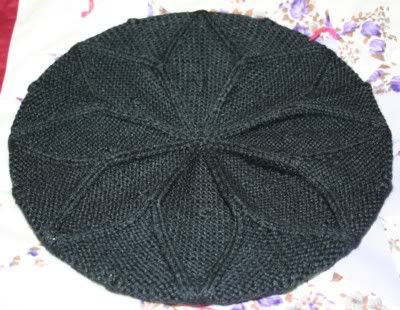 I may try to make her a larger one later. In the meantime, I hope this one will work for her. It fit her head fine and looked lovely on her. She looks lovely in hats and I think she liked having a wool/silk beret anyway. They have already delivered one roll of hay and have promised a second one soon. Since we have meat chickens and turkeys on order, we really will need the hay. We typically spend a great deal of money on hay in the spring and it will be nice not to have to do so this year.
I managed to add another inch to Asa's sweater and will be casting the sleeves onto my needles soon. And I finally finished my Riverrun socks.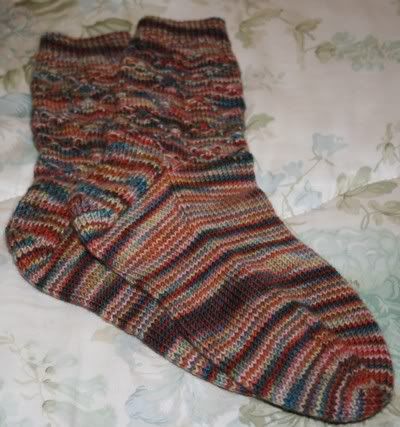 I am so glad to be done with these socks. I love the colors in the yarn, but I really didn't care for the pattern. I started these socks before we moved and had little time since to work on them. I am so glad they are finished.
I've already started my next pair of socks, randomly selected for the
Christian Artisans
Stash Sock Club. They are going to be
Monkey
socks knit from
Creatively Dyed Yarn
, Luxury in the Salsa colorway.
Unfortunately, I haven't had a chance to start spinning my fiber for the
Queen Susan Shawl
. I'm still unpacking spinning stuff and am just not there yet. I can't wait to convert my unpacking time into fiber time. I hate unpacking.
I received another fabulous gift from
Caroline
.
I love bags and boxes and neat little things that hold stuff. I've never found a good container for my stitch holders. Caroline said she was sending a sample of our target yarn for the Queen Susan and she did, in this fabulous box. She also sent some of her homemade stitch markets and a neat pair of folding scissors.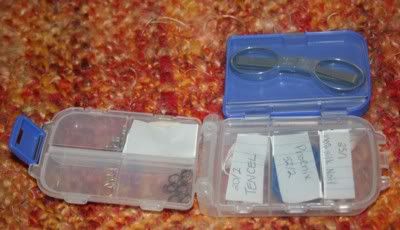 Caroline has long been an inspiration for me and she is also a sweet and generous friend.
The kids had a slumber party of sorts last week.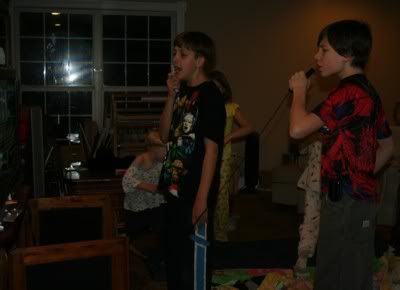 Our neighbor had an early morning doctor's appointment so we took the kids for the night and following day. The group had a blast.
They played karaoke on the Game Cube and danced to the music.
They played computer games, ate popcorn, watched movies and played more karaoke.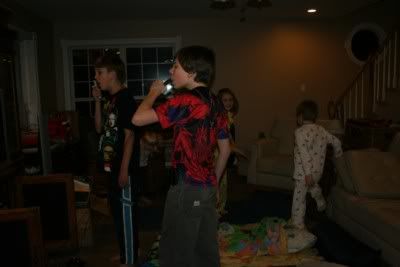 My kids never wanted it to end. The neighbors are supposed to be coming again this week and my kids are very excited. I'm very grateful we have a nice family living next door.
Kurt celebrated another birthday Friday.
We celebrated with a tribute to Kurt's sweet tooth. We made him his favorite German Chocolate cake with coconut pecan frosting (yuck), ice cream, cinnamon and pecan rolls with cream cheese frosting for breakfast and Gabrielle made him pralines. The kids have been on a perpetual sugar high for 3 days now.
Kurt also took Gregory hunting for his birthday and had great fellowship with some really nice men from church.
As winter finally releases its stranglehold on our normally mild temperatures, I realize I need to get serious if I am to plant a garden this year. I don't have a space yet claimed for my garden and it is already time for planting cool weather crops. The weather forecast predicts too much rain for much soil work now, but I'm hoping to explore some of the local feed stores and nurseries for seed potatoes this week. I'd hoped to have been unpacked before the busy Spring season, but I still have a bit to go. Apparently Spring starts earlier in Foley than it did in Brewton.