I think I might easily fall prey to addiction. I'm showing the early signs of an irrepressible urge to bring treadle sewing machines into my home and it needs to stop. I don't have the money or room.
Now that I have positively affirmed my choice to be responsible forevermore, I will post about the road trip I dragged the kids on yesterday.
Kurt procured a lovely Singer Model 27 sewing machine for me for my birthday. Unfortunately, it was in pretty rough condition and I doubted my ability to ever get it into working, usable condition. So I started haunting Craig's List looking for parts or for other Singer Model 27 sewing machines. I didn't actually intend to buy another sewing machine; I was simply looking.
Yeah right. Last week, I found this Singer Model 27: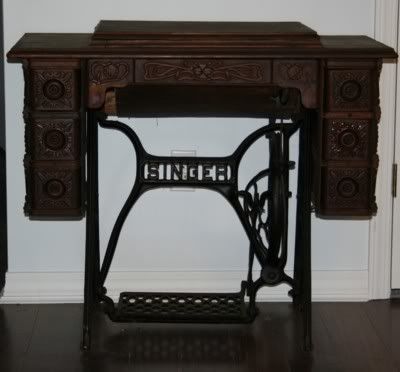 The table was in beautiful shape for a sewing machine manufactured in 1903. My pulse raced every time I saw it. I made several phone calls, requested more pictures and finally made a ridiculously low offer to buy the machine. Knowing I was quite a drive away from Ariton, Alabama, the owner of the antique store decided he would sell me the machine for what I offered if I was willing to make the drive. I think he'd had it in his shop for awhile. The sewing machine has lovely "pheasant" decals I believe.
I really couldn't believe I would be able to get such a lovely machine for so little so yesterday, I grabbed the kids and we headed out for a small town in Alabama whose name I'd never even heard referenced before. I don't have GPS, but I did print out a map from Mapquest. The map would have been sufficient had I not missed a turn early on in our journey and traveled many miles before discovering my mistake. In the end, Gregory learned how to read and navigate from a printed map, which comprised our homeschooling lessons for the day. We created our own route from faded gray lines representing "secondary" roads without names on the large United States Map Book I've had in our car since our last trip across country to visit family. Secondary roads are interesting. There is almost no traffic on secondary roads which I like, and fortunately we had no car problems while in the middle of nowhere, for which I prayed the entire time. We also saw a lot of cows. We even saw a pasture full of miniature cows. I had no idea Alabama had so many cows. I suspect we might have more cows than people.
Despite all the wrong and missed turns and the long trip and all the cows, the machine was every bit as lovely as I'd hoped for a 107 year old sewing machine. I think I should be able to get this machine into working condition, though I feel rough and clumsy around it.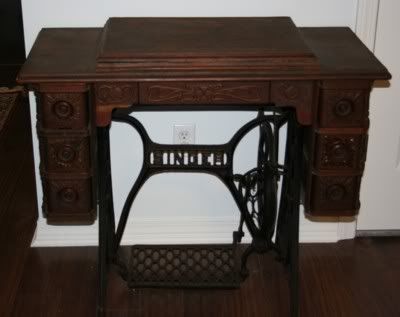 Before traveling to Ariton, I asked the proprietor of "Not Too Shabby" antiques (a LOVELY store by the way) if the Model 27 Singer had any of the attachments with it. He told me no, but that he had another treadle machine in his store that had lots of attachments. If the attachments fit the Model 27, he would let me have them.
Another TREADLE MACHINE? Why wasn't I told???
He tried, but the attachments wouldn't fit. I got the serial number for the second machine and my research told me it was a Singer Model 66, supposedly a good work horse machine that can handle fabric as thick as leather. It sounded interesting. I thought my trip would be a great excuse to learn about another model treadle machine. So upon arrival, the kids and I innocently asked to see the second machine.
While not as ornate, the table was in pretty good condition for a machine manufactured in 1924. I casually asked the price. It was more than I was willing to pay and I walked away. Gregory moaned and told me since we'd come so far, we really should bring both machines home. It was a lovely "red eye" Model 66.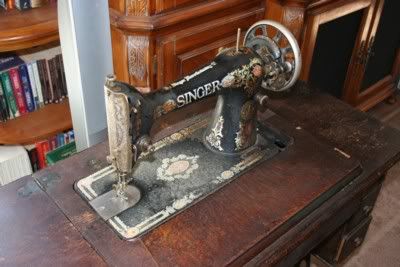 In the end, the man made me an offer I couldn't refuse if I would take both. And I did.
I didn't know how to tell Kurt because he tends to be too practical to understand my love for antique tools beyond what I "need." I did call him and reminded him he loved me very much. I reminded him 3 times so he knew something was up. In the end, he took the news very well and helped me get the Model 66 out of the car. (I did a bit of damage trying to get the Model 27 out of the car with just Gregory's help. It made me sick to my stomach although it is fixable.)
I think one of the things that excites me most about the Model 66 is all the accessories.
I see what looks like a hemmer. I haven't looked at anything too closely yet to determine what else might be there. I decided the clean up of these machines will be my summer project once it gets too hot to garden. I can hardly wait.
Of course Gregory, Kurt and I are now sick today with something that is going around. I'd hoped to get some more seeds in the ground, but don't have the strength for it. Lousy germs. But my new sewing machines are happy things despite colds and flu and work left undone.