After a very long winter (to us Southern folk anyway), we are itching for Spring. I've ordered my vegetable seeds for the year and I signed up for a tree grafting class. I planted potatoes.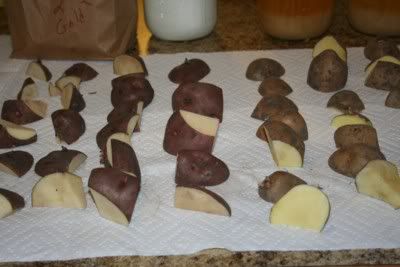 In Brewton, my potatoes generally rotted before growing. I think the heavy clay and winter rains conspired to kill my potatoes year after year. The soil in our new house does not appear to be as full of clay and I'm hoping we will get our first potatoes this year. I planted gold, red and white potatoes.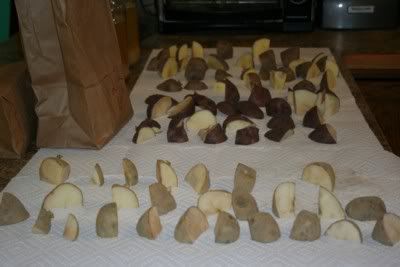 Next up will be lettuce. The weather forecast calls for rain tomorrow so I will have to wait until later in the week to plant my salad garden.
In the meantime, I am trying to finish my knitting projects because I don't get to do much knitting in the Spring. I finished my Farmhouse Monkey socks.
And I've been knitting as much as possible on Asa's sweater.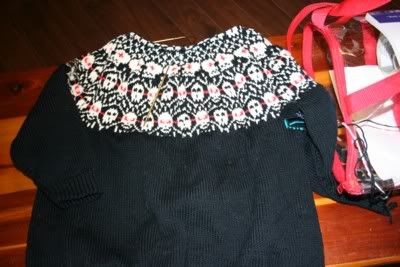 Normally I would not knit something with skulls. We don't like to celebrate death in any form around here. But, I do think Jesus meets us where we are sometimes. Asa is a neat kid in our new neighborhood. He has a growth disorder which makes it impossible for him to buy clothes that fit. Ever. After seeing him in a new jacket with sleeves almost double the length of his arms, I felt the Lord whisper to me to knit something warm for Asa. Something that fits. So, I pulled out my budding design skills and worked up a pattern for someone who doesn't fit within typical pattern proportions (proof that all that math I had to learn in school had application to my life after all). And since I was designing the sweater from scratch anyway, I thought I would design a yoke pattern that would appeal to the young man for whom I am knitting. He likes the whole pirate and skull fad so I'm knitting skulls.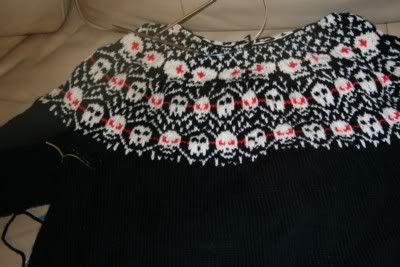 As creepy as the skulls look, I have to admit I'm pretty proud of the way they are turning out. I have one more round of skulls and the yoke will be done.
In the meantime, we actually saw another forecast for snow a week or so ago. Since Brewton got three to four inches of snow the snow forecast before, I thought I'd be ready to travel if snow arrived again. Both Michael and Gabrielle have mittens, but Gregory only had fingerless gloves. So I let him choose some yarn and I hurriedly knit him a pair of wool mittens - just in case.
We didn't get any snow near here after all. Oh well, I'm really clamouring for Spring anyway.