Winter keeps going and going and going this year, sort of like the Energizer Bunny. Our new house cannot keep up with it's lack of insulation and gappy doors. For us, winter means lots of rain and the rain keeps coming. We've found a couple unrepaired roof leaks that are fortunately not too bad and my gardening efforts have been on hold.
Last Fall, I did manage to plant some garlic and onion bulbs. They are peaking through already.
I haven't done any soil testing at all yet. I did throw a bit of chicken manure into the ground when I dug the beds hoping for the best. Eventually I'll walk the more scientific path. In the meantime, I plan to see what will grow in the native ground.
It rained again last night and the creek once again overflowed its banks.
A small bend of this creek cuts through the corner of our property. I think it is quite pretty.
I would love to build a little deck by the creek with a porch swing structure or something. It would make a lovely place to sit outside and feed the mosquitoes in the summer.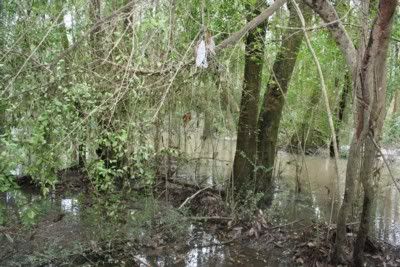 Originally I wanted to truck in a load of sand and make my own private beach. But everyone keeps telling me the sand would wash away in the rain and during these times when the creek overflows its banks.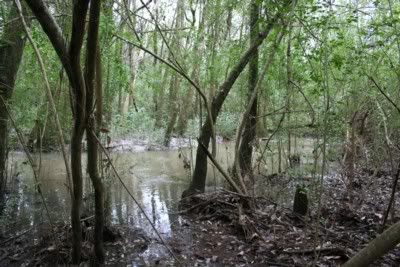 But first, the house needs work. Lots of work.
I thought I was done with big remodeling projects, like ripping up floors, tiling, grouting, etc. But apparently not. A couple of days ago, my oldest child sat on the toilet. A couple of minutes later, we all heard a big crash.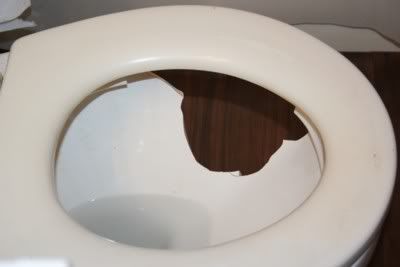 The side of the toilet bowl literally disintegrated and fell to the ground. Fortunately for my son, the toilet seat remained intact. Ugg. Now we have to replace the toilet. But the prior homeowner laid the floor in that bathroom and instead of doing it properly, he carefully cut around the base of the toilet, custom fitting the floor to the broken toilet. There is probably no way we are going to be able to find a toilet with a big enough base in exactly the shape to fit the opening. And since I always figured we'd have to redo that floor eventually, we figure we better rip out the bathroom floor when we replace the toilet. Fortunately, we have just enough tiles left over from the kitchen floor, if I don't mess anything up, to tile the bathroom. And then the room needs painting, so I should probably go ahead and paint before I install the new floor and toilet. Nothing with this house is ever easy.
During the brief period of time between things going very wrong in our house, and winter keeping me inside, I did manage to finish my
Christian Artisans
Stash Sock Club socks.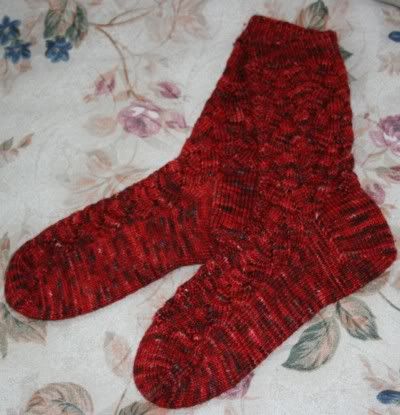 They are Monkey Socks. I liked the Monkey Sock pattern so much, I actually started a second pair.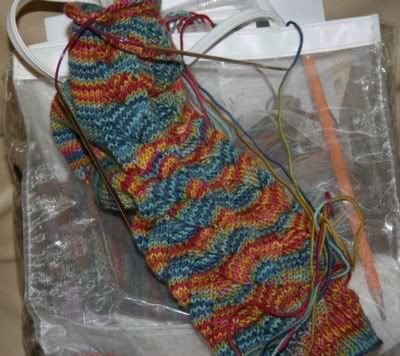 I'm knitting this pair from stash yarn too. It is Socks that Rock in the Farmhouse colorway. When I look at the yarn I can see an old red barn sitting in a golden field under a blue sky. This is the first yarn I've used where I think I can glimpse the dyer's vision.
I'm actually very close to finishing my second pair of Monkey socks. However, Gabrielle has me distracted. Gabrielle told some new friends that she could sew skirts and they asked her if she would sew a skirt for each of them. Gabrielle readily agreed. It finally got to the point where the girls were going to each have a matching skirt. Every time Gabrielle saw her friends, they asked her about the skirts. I knew the project was really beyond Gabrielle, so I thought I'd help her out and do them for her. So, that has been my afternoon project for the last few days.
We found some fabric in my stash. (It is not actually so bright.) I had barely enough. Unfortunately, I don't have adequate light yet in my sewing corner so I can only work on them when the sun is right. I'm hoping to be able to finish them today or tomorrow.
I finally started combing out the beautiful wool Caroline sent me for our
Queen Susan
spinning. The fiber is just beautiful!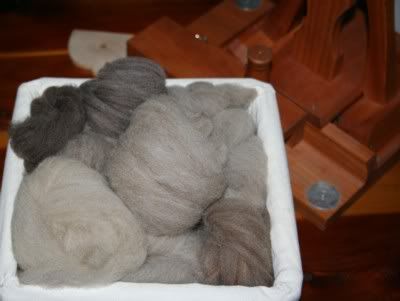 I'm a little concerned about the range of colors in this fleece. While I love the colors, I'm not sure they will work for a lace shawl.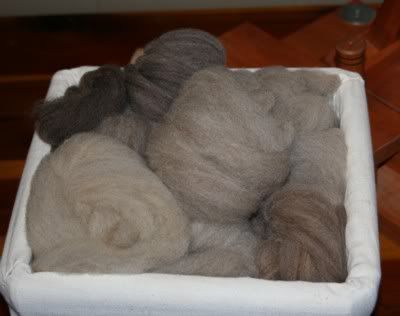 I hate the waste combing produces.
So, I started carding up the waste pile and spindle spinning a waste yarn. It feels bumpy and rough, but I'm sure it can be used for something. Otherwise, it is nice to be spindling again. I haven't picked up a spindle in a long time.
I'm really tired of being cold all the time and I want to eat fresh garden food again. However, I really enjoy the knitting, spinning and sewing time cold, nasty weather affords.