A couple of people have asked about my blocking frame. This idea came originally from one of the ladies involved in a
KAL
for the
Legends of the Shetland Seas
stole. She shared the idea freely so I do not think she would mind me sharing it too.
My husband constructed my frame and I am going to try to remember how he did it. I am not a handy kind of person so you will have to call upon your own intelligence to figure out what I mean to say from what I actually might say.
The frame is constructed from 4 long 1X2 pieces of wood.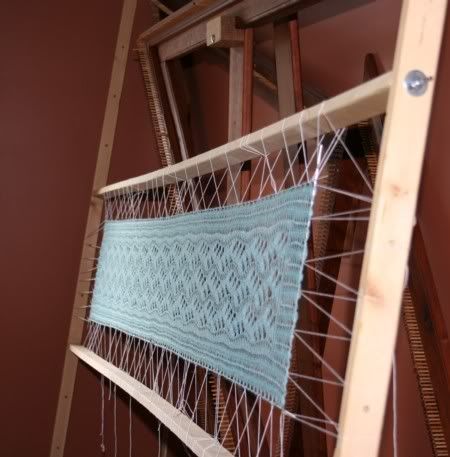 The length depends upon how adjustable you want it to be. The two cross pieces have a bolt of some sort drilled into both ends which sticks out and feeds through holes drilled through the face of the vertical pieces at regular intervals (like every 4 to 6 inches). You can see the holes in the above picture in the far end vertical piece.
Normally I keep the blocking frame broken down into 4 pieces. I simply slide these pieces under the couch in the living room until I am ready to do some blocking. Then when it is time to block, I lay out the pieces as best I can on the floor. I feed the attached end bolts on the horizontal pieces through the holes on the vertical pieces and secure with a wing nut and washer.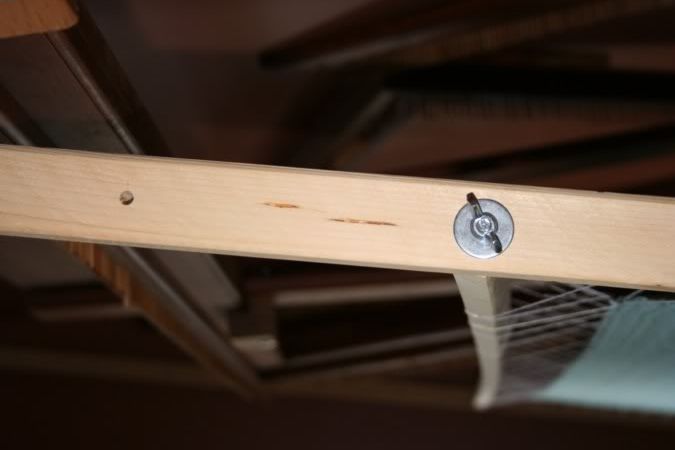 I can block my knitting with the frame laying on the floor or standing up, depending on the circumstances. For the
Lead or Follow
scarf presently on my frame, I lashed it to blocking wires I first fed through the edges (for a straight edge) with crochet cotton.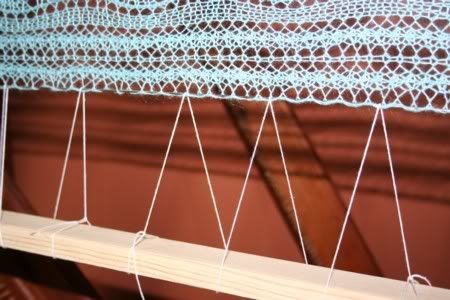 Because I used blocking wires, this shawl was easier to lash while the frame laid on the ground. With pointy bordered stoles, I have lashed while the frame stood propped against the wall. I typically block my lace pretty severely and you can see how my cross beams have bowed as a result.