I am completely enthralled with the Mystery Stole 3 KAL! We started knitting about a week and a half ago and so have received 2 parts (clues) of the shawl to date. It has been taking me about 2 days to knit each clue, which gives me too much time in between Friday clue releases. Here is my shawl through clue two:
I am knitting it in ebony Zephyr on size 4 Addi lace needles. I am also using silver lined crystal beads as indicated in the instructions. The stole is so beautiful so far. It makes me wonder if I can knit just one.
I actually joined the KAL about two weeks prior to the release of the first clue. All the lace talk got me too excited so I started the
Lead or Follow
scarf in teal Zephyr to give to a very sweet lady at church who has been especially kind to my family. I would have liked to have finished the scarf before the MS3 actually started, but I didn't make it. I did manage to finish it off in between clues 1 and 2 though so that was good.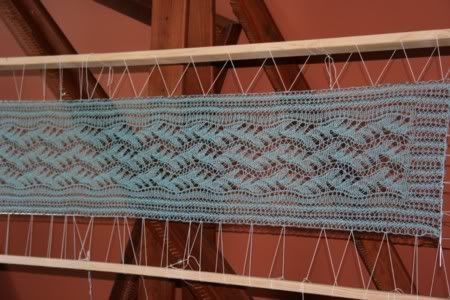 It is quite pretty. I have it blocking on the frame Kurt made for me when I knitted the Legend of the Shetland Seas stole.
I've been doing a great deal of organization and rearranging around the house (which is not as good as it seems since it is truly "a drop in the bucket" of what needs to be done). We moved into this house when I was 8 months pregnant and so I never got all the unpacking and settling in stuff finished. I've picked some of that back up recently. I also moved Michael upstairs into his bedroom with Gregory and out of the small office off the master bedroom. With lace knitting filling my mind right now, I immediately turned the little area where Michael once slept into a knitting nook.
I'm still working on the area. I've had to make due with stuff we already had. I would really like to get a "real" end table to hold my knitting charts and my stuff. In fact, I actually found
one
I liked that would fit in the little space just perfectly. Unfortunately it is really not in the budget at this time. But it is fun to contemplate the possibilities.
I've actually had another [couple] lace projects in the works as well. I've been knitting the Lady's Circular Cape from Victorian Lace Today for awhile now.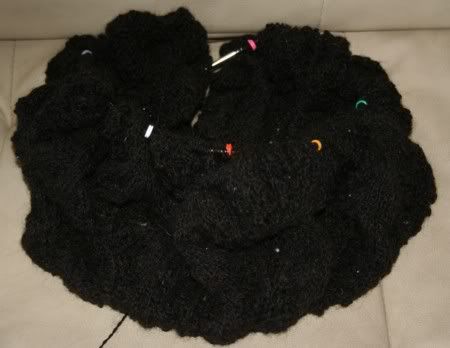 I'm about three quarters of the way through the main part of the pattern and then I will need to add a border. It looks a bit small to me. Hopefully blocking will take care of it. I'm knitting this from my homespun corriedale and alpaca yarn.
I have done a bit of spinning this summer. I've spun up a couple of skeins of bulky yarn from some polworth I picked up at the Destin Spin In this year.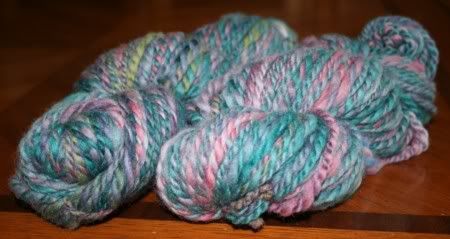 I am hoping to eventually spin the remaining yarn necessary and then weave a nice, large, cozy shawl for myself on my triloom.
I've also been plugging away on what seems like the ever ongoing knitting project in my life, soakers.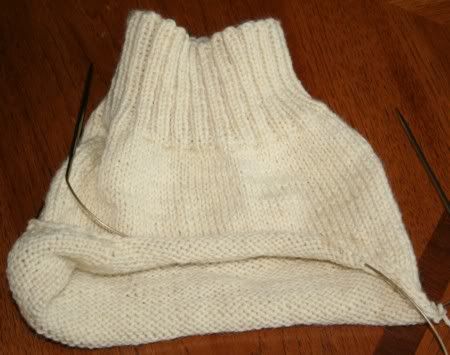 Michael continues to grow and I continue to knit soakers to accommodate him. This is the third one I've done this summer and I really need to do a few more. Most of the soakers I've done have had color work on them, but sometimes I just want a plain one for under some of his clothes.
I am actually very grateful. I haven't knit this much since before Hurricane Ivan altered our lives forever. "Normal," albeit a new normal, seems to be back in my life again. Of course my children have been wonderful about helping with the animals and around the house and Michael is getting older and requires a bit less of my attention and that helps too. And I have pretty much passed the responsibility for the bees onto Kurt too.