Presently, "Six" is my favorite movie. It is a Christian movie, which is pretty much all we watch these days. One of the main characters, whose name I cannot recall, but who is portrayed by David White, takes the mark of the beast, a chip injected under his skin which somehow or another affects his thoughts and behavior. As he sits in "orientation" he remembers his prior life as though it were a dream.
I find myself slipping into a similar mode lately, especially with regard to Internet service. I remember a time when we had access to high speed Internet, though the memory of loading pictures quickly or skimming web pages in rapid succession seems a hazy dream to me now. I know we once lived a 21st century life, but it seems long ago and far away.
But I digress. I have been loading pictures onto my digital camera faster than I can manage to convince myself to load them onto the Internet. But, having joined the
Mystery Stole 3 KAL
, I determined I would update my blog with the pictures I've been hoarding on my camera and start afresh with some knitting content hereafter.
I've actually started quite a few projects this Spring and Summer, many of which languish, but a few of which I've actually finished. For example, I spun some bulky yarn from fiber and fleece from my friend Cary at
Serenity Farms
. I then wove a triangle shawl with it for my friend Irene, who's birthday was June 1.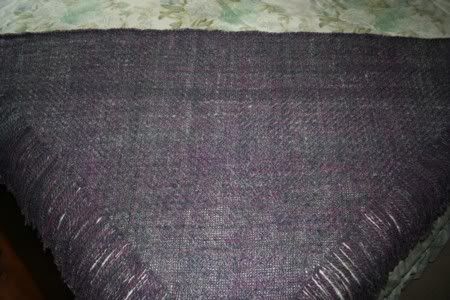 I also carded and started spinning some corriedale fiber (again from Serenity Farms) and some alpaca from my friend Diane at
Funny River Ranch
for a capelet pattern from "Victorian Lace Today."
For whatever reason, the fiber wants to fight while I want to spin, but I will tame it yet.
I'm well underway with this project, but have no pictures today.
Late Spring and Summer bring family event madness. We started our annual summer family outings with a trip back to the old neighborhood in Gulf Breeze for a park day hosted by
Calvary Chapel Gulf Breeze
.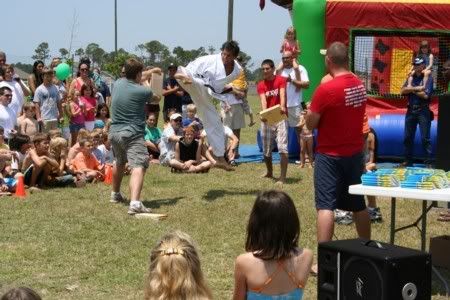 They had a karate exhibition and lots of blow up stuff for the kids.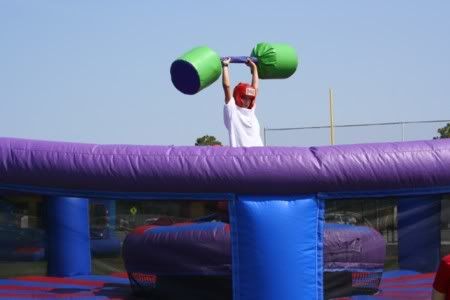 Of course Gregory loves jousting.
But the heat soon drove everyone to the water.
Even Gregory left the jousting when he ran out of people available to knock him around.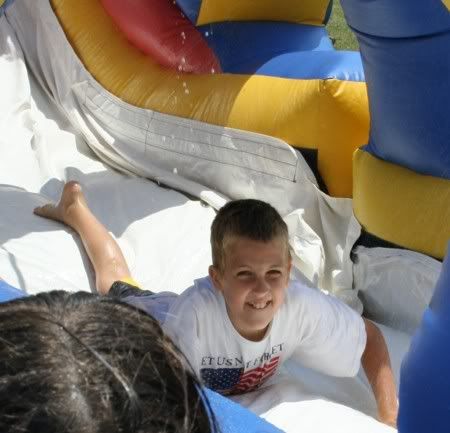 Despite my best efforts to foist Michael into his Dad's care for the day, I ended up walking him around the park and teaching him about the pleasures of climbing into closed in, hot spaces filled with strange children literally bouncing off the walls.
Next on the agenda was the Museum open house which we attend every year. However, due to an unfortunate incident between me and a pool deck board, we missed this year. But, thanks to the good make-up training I received in MK and while growing up in Las Vegas, I covered enough of my facial bruises to manage a day with the family at the Blueberry Festival.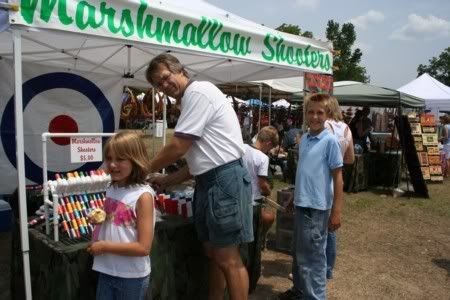 I had several pictures from the festival, but how many times can you look at pictures of my family looking around booths? If you've seen the above photo, the others look similar. Frankly, I went solely for the purpose of picking up a couple of cases of cheap blueberries. That afternoon I turned them into preserves for all of the toast to be consumed in our family during the 12 months until the next festival.
I did snap a couple pictures of Michael though because he looked too cute in his little hat.
Also, taking pictures was a good excuse to foist Michael onto his father for awhile. After all, it is hot in Southern Alabama in June and pushing a heavy toddler around on loose dirt is really no fun.
Kurt and I celebrated our 12th anniversary a couple of weeks ago. Knowing there was no way to break away from the kids for a romantic get away (Michael goes insane when separated from us. I would let him cry it out, but babysitters don't seem to be prepared for the trauma of his fits. He has just enough autistic tendencies to be scary when he wants. sigh.), Kurt and I made the best of it and invited our closest friends in Brewton for an afternoon at our favorite Pensacola Beach restaurant and then a trip to the fish market.
Darlene has been trying to curry Michael's favor since she teaches Sunday school to the 2 year olds at church. We already have an agreement. When Michael reaches the age of 2 in a couple of months, I will put him in her class and she will keep him no matter how purple he makes himself as he rages. I've got to get the kid willing to separate from me for at least short periods of time! Michael watched me carefully as I stepped back from the table far enough to take a picture.
The men, Kurt and Tim, hung out and ate.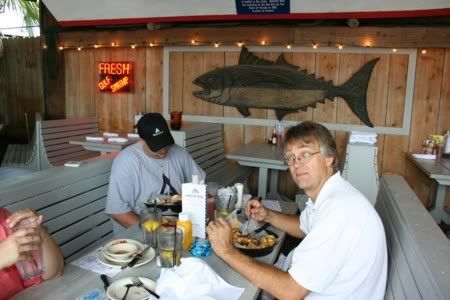 Lately, Gabrielle has been taking care of Michael in the mornings. The like to share her breakfast together.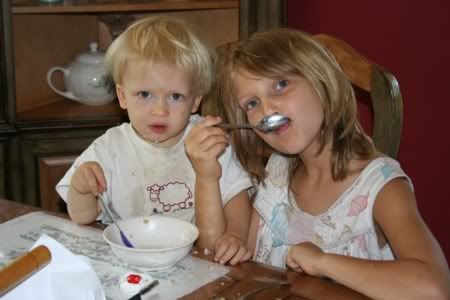 Like most kids, Michael is most interested in eating what is on the plates of others. I had some really cute pictures lined up, but somehow I forgot to turn off my camera after last using it and it got banged around and somehow the timer turned itself on. I kept trying to take pictures and the 10 second delay kept messing up the shots. I finally pushed enough buttons randomly to fix the problem, though I am not sure I could do it again.
Last weekend, Gabrielle celebrated her eighth birthday.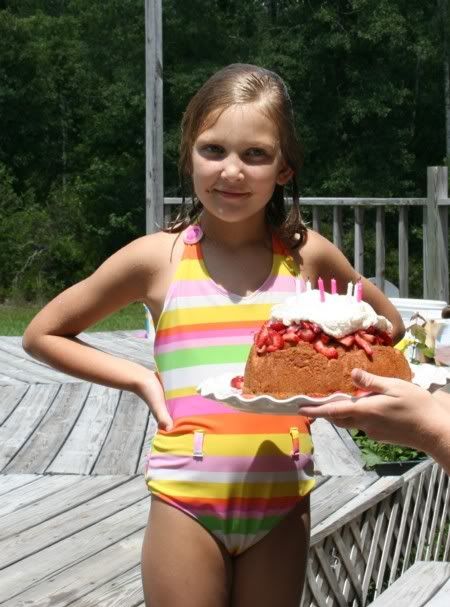 We invited a couple families from church over for swimming, barbecue chicken and strawberry shortcake. Everyone had fun.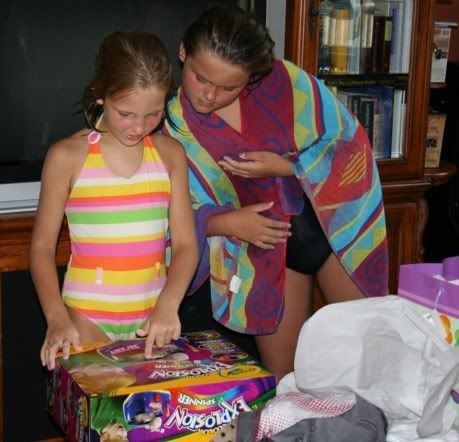 Gabrielle got to spend the day with some of her favorite people and all the young people wore themselves out swimming to the delight of their parents.
We even managed to surprise Gabrielle with set 2 of her Elsie books. We spent a year hunting down this set and she had no idea I'd finally found it. Unfortunately for Gabrielle, she is dying for me to read them to her, but last week the MS3 KAL started. . .