Once again our family enjoyed a day at the Krull Lake Heritage Festival.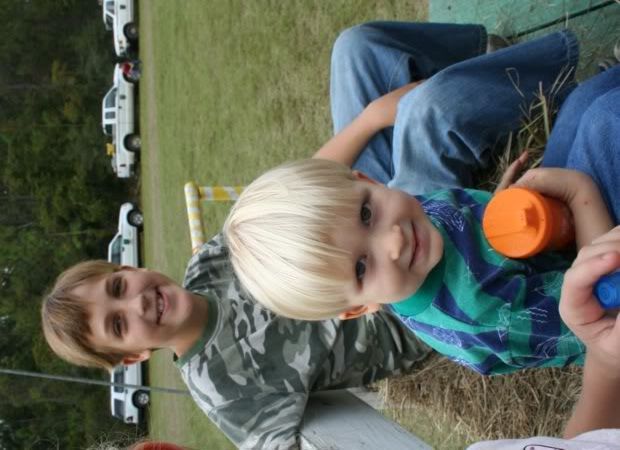 We started with a hay ride from the parking lot into the festival grounds. Almost immediately, Gregory found the blacksmith.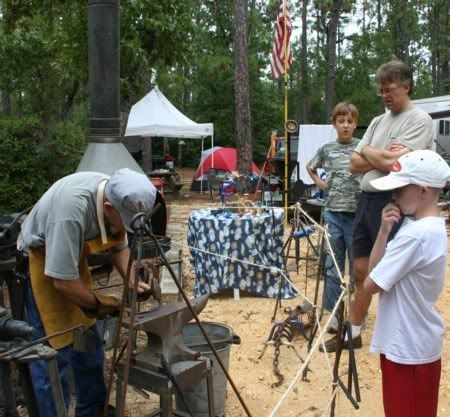 He talked about blacksmithing and discussed some of the information he'd learned from reading blacksmith books during the past year. The kids also did their usual.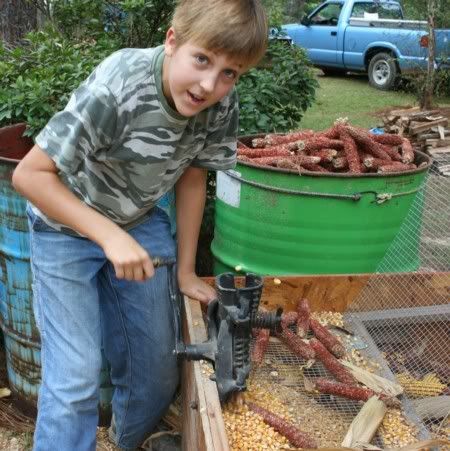 They shucked corn.
And sawed lumber.
Gabrielle made a shingle, though this year I wouldn't let her keep it.
The kids scored some sugar cane. Gregory chewed on it for hours.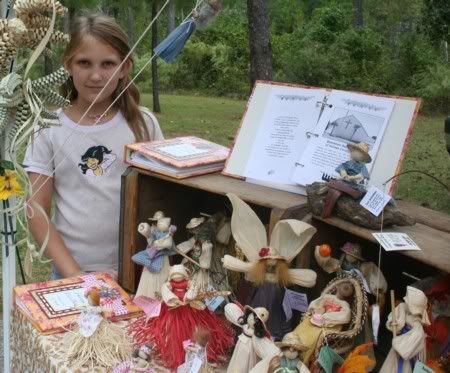 Gabrielle admired the corn husk dolls and tried to get the maker to teach her a little about making them.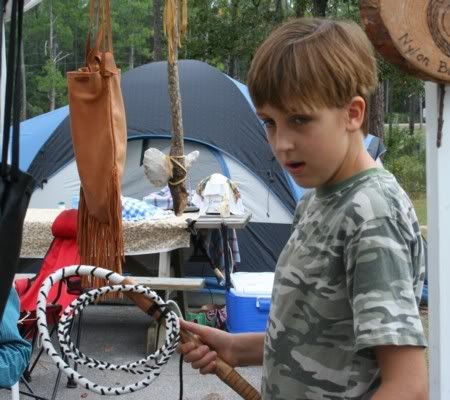 Gregory actually kept a straight face while telling me he still wanted a $70 whip. The man told us it was a "herring bone plait" and I told Gregory he better google for directions.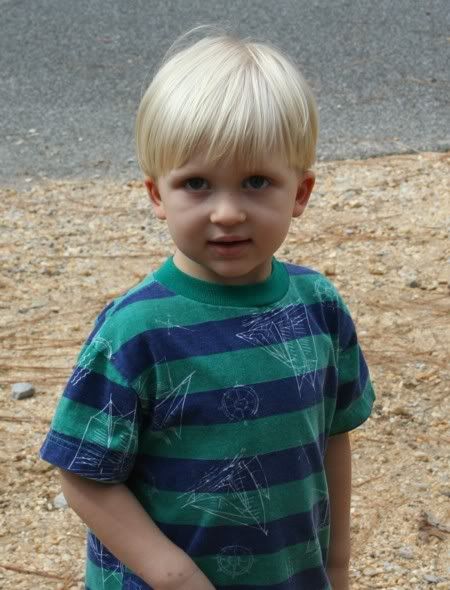 Michael being too young to appreciate the heritage crafts, constantly attempted to escape the supervision of his parents. I suspect he feels confined by the limits we place on him. We have rules. Like no throwing rocks at pedestrians. And other similar things.
A bee keeper had a booth at the festival this year. Kurt had a great time talking bees with the owners.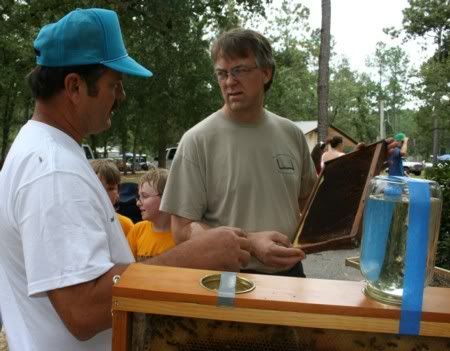 We lost our bees to hive beetles and swarming and will need to start over once we move. We figure we should get as much input from successful bee keepers as possible. And when we found out they raised their bees without chemicals, we bought some honey.
At the lathe, we ran into some new friends from Calvary Chapel Fairhope.
We also ran into some old friends from Gulf Breeze, but I got so engaged in conversation I forgot to stop and grab a picture. Okay, part of it was that my brain was completely engulfed in envy. Melanie has had 6 kids, one more recent than my youngest and she is pretty much my age. I've been using Michael as an excuse for carrying a little too much weight. I saw Melanie and she looked absolutely stunning. Sigh. I was certainly NOT thinking of cameras at that point in time. I will be starting the
Master Cleanser
fast on Monday.
There were several new things for us to do. Kurt got a quick dulcimer lesson.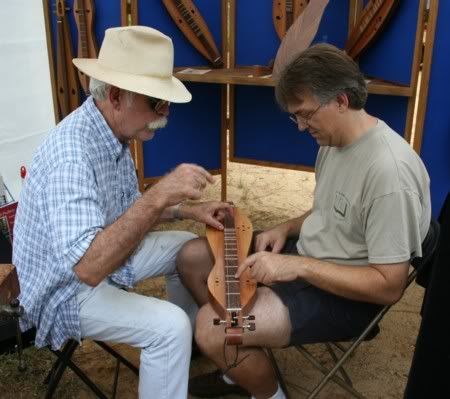 Within no time he was playing.
I stopped to see my spinning friends.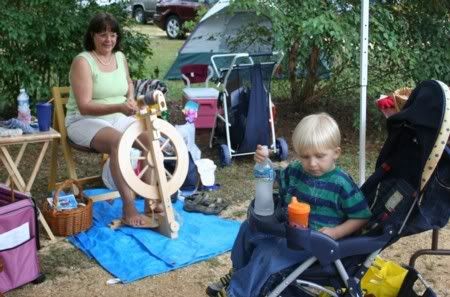 Most everyone was out seeing the sights. Fortunately Theresa had remained behind. I loved having a brief time to catch up.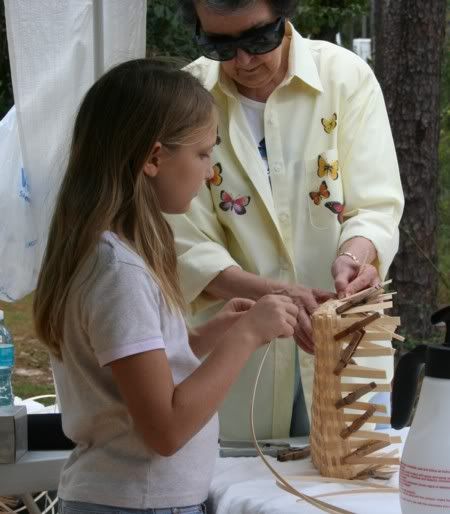 The kids got some hands on basket weaving time.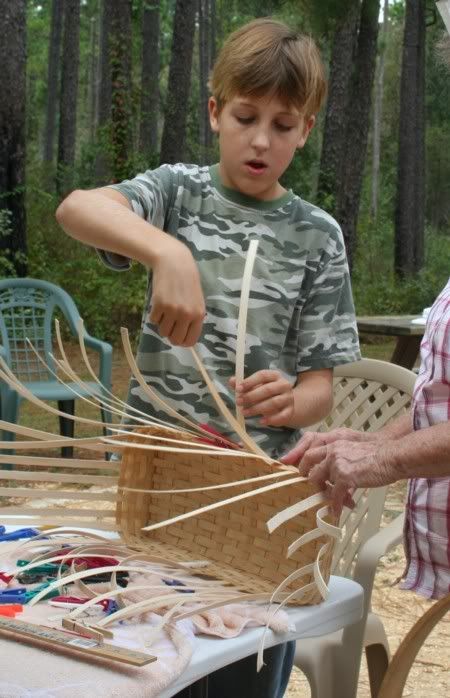 And Michael did his best to keep people from touching him.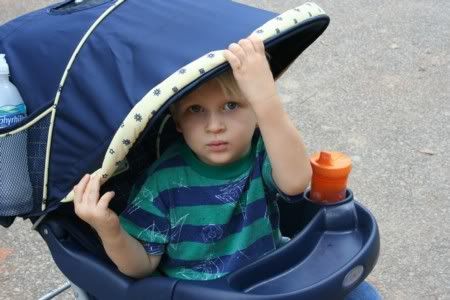 He is so cute and everyone always wants to touch his hair. He HATES it.
The best time all day involved the oak basket maker.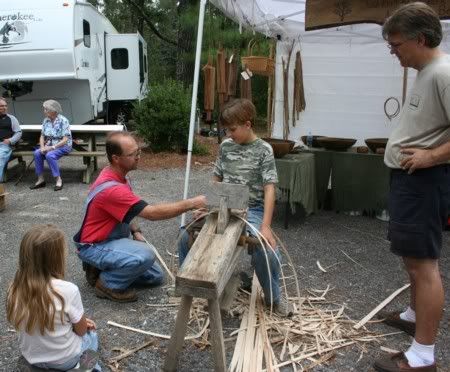 He remembered Gregory from last year and knew Gregory loved the idea of making baskets.
He actually showed Gregory how to prepare the oak and then to strip it for basket material.
He showed Gregory how to smooth the strips and how to get them ready to weave.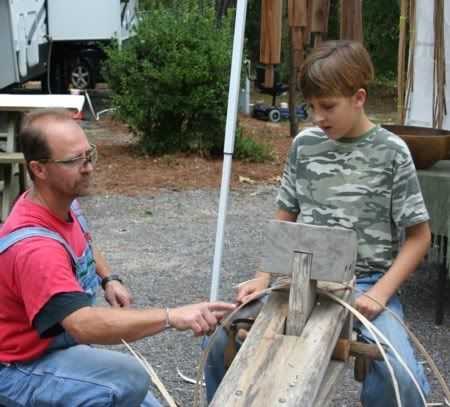 He then sent Gregory home with the pieces of wood and instructions to weave a basket from them.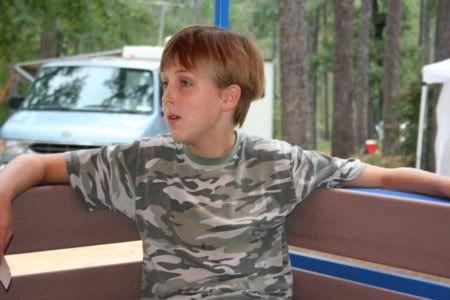 Gregory was one happy young man.
Since Gregory got most of the attention today, I let Gabrielle get the sun bonnet she wanted so very badly. She has been wearing it since.
The kids hated to leave the festival, even though we were some of the very last to go.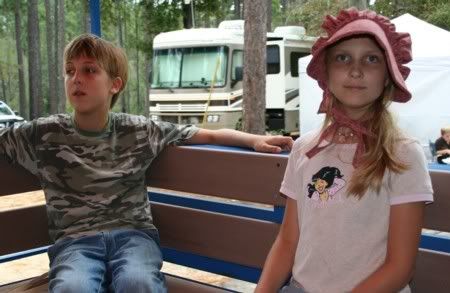 Kurt was just glad I agreed to ride the shuttle back since originally I tried to get everyone to walk. It was a good day.