It has been awhile since I updated my blog, but I spent time last week, and part of this week, in "The New AT&T" hell and haven't been online much as a result. "The New AT&T" took over as provider for our telephone and Internet service. I'm not sure they are any better or worse than anyone else, but when my telephone service (and thus Internet service) went out last week, it was hell.
First of all, my telephone line just went dead. Right in the middle of trying to get online. I spent hours doing as I've been taught by the phone company in outages past. I unplugged all the telephone jacks. Then I plugged them back in. When that didn't work, I unplugged them all again and also moved furniture (including a heavy computer hutch) and unplugged all the electricity to anything with telephone line access. I tried the line. Nothing. I unplugged again and left everything off longer. Still nothing.
We've become very frugal over the last year and as such, we have no cell phones or anything other contact with the world. So I loaded the kids into the car and drove to church to use a telephone to call for repairs. After the customary computer system automated service and lengthy hold time, I finally got a live person who told me in no uncertain terms the phone problem was my responsibility. She ran a check and could find nothing wrong on her end. She said I did NOT have coverage to have my inside wiring checked and if I dared to want such service they would have to empty my bank account at a minimum. She then told me to go home and unplug everything and when I plugged it back in, all would be fixed. I could almost see the smug expression on her face when she told me it was in all likelihood my computer messing up the phone lines.
The kids and I drove back home dejected and I wondered if I had anything I could pawn in order to afford the cost of bringing out a repair person. I meekly followed instructions and unplugged everything again. I waited well over an hour before plugging anything back in. Still. Nothing.
Since my husband now resides in another town and only comes home on Sundays, I couldn't call him for help. I had to do something. I thought I could get a cell phone and just cancel the phone service since it was obviously never going to work again.
I finally decided I would call the telephone company again and figure out a way to pay their exorbitant fees since I was obviously incapable of the simple maneuvers that would restore my telephone to service.
I loaded the children back into my car and we set off again. This time I noticed one of my neighbors was home. I knocked at her door and asked to use her phone. At least this time the unreasonable hold time gave me a chance to visit with my newly retired neighbor.
After finally reaching another live human being, I begged for a repair person to be dispatched. Warned again of the imminent financial ruin which must accompany such a request, I felt my stomach turn. But, I committed. I asked when I could expect a repair person and was told it would be anytime within 48 hours. I got the impression I should have been grateful to be scheduled for a repair at all and should not dare hope for the courtesy of a more definite time.
Finally, at the end of the window of time given, the repair man knocked at my door. Convinced the problem was mine, he tested the inside lines. Shock took over his face as he determined the problem was not mine, but theirs. He "
ahemmed"
and coughed and told me he would look for the problem. He found it in a span of line between the poles.
Telling me he had not brought wire to repair the problem, he would make a temporary fix and call someone to come out the following week. The temporary fix was funny. He left a long orange wire, like one of those outdoor electric cords, strung over bushes and across the road connecting the lines at the two telephone polls. We had to drive over it anytime we left the house. My friend Darlene noticed it and said it was the most "red necked" repair she had ever seen.
More than a week after the problem began, all is now ostensibly fixed. We won't have to pay all the crazy fees about which we were warned and I am praising the Lord for that one.
In the meantime, my friend Darlene, who joined us on the Calvary Chapel
Fairhope
camping trip, brought me a copy of her pictures. I thought I'd post them today. She got pictures of things I did not.
This is a picture of our campsite. The grounds were quite lovely.
We were all impressed with the tent which sprang out of our box. We had replaced our former tent after the hurricane and I hadn't paid much attention to more than the number of people that could fit in it. It turned out well. Our tent had a hallway with two completely separate rooms off of it. Kurt and I were able to have some privacy from the kids and we relished it.
Michael is wearing the Dale sweater I knit for him 2 years ago. I made it big and am very glad.
Early each morning, Mr. Mike brought his "famous camp coffee" around to all of the campers.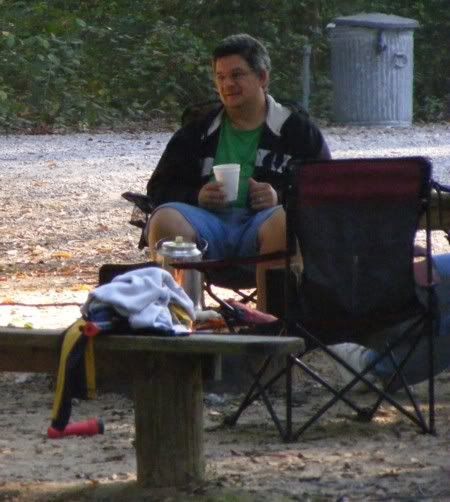 I tried it, but it was NOT to my taste. I found out later the famous coffee was simply whatever was cheapest at
Wal
*Mart.
Early the first morning, Mr. Mike took the kids fishing. They had a blast even if no one caught any fish large enough to eat.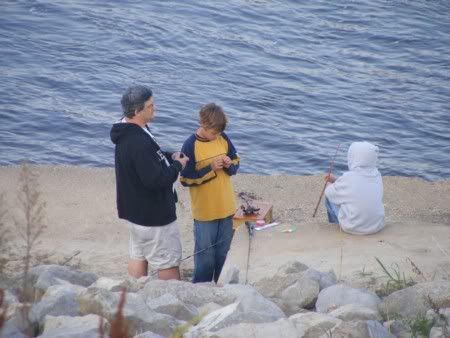 Mr. Mike patiently taught the children the mechanics of fishing. I don't know if I will ever want to camp again without Mr. Mike. What a blessing he was to all!
Along with the camping gear, we brought bicycles for the kids to ride.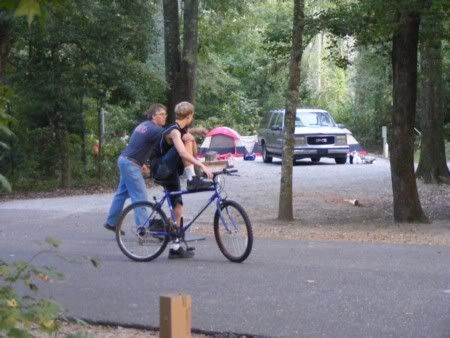 They had a great time with them in between all the other fun. Of course the greatest fun, for my kids at least, was kayaking.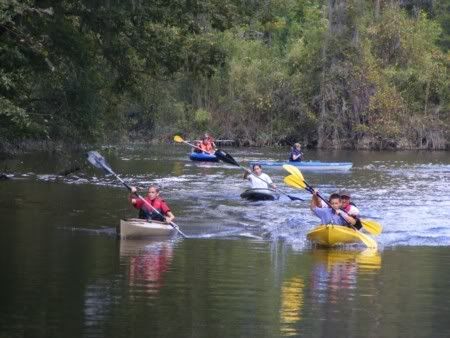 Gregory fell in love with kayaking at the boy's
camp out
a few months ago. He was happy to see the kayaks once again.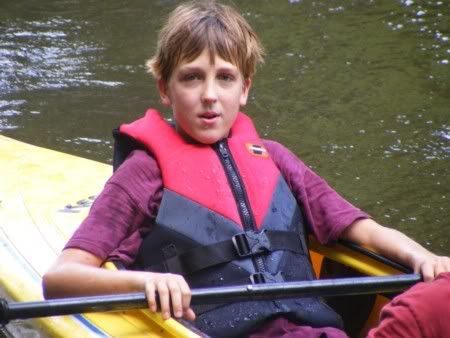 I suspect kayaking on the tranquil Alabama River was easier than on the sea.
Unlike the last time, all were able to kayak on the camping trip.
Even the adults got turns. (Except for me because I had to take care of Michael.) But there was one of us who wanted to Kayak more than anyone.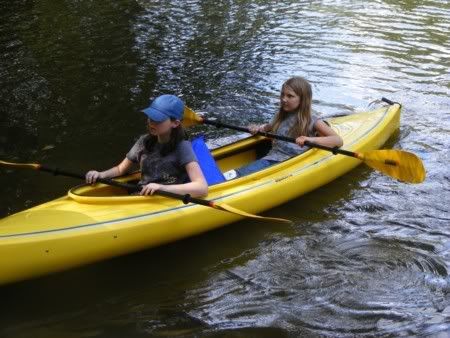 Gabrielle never got a chance at kayaking at the last event and was determined to do so while camping.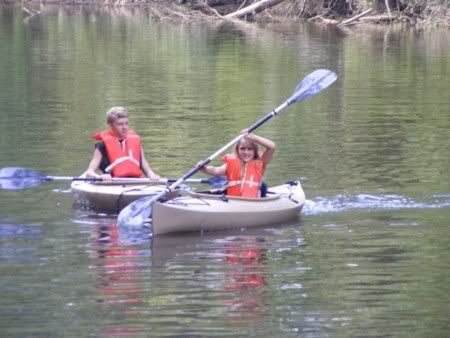 She had a great time and loved it almost as much as Gregory.
Gabrielle's favorite activity is hanging out with other girls.
She loved visiting the Decker campsite where the girls often gathered.
Of course Michael could not participate with the older children, but he had fun as well.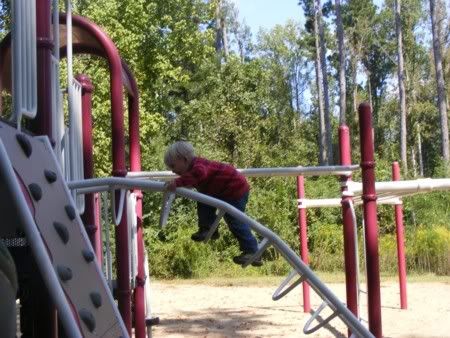 This playground was next to the bathrooms and on every trip Michael insisted on playing a little while. He had no fear and a great deal of fun.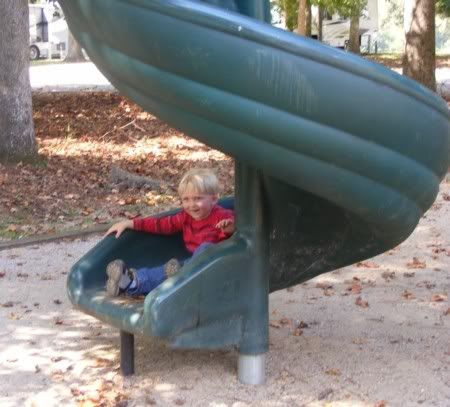 The slide gave us a laugh.
Every time
Michael slid down, the static would cause his hair to stand on end.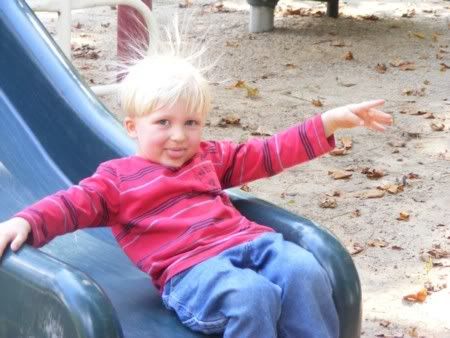 I enjoyed the praise and worship best of all. Michael however, was a bit distracted.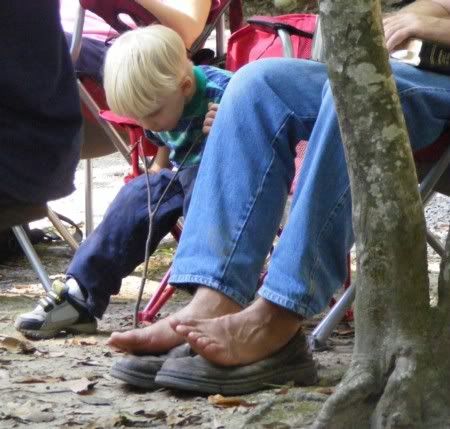 Kurt and I kept him between us and fortunately, he was not too distracting.
On the final day, Darlene had enough of the fallen tree which
separated
our two campsites and requested it be chopped up and moved. Mark taught Gregory how to use the axe and Gregory eagerly complied.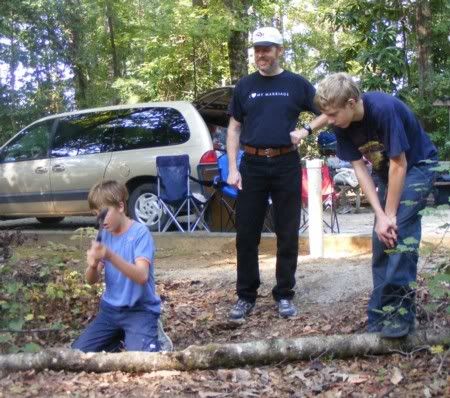 I was glad to see the tree go since it had tripped me the prior day and ripped the cuff of my pants.
Sunday ended up being much better than expected. Rather than having to rush away before noon, we found out we could stay until 3:00. So Darlene shared the food she had for lunch and we all enjoyed another meal together.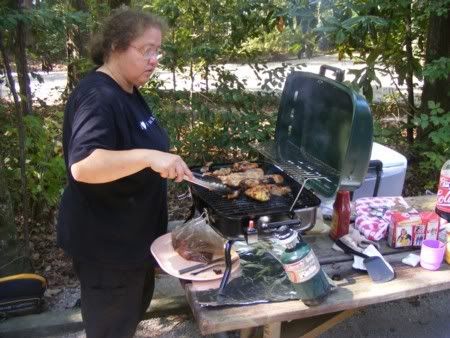 Both of our families are looking forward to the next camping trip. Especially if Mr. Mike comes!