We have hit the point of no return. Awhile ago, Kurt decided to take a promotion that would require us to move to Foley, Alabama. There is a
Calvary Chapel
in
Fairhope
and we are definitely Calvary Chapel people. There is no Calvary Chapel where we live presently. After visiting the church and the area, we knew we would love living in the Foley area. More than that, we'd been praying and believe the Lord would have us move. The move would certainly seem to solve some financial problems we'd faced as gas prices rose and Kurt commuted so far to work each day.
After accepting the new position, we fervently prayed our house would sell quickly. The economy fell apart. But we still believe the Lord would have us move, so we wait in faith. However, there came a point when Kurt had to choose to continue in faith or turn around. We chose faith.
On Monday, we hit the "point of no return." Kurt started his new job in Foley. He had to move there without us. We are very sad.
We asked the Lord to provide Kurt with an affordable place to live if He wanted us to continue with our move to the Foley area. A family at our new church in
Fairhope
told Kurt they had a house he could live in for free. Another sign to move forward no matter what the circumstances seem to scream all around us. But we walk by faith and not by sight. (2 Cor. 5:7)
The kids and I wait in hope for our house in
Brewton
to sell so we can join Kurt in the south. We are trying very hard to focus on the Lord and not on the economy. And in the meantime, we are trying to distract ourselves with a little fun.
Gregory and Gabrielle have been learning to knit. They have wanted to try some socks. I came up with a surprise to distract them from the fact their Dad had to move without us.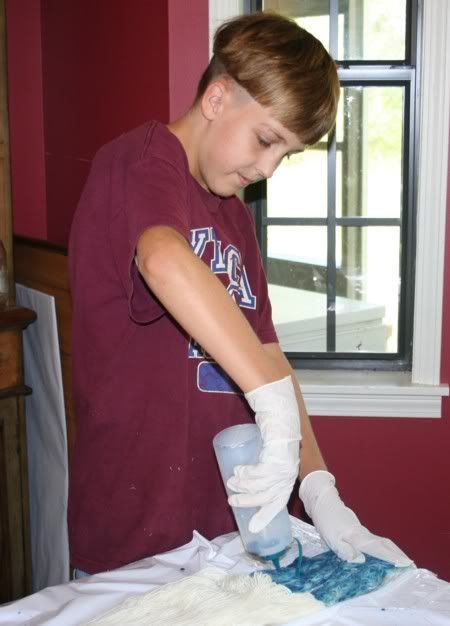 I picked up two skeins of "Bare" sock yarn from
Knit Picks
for the kids to dye and then knit into socks. Then I mixed some plain food coloring into vinegar and water. The kids had a blast planning and dyeing their yarn.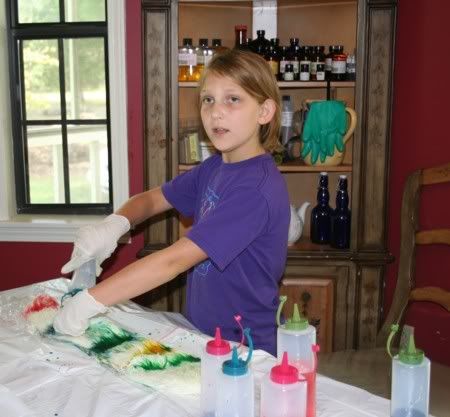 Gabrielle used lots of colors and tried to get plenty of pink tones into hers while Gregory
preferred
blue colors.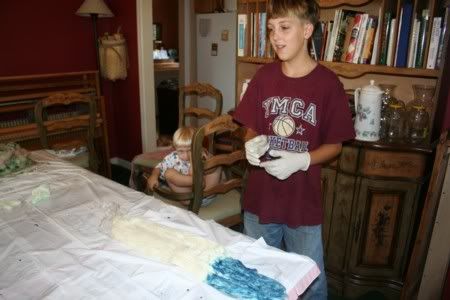 Not wanting to leave Michael completely out of the fun, I scrounged around my stash of fiber and found some
undyed
Romney wool that we could dye too.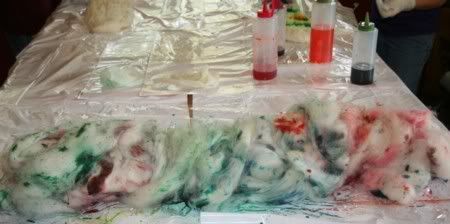 I dyed a full pound of it. We've never dyed yarn before so we had a fun and educational time. I learned it takes a great deal more food color to dye yarn and fiber than I expected and I should have picked up more than one box of coloring. That being said, we've decided we like the bits of natural coloring in our designs.
We had a tough time waiting for the yarn and fiber to steam so the color would set.
After rinsing and washing the dyed yarn, we all named our creations and took pictures.
Gabrielle originally called her colorway "Flower Garden" but changed her mind and named it "Flower Power" instead.
Gregory wanted a name fitting for the sea colors in his design.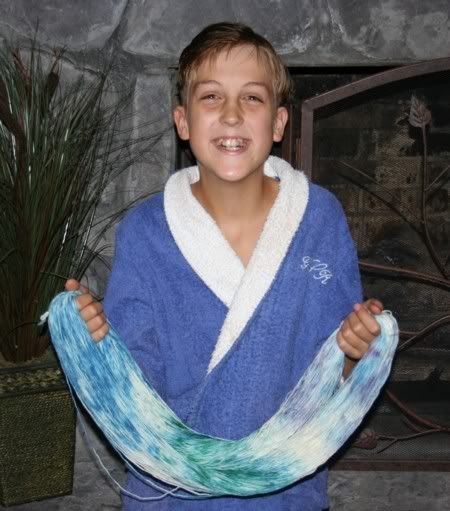 He decided to name his creation "Sea Reef."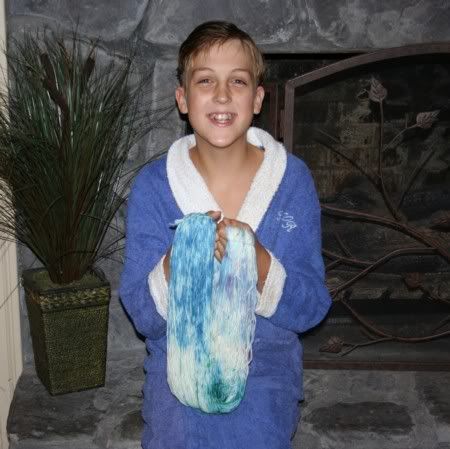 While taking skein pictures, I tried to sneak a picture of Michael. He only wanted to make silly faces and run.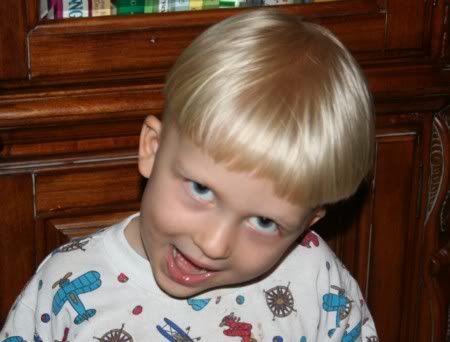 Both children are very happy with their colors and cannot wait for their skeins to dry so they can knit with them. However, I anticipated this and prepared.
I knew the kids needed to learn to knit socks before they tried their special hand dyed yarns. So I gave them each skeins of sock yarn and sets of circular needles to hold them over while their other skeins dry.
After dinner, I taught the kids to do the purl stitch (they had only learned to knit previously). Using their new stitch, they each did a swatch with their new circular needles.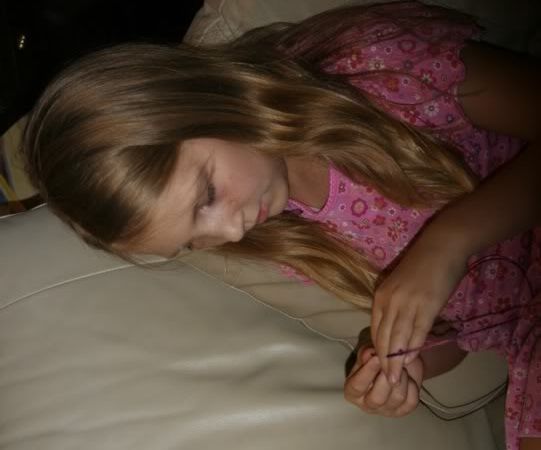 They both did great and the swatch allowed us to plan their socks accordingly.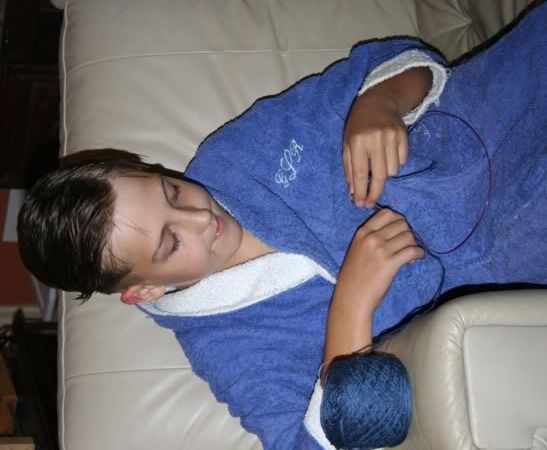 Gregory even got his socks started.
Kurt called us while we were all engrossed in watching Star Trek and knitting. Instead of the children telling him how much they miss him, Kurt got to hear all about dyeing and about the importance of gauge. We do miss him so very much, but my efforts to distract the children yesterday were very successful.
I hung my Romney wool up on the fire place to dry and the kids decided it looked like "The Companion" from Star Trek and thus named it.
I love the greens, teals, pinks and purples in my wool. I'm trying to figure out a good use for a pound of hand dyed Romney. I just love the colors.
Keeping with the episode where they got the name for my wool colorway, the kids say the yarn must go on.
I guess you had to be there.