I finally got the care package of warmth off to my brother in Germany. I'm so glad I finished. He tells me the weather has not been too cold yet so perhaps I am in time. Now it is time for me to start thinking about Christmas knitting.
I loved the patterned watch cap I made my brother David so much that I immediately cast on another one in pink and white for Gabrielle for Christmas.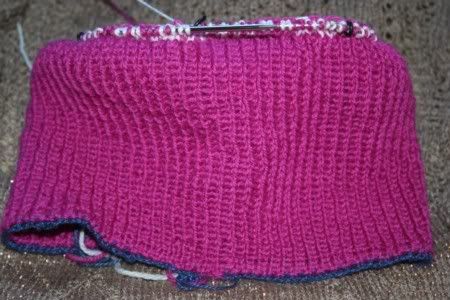 Christmas knitting is so challenging because the kids are always around. Gregory has asked no less than 3 times what I am working on and I have dissembled. Gabrielle has not inquired so far.
I'm still working on my two MS4 stoles. The first one is for me and I finished through clue 5 before the KAL ended. I have one clue to do and then the grafting. The stole has been sitting idle since I found out about the grafting. However, the second stole is supposed to be a gift and so I have taken it from clue 2 to almost the end of clue 4.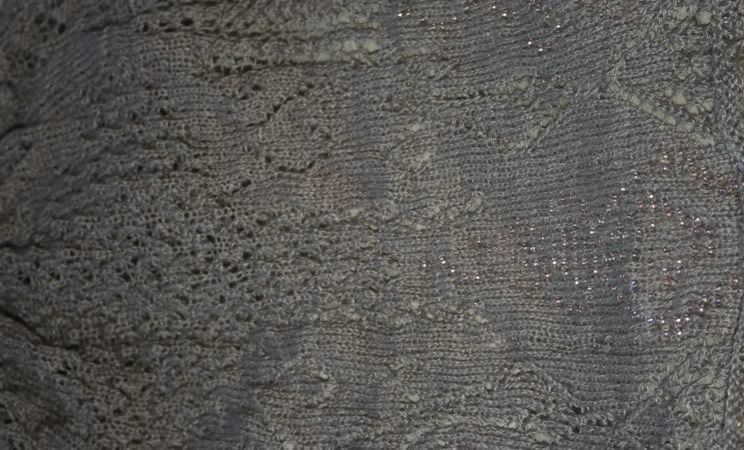 Once I have both stoles to the same place, I will tackle clue 6 and the grafting. I am not looking forward to that day. (Week? Month?)
I finally pulled the first skein of yarn made from the mystery fiber gifted to me by
Denise
last year off my spinning wheel.
I love this yarn. It is Navajo plied and was both spun and plied on my Wyatt Pegasus wheel. I still have another bobbin full of singles to ply.
After I finish my mystery fiber, I think I may spin the Romney Michael and I dyed when Kurt moved to Foley. I love the way it turned out.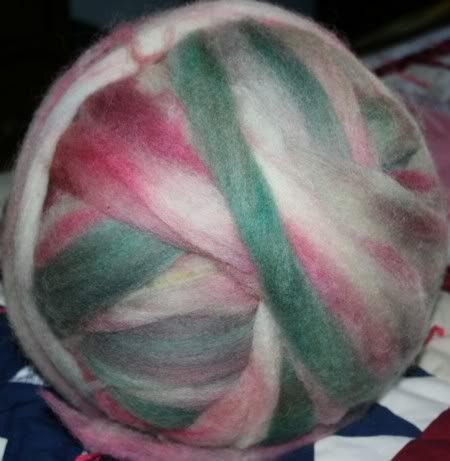 I still don't know what I can do with a pound of this, but I would like to make something for me since these are some of my favorite colors.
The kids finally re-skeined their yarn and they both have fabulous skeins from our dyeing day. Who knew you could get such nice colors from food coloring.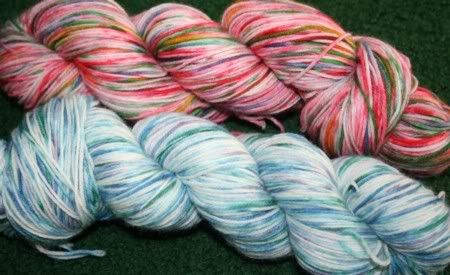 They want to make socks, but their sock knitting is going slow. Sock knitting wasn't as easy as they thought it would be. They are still knitting their flat, garter stitch pieces and I am glad they are still interested in knitting. I suppose one is never too young to start a knitting stash.
After church last week, I brought home some more of the material Mark scored from the closing factory where he works.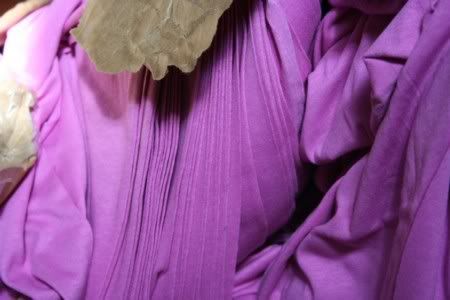 I gave everyone a chance to get what they wanted and then grabbed the remaining pink fabric. Now my fabric stash is larger than the storage facilities I have for it. I guess we'll have to move.
I'm thinking I'll do some sewing for Christmas. The only problem with sewing is that it is even more obvious than knitting. Gregory wants a vest for dressier occasions (like Christmas) and I was thinking I'd like to make them brother, sister, brother outfits for Christmas. I just can't figure out how to do stealthy sewing though. But Christmas is coming and I really need to get a plan together for it.