The family followed our new basket weaving friend, Mr. Frank, to a heritage festival in Baker, Florida. Mr. Frank promised to teach Gregory how to finish his basket at the festival and he could hardly wait.
We arrived in time to watch Mr. Frank finish one of his own baskets, or at least get it to a good stopping point. Then he and Gregory went to work on Gregory's first basket.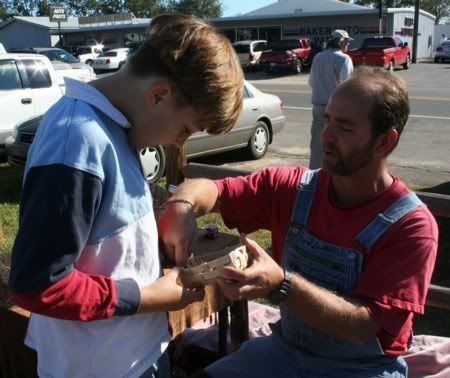 First they finished the sides of the basket and scrunched everything down really hard.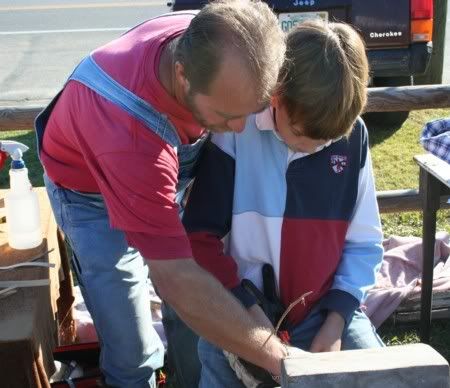 Next Mr. Frank showed Gregory how to clamp on a rim.
Finally they twisted more wood around the rim to secure it all. Gregory is delighted and plans to take his basket to church tomorrow to show his friends.
In the meantime, Gabrielle befriended a lady who taught her to make pine needle baskets.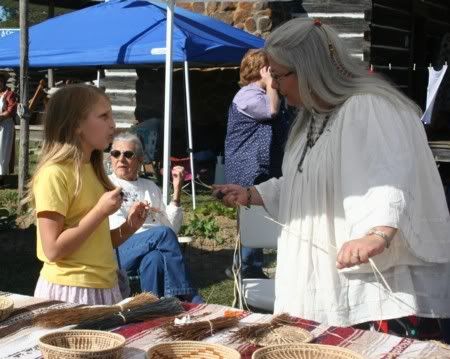 It started when Gabrielle showed the lady her sun bonnet and the new skirt she just made.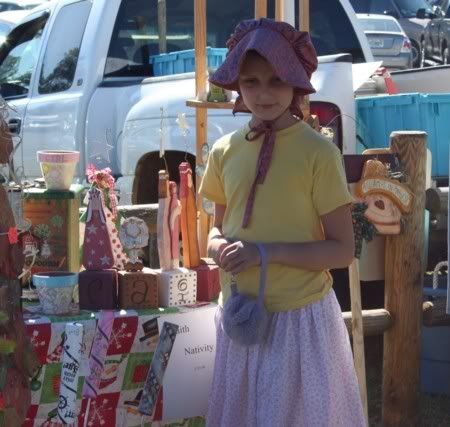 It ended up with Gabrielle starting her first basket. I will need to find some raffia for Gabrielle to finish her basket, but she received the materials to get well started. We were so blessed and Gabrielle is as excited as Gregory about her basket weaving.
Michael, of course, got pretty bored, pretty fast. He couldn't do any basket weaving being only three.
He wanted to poke around the country living booth, but I hastily removed him when he knocked down some wooden chickens. He climbed around the log cabin a bit, but for the most part, he played around in his stroller and practiced being contrary.
I tried to take his picture and he hid his face. I had to trick him to get a picture at all. Crazy kids.