We finally finished getting the sugar cane stripped of leaves, cut and out of the weather just a few minutes ago, which also was about the time the rain started. Whew! What a job. Who knew swinging a machete around could make so many sore muscles.
We started piling the cane into a super large box we had. The idea was to keep the cane inside, protected from freezing temperatures, until we could select planting cane for the new house, once we move.
We quickly filled up the corner of our dining room to the point Gregory can no longer fit at his place at the table - and we have a fairly large dining room! So we cleared a place on the porch, next to the house, for the remainder.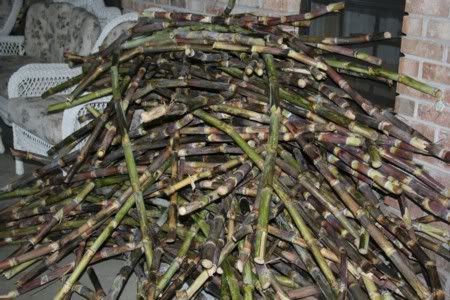 We have a large porch and the pile grew to the point it was hard to walk around. It won't be as protected as the cane inside, but we plan to cover it later this week when the temperatures are predicted to fall below 32º. And now that we have the cane all in, we will be able to make final plans with the Wilson family to use their cane pressing equipment. I'm hoping we can do it when Kurt is home with the pick up truck. Otherwise, I don't know how we are going to get the cane into my mini-van.