On Saturday, we pressed our sugar cane and had a great afternoon of fellowship with a family at church we didn't know very well before. I had a blast, though Kurt says that is because he worked and I watched. Perhaps.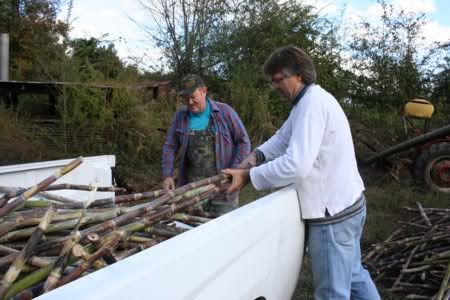 We arrived at the Wilson homestead with the back of Kurt's pick-up truck full of sugar cane. Mr. David helped Kurt unload.
The Wilson family grew and processed sugar cane for many years, but they haven't had a crop in probably 10 years. I asked whether they would be interested in getting rid of their cane press, but they are not. These old machines are almost impossible to find and if you find one, the owner's are typically not willing to sell them. I think I'm going to pray for one anyway and see what the Lord might do.
Mr. I.J. and Mr. David gave Kurt a quick lesson in using the cane press.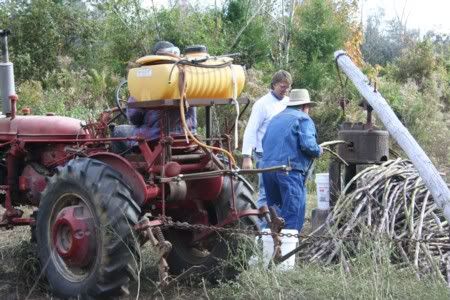 Mr. David connected his old Farmall tractor (just like ours) to the pole connected to the press for leverage and drove in
circles
around the press to power it. Everyone kept telling us, almost apologetically, the mule that had once driven the press, died a few years back. It was as though they thought we would somehow think the tractor a poor substitute. Like we would know the difference.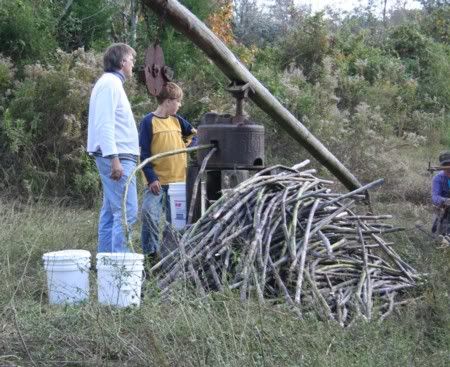 We brought a lot more cane than anyone expected. I thought we had about a hundred stalks and that is what I told the Wilson family. Turns out we had closer to 300 stalks of cane, proving that my estimating skills are severely lacking. Apparently Kurt has been right in this regard for some time and I can no longer deny it. The Wilson's were very kind, even when we had to work until dark to get everything done, contrary to what they had anticipated.
Mr. I.J. is the family patriarch and can tell some great stories about growing up in this area. His family has been here for generations. He rode the 4 wheeler to the pasture to watch the work.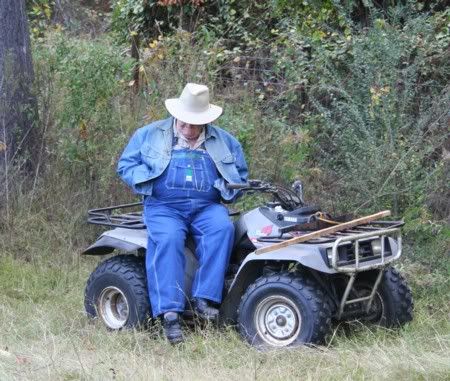 He checked on our progress from time to time.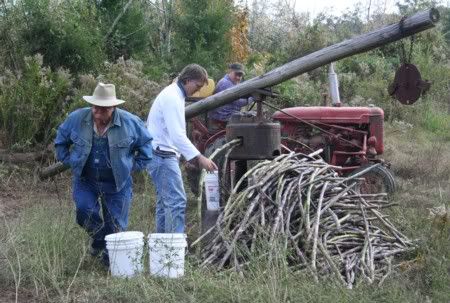 We were able to provide Mr. I.J. with a favorite treat and one which he had not had in quite a while, fresh sugar cane juice. His daughter brought him a cup and he drank some straight from the press. (Later I went back to the house and asked for a pitcher and filled it for his refrigerator. I sure hope he has thoroughly enjoyed it this week!) Michael got a taste of Darlene's juice and didn't want to give the cup back.
Kurt, Gregory and eventually Darlene fed cane into the press while Mr. David drove the tractor round and round.
Those feeding the cane into the press had to duck each time the tractor went around or they would get a smack in the head.
Kurt got pretty good at alternating ducking with working.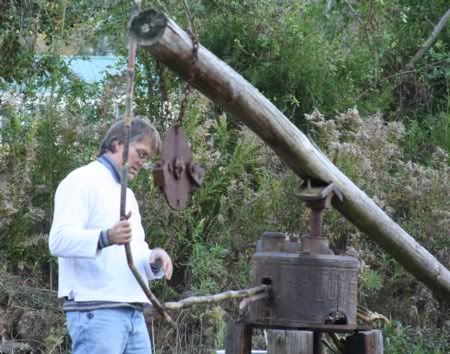 Gregory forgot once.
But never again.
As the pile of sugar cane shrunk, the guys figured out they could work squatting and not have to duck.
After awhile, my friend Darlene wanted to feed the press. Darlene is a great deal of fun and loves trying new stuff.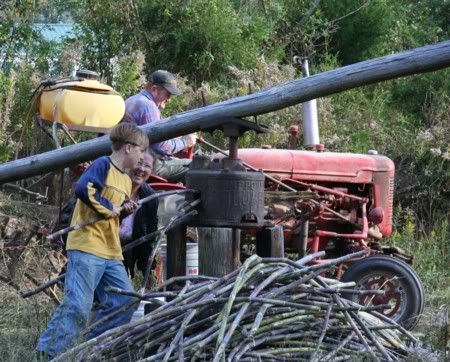 It didn't take a whole lot of ducking before someone came up with a revolutionary idea for Darlene.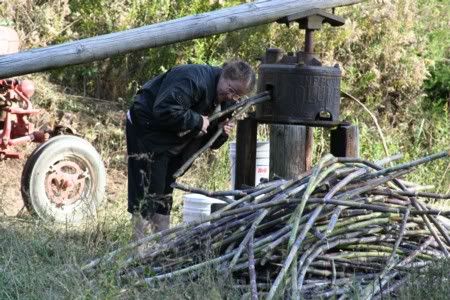 Someone sent Gregory off for a chair.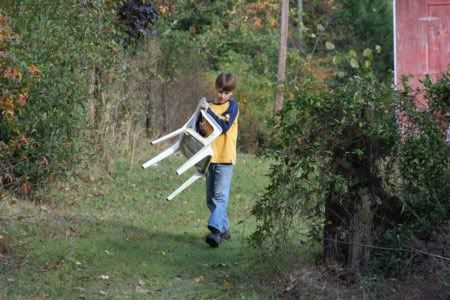 After hours of driving in a circle, I couldn't believe Mr. David didn't keel over from being dizzy. However, once he started standing up to drive the tractor,
I realized his tractor didn't have a seat cover. I figure the pain from sitting on a metal seat must have kept him from getting too dizzy. He sure was a good sport about it all. He expected to fill one or two buckets with juice and in the end we left with 7 full 5 gallon buckets. (I had to run home to get more than we originally brought. Thank the Lord I hadn't restocked on wheat for awhile.)
Years ago when the Wilson family grew and processed their own sugar cane, they would press their cane early in the morning and then spend the afternoon boiling it down into syrup. They processed their cane juice over a fire in a large pan outside.
Sugar cane juice is best processed immediately because the juice sours quickly, especially without refrigeration. The Lord blessed us though with unusually cold weather. Our juice has been sitting outside on the porch in buckets while I boil it down 10 gallons at a time on the kitchen stove. It takes 12 to 13 hours per batch this way to turn it into syrup. God willing, I should be done with it all tomorrow at bedtime. It must be watched throughout the cooking process and skimmed and stirred. Yesterday I found out why when a pot boiled over while I ran to the bathroom.
I think I particularly enjoyed our time at the Wilson homestead because Gabrielle and Michael played in the yard while Miss Wanda shelled pecans and watched them. Usually Michael will not be separated from me and he will certainly not stay with someone he does not know extremely well, but he LOVED his time with Miss Wanda and I loved the break she gave me.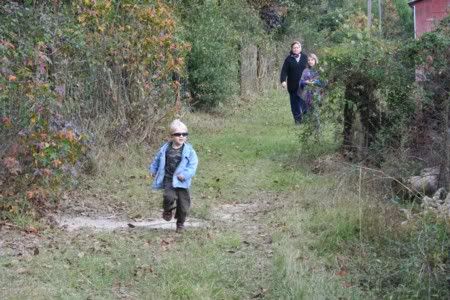 Michael and Gabrielle visited the pressing operation when Miss Wanda brought a cup for her dad to taste the juice.
When Michael is away from me, he says I am "lost." We could barely get him to leave at the end of the day. (He especially enjoyed the wood stove.) In the car on the way home, Michael asked if I could bring him back and if he could lose me. In normal words, I think he told me to take him back and get lost.