Periodically, Kurt and I ponder whether the eggs laid by our free ranging chickens are truly superior to any we can purchase. Usually such ponderings occur during the heat of summer when coop bedding must be cleaned out and replaced or after a trip to the feed store in the winter when our bank account takes a hit because there are no excess eggs to sell to offset the cost of feed. This winter has been particularly rough. Our chickens are more than 2 years old and laid few eggs while the days were short. In fact, we had to buy eggs for the first time in 2 years shortly after the start of the New Year. We bought expensive organic eggs from the grocery store thinking they would be equal to ours.
Our chickens finally started laying a bit again and I used the last of the organic store bought eggs yesterday morning while making muffins. In fact, I cracked 3 eggs into a bowl, 2 store bought and one of ours.
Understanding the healthier the egg, the deeper the color of the yoke, I am once again completely convinced we can raise eggs superior to any we can purchase. The difference was obvious.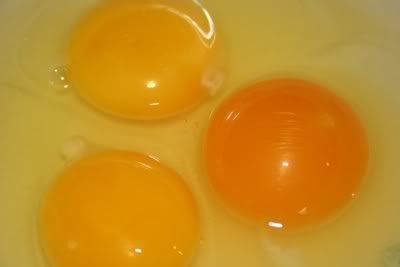 Now I just need to remind myself how great our eggs are and how great chicken bedding is for vegetable gardening when the heat of the summer comes and it is time to clean out the coops.
I finished weaving my Flower Garden Stole a couple of days ago.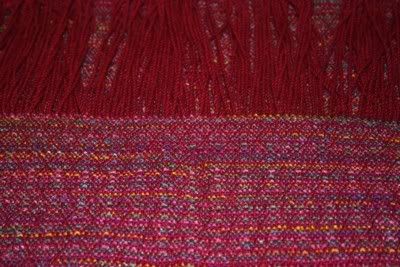 I used 5/2 Perle cotton from
Webbs
for the warp and hand dyed cotton yarn from
Heritage Yarns
for the weft.
I used an 8 harness pattern I found online that is supposed to be little diamonds with flowers inside. The weave pattern hides behind the color pattern however.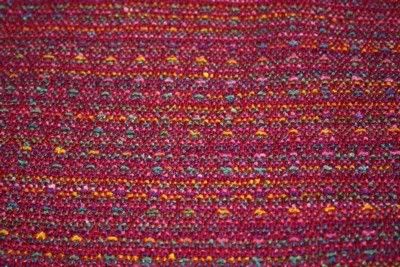 I really like the stole and Kurt couldn't say enough good things about it. Even Michael wanted it.
Now I just have to figure out how to wear a stole. I have a few of them but can't seem to figure out how to get comfortable in one. I tend to be more of a shawl person. But I really like weaving these stoles so I am going to have to figure out how to wear them comfortably soon.
For my birthday, Kurt was going to mount a new light on my loom. He picked up a really nice one in town. However, I didn't know about his plan and the really expensive light I had been balancing on the castle of my loom toppled off and on top of me while I wove my stole, shattering the "too expensive to replace right now" light bulb. So I bought a cheap light from Wal-Mart for Kurt to mount. In the end, Kurt mounted the light I bought (I thought smaller would be better) and he is returning the one he purchased when he gets back to town.
I feel bad about ruining the surprise he had planned for my birthday, but I needed light and my birthday is still a couple weeks away.
And now, to plan my next weaving project!