I love yarn stashes. And today I really love destashing. Other people's destashing that is.
Carolyn
is an amazing knitter, but apparently decided a little while back she is not a weaver. After reading about Gregory's and my beginner weaving efforts, she sent us what remained of her weaving yarn stash. I've been waiting for the mystery box to arrive all week. The mail woman brought it this morning.
Wow! Such pretty colors and so many fibers I've never tried. I can't wait to get at this beautiful yarn.
Someone around the neighborhood is burning something BAD. Putrid smoke fills the air creating a haze around and within me. The migraine resulting from the poison in the air awoke me in the middle of the night, just prior to Michael waking me up to crawl into bed with me, apparently with the intention of beating me all night while he thrashed about. My world is a nightmarish place of sickness and dizziness right now. I feel cut off from the world, lost in a haze, trapped with a mind reeling in smoke and toxins. The pulses of pain at the base of my head threaten to spread around and in front. My stomach can barely hold onto its contents and I have allowed the children access to unlimited time with their Christian movies in my desperate attempt to escape noise and movement. And through my confusion, pretty weaving yarns greet me and beg me to come play. What a delight in what will otherwise be a really bad day.
That sounds pretty melodramatic, but I will let it stand. It is a melodramatic kind of day I suppose.
I finally started Mr. John's socks.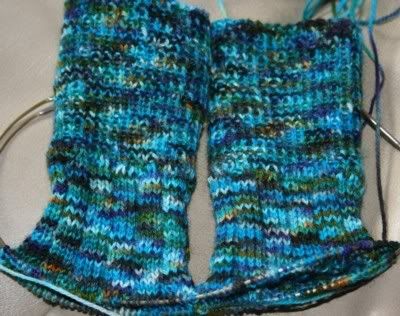 Mr. John allows my husband to live in a house on his property in Fairhope while Kurt works in Foley and we try to sell our Brewton house. (Or even our Gulf Breeze property.) Mr. John and his wife Cindy are wonderful people and a total blessing to us. Mr. John wears wools socks while hunting to keep warm. I'm hoping a hand knit pair of wool socks will bless him and remind him how much we appreciate them.
I just need this headache to go away so I can think and knit and weave!