Things are seemingly moving at a snails pace and it feels like I cannot get even a fraction done of those things which must soon be done. Spring planting looms and we are still amending the garden beds with leaves and compost.
Actually, I have bribed my 12 year old. Since Michael, my 3 year old wakes up grouchy and demanding and early, it is tough for me to sneak out in the mornings to work in the garden as I like to do this time of year. So Gregory, my 12 year old, has been getting up to work in exchange for which I get up and prepare him a big, fancy breakfast. He likes to read "Farmer Boy" from the "Little House" series. The story line revolves around a young boy growing up on a family farm and food and eating. Lately, Gregory fancies himself an old fashion farmer boy and enjoys working in our "fields." The "food for work" arrangement works out well for both of us, though I feel like most of my time lately is in the kitchen.
In addition to preparing lots of large meals to fuel Gregory's "farm work" and fatten the rest of us, I've been doing a bit of canning. I grabbed one of my 6 gallon stock pots and cooked up a pot of chicken soup a few days ago.
I ended up canning 4 gallons of soup for the pantry and freezing some as well.
Some friends from church blessed us with some deer meat and I picked up the ingredients to make chili the other day. I hope to can some chili for the pantry soon.
Kurt celebrated his birthday on Thursday. I made him a hat with the same pattern I used for the children at Christmas.
Since Kurt had to work over his birthday, we were not going to see him or help him celebrate. Not liking that idea, we made some arrangements with one of the ladies at work (she organized a pot luck) and then the kids and I baked Kurt's favorite birthday cake, the one he had requested for this weekend, and showed up at his work for a surprise birthday party. Kurt said it was a very good birthday and I am glad. He still wanted me to make him another German chocolate cake with coconut pecan frosting this weekend since he had to share the other one with so many people. So I've baked two birthday cakes for Kurt this week.
I experimented with sprouting some soft white wheat to grind into flour for Kurt's cake. Since I can't stand coconut, I haven't had any of the cake, but I understand the soft white wheat made a huge difference in the texture and taste of the cake. I will have to get some more of that type of wheat for making cakes and pastries in the future.
With all the gardening Gregory has been doing lately, he has been feeling strong. Michael emulates Gregory in most everything. The other day Michael found my 3 pound weights.
Raising them up and down over his head, Michael told me he was s t r o n g.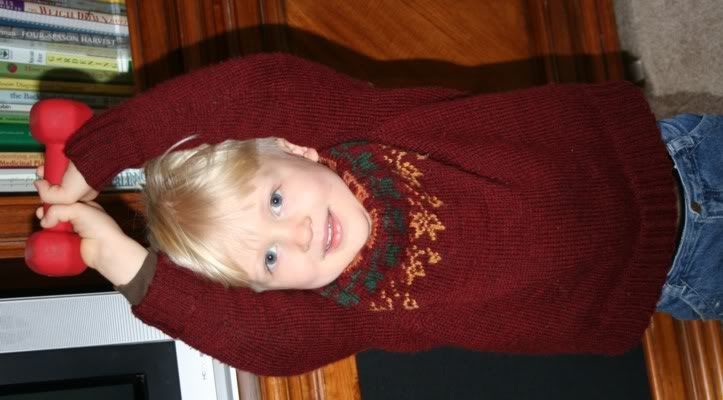 He is a funny little guy.