I love sock yarn. And I love beads. And I've discovered I love mixing the two together.
It all started a month or two ago when I knit my first pair of beaded socks (and gauntlets). I loved the look of the rich sock yarn colors and beads together so much, I knit another pair for a friend.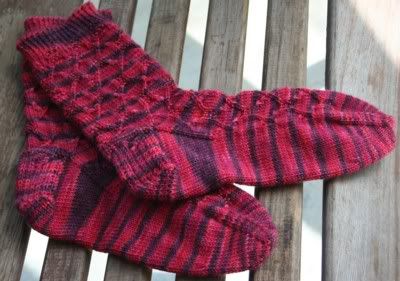 And then another pair for another friend.
And then I thought a fun, beaded pair of socks might cheer up my sister who has been having a rough time lately.
I can think of lots of other friends who might like beaded socks too, but I finally got to the place where I needed to try something else again. Something new.
But I keep thinking it would be fun to have a pair of warm, beaded stockings to wear under skirts in the winter.