It has been one of those weeks. One of those testing weeks. One of those weeks when you stop and think carefully whether you've been praying for patience.
After weeks of dry weather, we finally got rain. And more rain. Probably 8 to 10 inches of rain. After a couple of days, the garden looked wet. Really wet.
Many of the new beds created by Kurt and Gregory looked like islands.
My salad greens, carrots, beets and radishes looked waterlogged.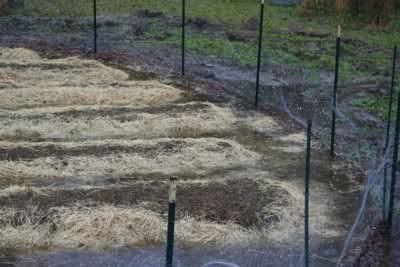 And while my garlic and onions appreciated a deep watering, I can only imagine they are starting to look like fingers after a long bath.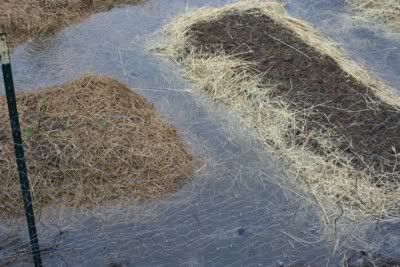 I really hate when this happens though we plant in beds because this generally happens a couple times during the spring and summer. And worst of all, fire-ants float around in the water keeping you from getting into the garden to do any kind of damage control whatsoever (a bigger problem during harvest).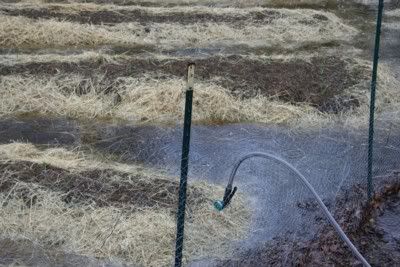 At least I won't need to hand water for awhile.
I took these pictures while we were still expecting another couple of inches of rain. In an act of desperation, Kurt and Gregory got on the tractor, in the rain and plowed a hundred yard trench from the worst part of the garden, across the yard to the creek. Probably 50% of the water drained off through the trench. Our yard looks like we have a problem with giant moles. But we have some hope of the garden drying out before the next rain.
If a flooded garden isn't trial enough, my computer has been acting up in the worst way. It freezes up constantly. Lately, it hasn't rebooted at all. Unless my husband is around or I take it to the repair shop. Then it works perfectly. Sometimes it scrambles stuff.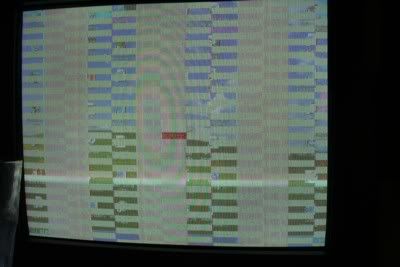 But I out-smarted my computer. I took a picture of it misbehaving and figured out how to use the display on the camera to show Kurt.
Because the kids can't do school without my computer functioning (it is the server), Kurt came home from work a couple days ago to see if he could fix the problem. He figured out the fan on my video card had gone bad. (He is a very smart man.) Yesterday he bought a new video card for my computer.
The new video card is defective.
It wouldn't work in my computer and it wouldn't work in his. Finally in an act of desperation, Kurt slapped his video card into my computer. The kids can do school if Gregory works on my computer, though Kurt cannot do his homework. But he bought the video card out of town and we had to get the kids back to school.
Today, instead of finishing up with the computer problems, Kurt shopped for a scope for my 22.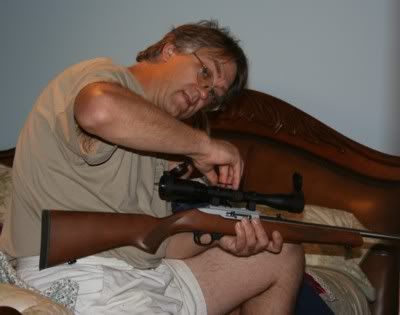 We have another fox killing our chickens. This one is brazen, attacking chickens in the middle of the afternoon with the family on the porch. Gregory, Kurt and I took shifts last evening/night with the 22 hoping to end our fox problem for the year. Gregory got a shot at it, but without a scope to guide him, he missed. He has never fired a gun the old fashioned way. Kurt took the early night shift, but the poor man has been working so hard fixing things around here and not sleeping while he commuted back and forth from work that I found him asleep when I went out for the late night shift. I am a good shot without a scope, but without light (the fox wouldn't cooperate and go into the area we lighted up and baited with the chicken carcass left over from dinner) or young eyes, I had no way to aim when I got a chance at the fox. We are hoping tonight will be better for us and worse for the fox.
Things sure never get boring around here.