It is official. I set up a standard and met it. I am completely insane. After determining I had imposed more knitting on myself than sanity could possibly allow because all of it was to be completed within a month, I immediately started knitting a second MS4 stole in
Jaggerspun
Zephyr
lace weight
wool and silk in the suede colorway.
I love the rich neutral tones interspersed with
iridescent
gold lined beads. I've finished clue one and hope to start clue two today. Tomorrow clue three comes out. I wish I could finish clue two before then, but that is not to be considered, not even under my present delusions of grandeur.
I have managed to squeeze out a couple more inches on my brother's fingerless gloves.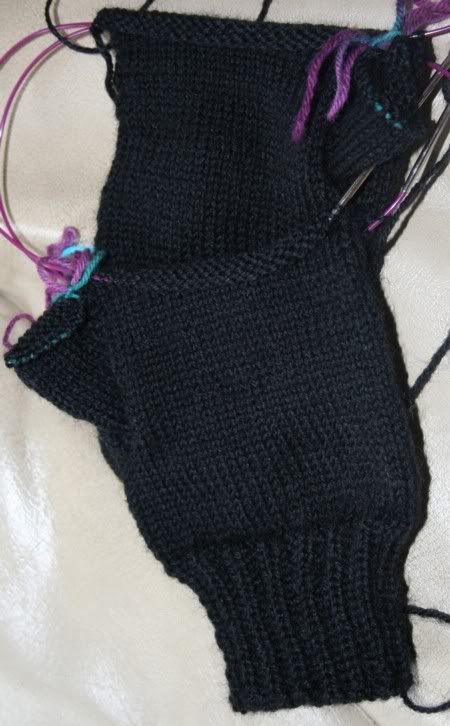 I'm finished with the thumb gussets and am continuing on up the hand. All of the lace I'm knitting makes these a bit boring, but I'm so glad to be able to make them for my brother. Snow is just wrong somehow. And temperatures below 40º. And to face all of that without wool? May it never happen to the family member of a knitter!
A few days ago, my nine year old daughter Gabrielle decided she wanted to learn to knit. At first, I suspected a plot to distract me from my goals. My children have the idea they are entitled to a large part of my attention. All three of them to different extents. And I've tried to teach my kids to knit in the past. Many times. It never ends well. I end up fixing tons of mistakes on impossible projects. But she persisted.
I bought both Gregory and Gabrielle Dale "Learn to Knit" kits a couple of years ago. They've since used the quality wool yarn to tie each other up and for any cause requiring string or rope. I gritted my teeth and tried to look the other way. How I suffered at the thought of that poor innocent yarn being tortured in the hands of ruffians. But for 3 days in a row, Gabrielle brought her knitting over to the couch while I knit and joined me. After a couple of days, Gregory couldn't stand it and asked me to remind him how to knit as well. Again I suspected a plot. I thought Gregory intended to wrest Gabrielle's attention to himself and turn the entire thing into a game involving space ships and world domination. I continued to suspect their intentions even when my husband Kurt caught them up in the middle of the night, huddled on the bathroom floor quietly knitting together while we slept. There have just been too many past disappointments. But amazingly, they both finished projects.
They started with the "Pocket Troll" pattern in their books and then went on to other patterns. They dumped their pieces into my blocking pile before weaving in their ends causing me great consternation. There is no way I'm doing THAT task for them. No way.
Gregory knit the pieces of a teddy bear for Michael's birthday at the end of the month.
Gregory even wove in his own ends after I took these pictures.
After spending some time day dreaming about the wonderful times we would have knitting together and enjoying productive hours as a family, Gregory broke into my reverie with something I hadn't considered. He wondered if he could use the knitting needles I use for sock knitting.
Egads
! I'm not sure I'm ready to put something so precious into the hands of a kid who can't remember to put his clothes in the hamper after a shower. I'm thinking a trip to
Knit Picks
before Gregory's upcoming birthday is in order.
I finished warping my loom yesterday for my brother's scarf. I did it in about a week, which is record time for me. My last project took a year to warp.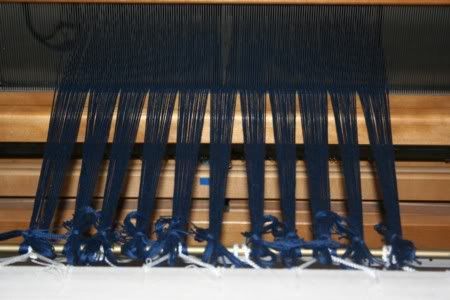 If I can figure out how to keep my youngest two children from severely injuring each other or screaming me into another headache, I may be able to get to some weaving today. In between all of my knitting. And parenting. And keeping
the house
in reasonable condition. And those other things reasonable adults are supposed to do every day.