Fall knitting season is in full swing and I am zipping right along. My trusty companion helps me keep pace.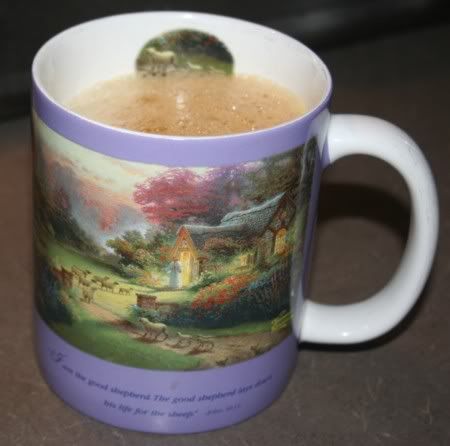 [Cafe
DuMonde
coffee and
chicory
with cream and a dash of vanilla in an
over sized
cup]
Sometimes, September ushers in seasonal weather changes, which bring migraines to the household. While these once plagued only me, both Gabrielle and Gregory are starting to suffer as well. Even Kurt has had more headaches than normal. That means very little gets done on many days. Right now the kids are in bed with headaches. They are not doing school, which means I am not grading their work. They are not making messes, except for Michael who is doing his best to mess up the house on behalf of his siblings, and I do not feel compelled to do much housework. No one is really eating much, so meals are
iffy
, though I made homemade rosemary chicken and potato pizza last night and have plenty left over for today if needed. And I have pretty much mastered the technique of knitting through my migraines since sleeping during the day causes all sorts of sleeping problems the following night.
I've finished clue 2 on the Mystery Stole 4 project.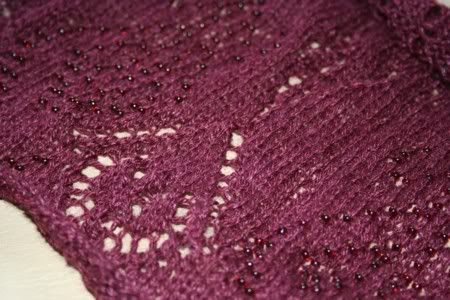 I'm starting to think I might like to start another one of these. I like all the beads, though the pattern is more dense than I usually like in lacework. However, living in the south, I've figured out this stole might be the perfect weight for our coldest weather. But with all of the projects I need to do in short order, I'm concerned about the lack of sanity behind thoughts of starting another one of these. The second one would be a gift if I did do it. I wonder if I have another set of size 3 circular needles. . .
I managed to cast on for my brother's fingerless gloves Friday evening and over the weekend, got through about half of the thumb gusset increases.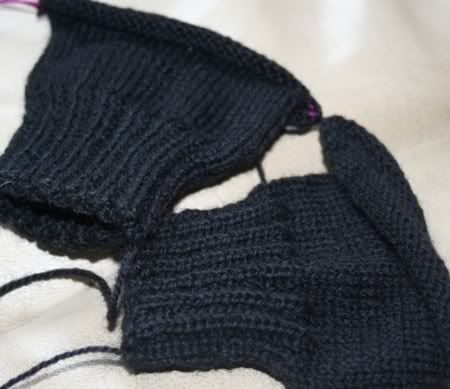 I'm hoping to finish these soon so I can cast on for another hat. Since my goal is 2 hats, a pair of fingerless gloves and a scarf, I am doing quite well.
Progress
on the scarf continues though not as fast as I'd like. I managed to thread the
heddles
of my loom over the weekend.
After threading the
heddles
, I decided the scarf was too wide as designed so I pulled out 2 pattern repeats, one from each end. That should leave 12 inches in the reed and about 10 inches for the width of the scarf. How wide should a scarf be anyway? I don't think I've ever owned a scarf before having lived all of my life in the southern portions of the country.
Today is rainy, the older kids are in bed with headaches, Michael has unrestrained access to his toy box in the bedroom he shares with Gregory and I think I'll grab a glass of
kombucha
, put on the next "Lord of the Rings" audio book disc and get back to my projects.