It has been said the time it takes to complete a project will expand to fit the time allotted for it. Around here it seems, projects just expand and multiply. All of a sudden I find myself busy. Really busy. Again.
I signed up for the Mystery Stole 4 KAL. Since I convinced a couple beginning knitters to sign up as well, I feel I need to work on the project myself. That is the only way I will know enough to help someone else if need be. I cast on and worked my foundation rows on Saturday and started knitting the stole Sunday evening.
I really like the pattern so far and hope it will remain intricate. We are going to be knitting 2 sides exactly the same and joining them together in the middle. I've been knitting 2 socks at the same time on 2 sets of circular needles for some time now and decided to do the same for the 2 stole ends (though I only need one set of circular needles). If I can keep my yarn from becoming hopelessly tangled, it will be nice to finish both sides at the same time.
Before starting the MS4, I finished up the heart socks I started last year and then ripped out and started again a few weeks ago.
I like the socks. The yarn however, remained a problem throughout the knitting. I found it broken every few yards throughout the skein and so both socks have multiple joins. I really hope the socks don't disintegrate in my drawer, or worse, on my feet one day. I've never seen yarn so bad before and really don't have a clue what could have happened.
In the meantime, my brother David started his 3rd semester in bible college. Last semester he studied in Israel. This semester he is in Germany. It turns out Germany is cold. Very cold. He will be riding a bicycle the mile to school and back every day this semester. Not only is David 20 years younger than me making him young indeed to my mind, but he is from southern Nevada where it doesn't get cold. At least not cold like Germany. Apparently, it is already getting cold in Germany. And it rains a great deal. Of course the combination of young and from the south has me convinced my brother cannot be properly prepared for the German weather.
Needless to say, I have started knitting the contents of a care package for David. My plan is to make as much as possible in the month of September and then send it off in October in time for the really cold weather.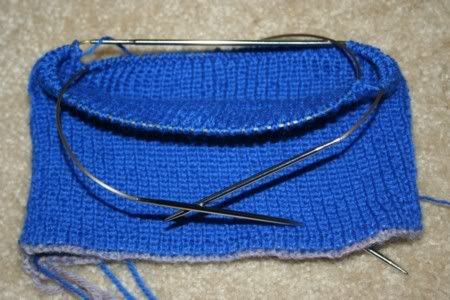 I started working on a watch cap for David yesterday while we drove back and forth to Fairhope. I'd like to finish this one, a size large, and then make another in the next size up, just in case. If possible, I'd like to knit a pair of fingerless gloves too. Of course since I have been trying to justify starting up another weaving project despite our impending move, I figure I
must
weave a scarf for my brother too. And I found the perfect
pattern
since my brother is attending the Calvary Chapel Bible College. It is a modified twill pattern available for free at
Heritage Yarns
called "Calvary." I love it! I'm hoping to do my figuring in the next day or two and then wind my warp.
And speaking about weaving, while I have been plotting and planning all the new weaving projects I am going to do now that I've gotten started, look at what turned up in the mail a couple of days ago.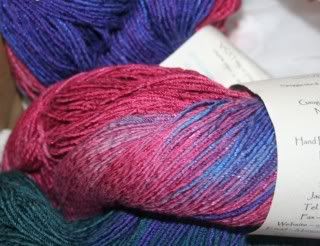 A couple of beautiful skeins of Serenity yarn hand painted in the Gulf Breeze Sunrise colorway! It is so beautiful! I've set the yarn on a table in the living room where I can gaze at it for inspiration. Honestly, I don't know how I'm going to manage all of the housekeeping required by the fact
our house
is up for sale with so much beauty before me.
I'm still spinning on occasion, though not as much as I had been. Right now I am working on the prettiest fiber.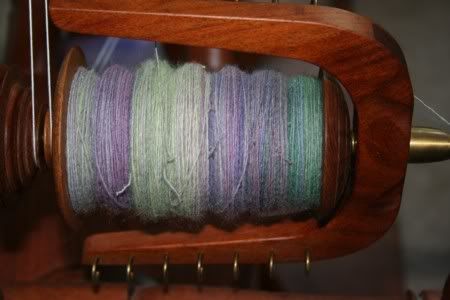 I'm thinking this would make some great socks. I just LOVE these colors! This lovely fiber arrived mysteriously in the mail about a year ago from
Denise
, one of my
Christian Artisan
friends. I think she dyed this fiber herself. Very impressive.
I am not the only creative one in my family. Gregory has been back to his weaving and Gabrielle has learned to sew. With a little guidance from me, Gabrielle made her first skirt.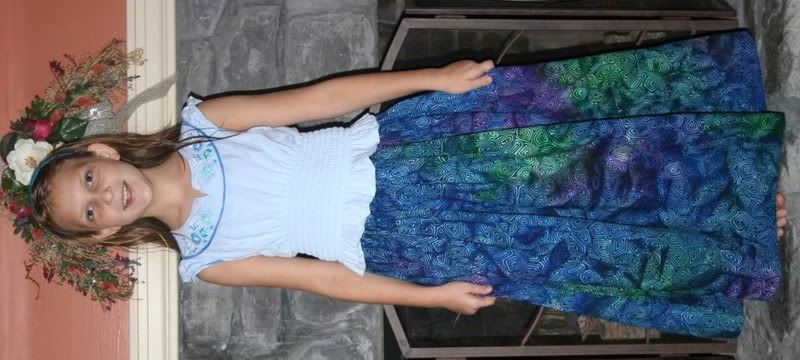 She really did a great job. Gabrielle had been hand sewing for awhile and doing a good job. So we started talking about a sewing machine. Gabrielle had some money saved and we put in the money we had set aside for her Christmas present and the Lord provided a GREAT deal on a used Bernina.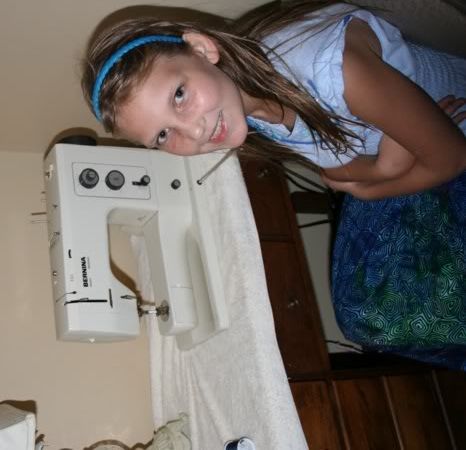 Within a couple of days Gabrielle mastered the use of her sewing machine. A little over a week ago we stumbled upon a 75% off sale on fabric at our local Wal-Mart (they will no longer be carrying fabric). Gabrielle stocked up on fabric. She bought enough to make at least 7 skirts and other things for only $15. What a blessing! I've promised to help walk her through her first few projects. It would be great if Gabrielle could eventually help make her own clothes.
This morning, I found a lovely surprise from
Theresa
.
I've not done one of these before and it was very difficult to narrow down my choice to 4 of all my favorites. But first, here are the rules:
1. Post this award on your blog.
2. Add a link to the person who awarded you.
3. Nominate at least 4 other bloggers, and add their links as well.
4. leave a comment at the new recipients' blogs, so they can pass it on.
I decided to choose blogs from among my favorites that are newer or outside of the mainline knitting and spinning circles. Here is my list in no particular order:
1.
Ginny's Blog
2.
Margaret's Blog
3.
Loztnausten
4.
Tabitha's Blog
I hope others will discover these blogs and enjoy them as I do.