My baby turned three yesterday. Despite knowing it to be the universal lament of parents, I still can't believe how fast he is growing up.
My poor little guy woke up sick and grouchy. After giving him some juice to perk up his blood sugar a bit (he too seems to suffer from morning blood sugar lows) we let him open the presents from his two elder siblings.
Gregory worked very hard to knit Michael a little yellow teddy bear.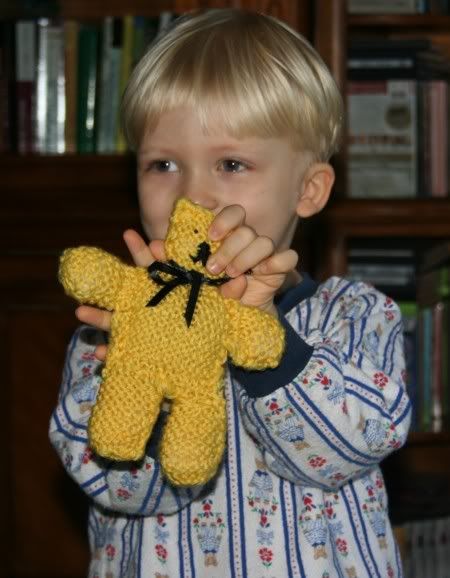 Michael loved his little bear and Gregory took great pride in it. Gabrielle had started a knitted gift for Michael too, but in the end, she raided her personal stash of stuffed animals for a birthday present for her little brother.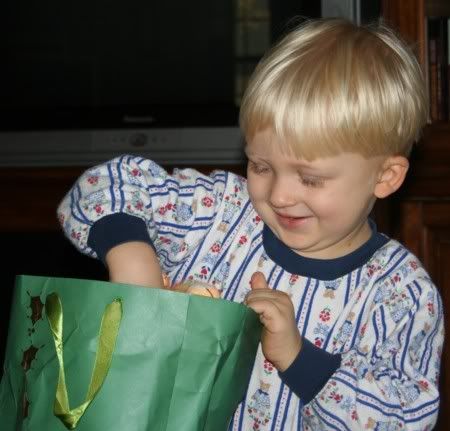 Because all three kids awoke with colds to one extent or another, and Kurt and I felt like our own white blood cells valiantly strove against invading viruses, we decided to skip church and have a restful day.
I suppose feeding the kids my abortive cake effort the day before for lunch lacked wisdom. But what are you going to do with half a 3D bear cake? I discovered too late, parts of the bear cake pan had been looted after the hurricane along with most of my cake decorating stuff and tried to make due. Making due resulted in a small oven fire, a house filled with smoke, a disembodied chocolate bear head cake and a frustrated me. So, I slapped the bear head on a platter, cut it into wedges and told the kids they could have it for lunch. They thought it a fun idea and since the smoke in the air choked them as they ate, they barely noticed the smoke flavor in the chocolate cake.
After giving Michael a decent breakfast, he felt a bit better and we let him open his remaining presents.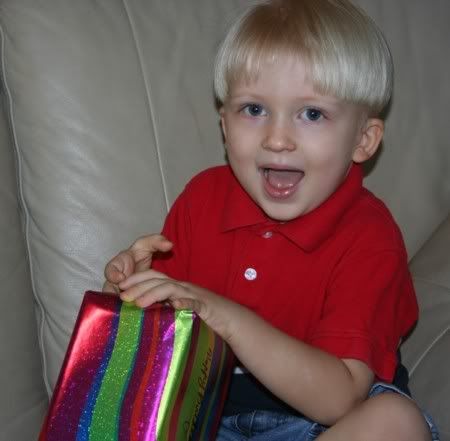 He got a red car from Grandma. He particularly enjoyed this gift since the car had room to perch his little "guys" inside and drive them about the house. And since Michael constantly grabbed Gregory's "guys" for play, we got him some of his very own.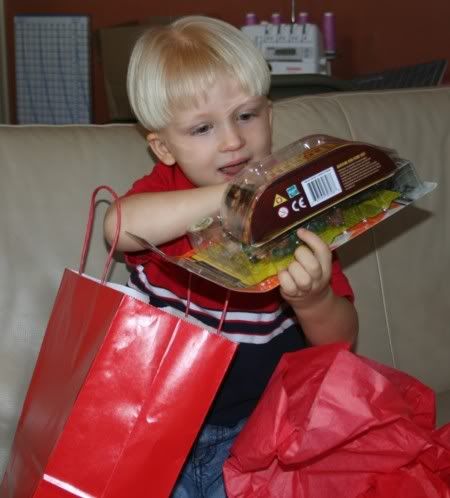 Aside from Mr. Potato Head,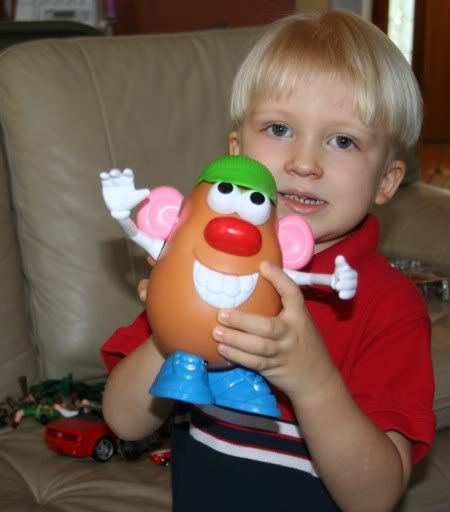 Michael received cars and "guys" for his birthday. They are his obsession. Of course Mr. Potato Head is sort of a "guy" though Michael ended up storing his "guys" inside Mr. Potato Head calling him a "bottom house."
I think Michael loved the Cars movie racing set best.
He raced Lightening McQueen and the King most of the afternoon, though the King always wins.
I think Michael really had a great time playing with his toys despite his runny nose and watery eyes.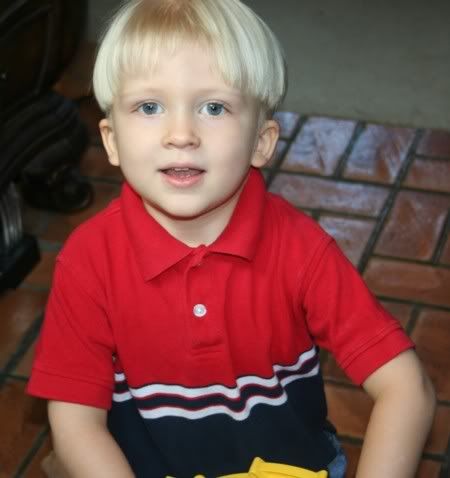 In fact, I think the day would have been ugly had it not been Michael's birthday and had he not been distracted by all his new toys.
Of course, Kurt got to play too.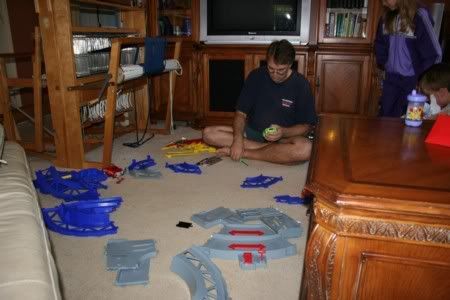 I think he spent a good 45 minutes building this race track before discovering the cars didn't work. Then he spent a couple of hours re-boxing the set and returning it to Wal-Mart. He replaced the race track with a Lightening McQueen radio control car, another hit with Michael.
In sticking with Michael's car obsession, I made him a gluten free chocolate car cake. I had planned to decorate it but with everyone sick, I decided to serve it plain (with real ice cream and coffee flavored whipped cream I made myself). Michael never really eats the icing anyway and mostly likes the ice cream best.
Michael had been talking about eating cake with ice cream and blowing out candles while the family sang "Happy Birthday to Michael" ever since Gabrielle had her birthday back in July.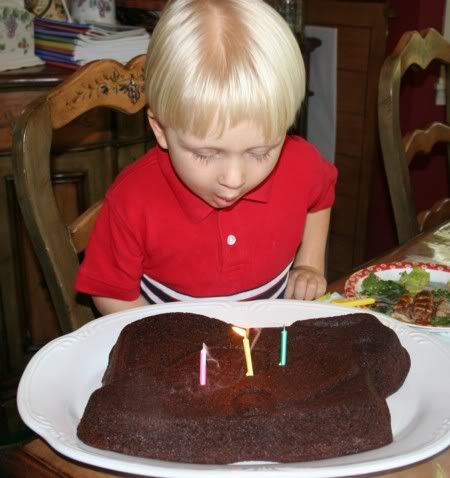 He proudly blew out each candle one at a time and we didn't have the heart to tell him he should do it any other way.
Today, Michael asked if he could turn 3 again with more cake, ice cream and presents. Then he dragged the "Cars" race track toy into my bed next to me and played loudly with his cars while I nursed my early morning allergy/sugar crash headache.
Did I mention the track makes racing noises and plays sound clips from the movie?