The great September 2008 knitting race has begun. Not only am I trying to keep up with the clues posted to the Mystery Stole 4 group,
[Clue 1 completed.]
but I am trying to send as many woolen items to my brother in Germany as my knitting needles and schedule will allow. I finished the blue hat I started last Sunday.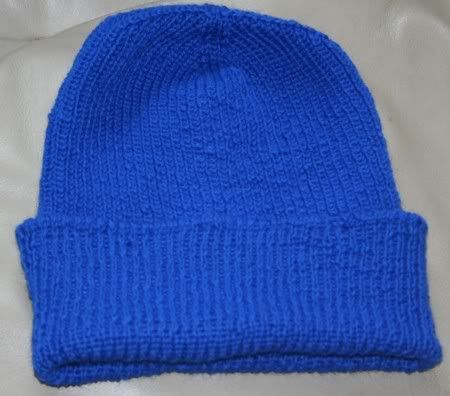 I'm hoping to be able to cast on a pair of fingerless gloves for him before the end of the day. Of course I also have to take the kids to the library and start clue 2 on my Mystery Stole. I found another hat pattern I'd like to try as well. The blue hat is a size large and we are a big headed family. To be on the safe side, I'd like to do an extra large hat too. The pattern I found is by Charlene
Schurch
in her "Hats On" book and is for a stranded watch cap. I haven't done any stranded knitting in awhile and a hat will be fun. I figure I'll do it in black and gray since my brother says he likes clothes in these colors.
On the weaving front, I resolved to use my brother's need for warmth as an excuse after all. Really, I spent little time in conflict. I know that I should be moving things out of the house to make it more marketable, but I decided Jesus was bigger than a little clutter and
the house
will sell in His timing whether or not I leave the loom in the living room. So a couple of days ago, I wound the warp for a scarf.
Yesterday I got the warp onto the loom's back beam and ready to start threading through the
heddles
.
Unfortunately, there is no good light by my loom and I am thus limited to weaving during certain times in the day when there is enough natural light streaming through the windows. It can get tough weaving around the sun's schedule. Lighting is on the "to-do" list, but who knows when we will get around to the stuff not related to selling the house.
I'm using a free pattern and the planning sheet from the
Heritage Yarns
website to plan the scarf and that has made everything much less intimidating. And actually, I'm using warping instructions from there as well.
I want the scarf to be as warm as possible so though I am using cotton for the warp, I went through my stash of knitting yarns for the weft. I found some alpaca and silk yarn left over from knitting a baby sweater for Michael when I was pregnant 3 years ago.
The yarn is next to the skin soft and the alpaca should be plenty warm. Based on my planning worksheet, if I keep to no more than 16 picks per inch on my 18
epi
warp, I should have enough yarn for weft for a 6 foot long scarf. Now if the scarf will turn out as planned, I will be happy. I'm very nervous about gifting a weaving project in light of my lack of weaving experience. I'm really praying my
selvages
will be straight enough for my brother to wear the scarf. I don't want to send him anything that looks dorky. Somehow I feel doing mediocre work will contribute to the stereo type of the relative that makes lousy homemade gifts and thrusts them into the hands of poor victimized relations.